You might be reading this with your favorite Christmas song playing in the background, looking for excitingly exquisite treats to deck out your festive sweet-snacking menu. While cooking at home might sound fun and, for some of us, equally challenging, some things are best left to professionals, and if you're one of them, welcome, your royal highness. So, we got to thinking: what is the absolute must-have treat we always crave but is unbelievably easy to mess it up when trying to master it? Well, it's panforte for us. If you've not had the luxury of meeting this Italian delight in person, you're in for a treat! Panforte is a meeting point of cake and candy, a total dream come true for all of the foodies with a crazy sweet tooth.
The mysterious-looking, chewy panforte cake comes in various flavors, but it also takes nearly two hours to make from scratch, and during the first half, you're not even sure how it will turn out. The fabled Italian Christmas cake is pleasantly dense at heart and addictively chewy, and, we guess, this juxtaposition is what makes it incredibly popular and sought-after around the world. The ultimate concoction of fruity and nutty flavors owes its origin to Siena, and we're going to tell you all about how it was born, but that's not all. We're going to finish off with a couple of our favorite panforte cakes to look for if you're determined to greet the new year with Italian gourmet flair!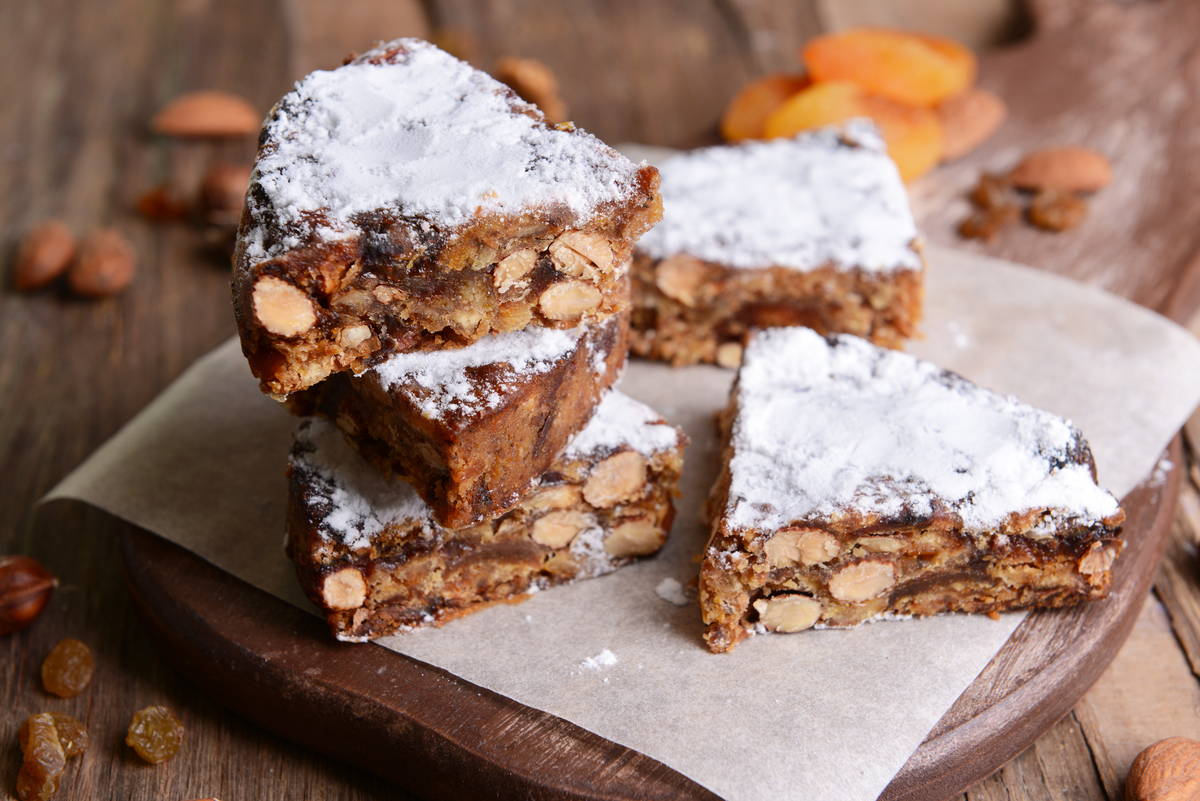 ---
How Italian Panforte Was Born

If you're new to the magic of panforte, get ready to fall in love with one of the beloved holiday desserts of Italy. The traditional confection, resembling bread, is a thick, dense cake, sometimes compared to a Lebkuchen, German gingerbread. However, Italian dessert is mainly based on nuts, fruits, honey, and spices and has a mesmerizingly chewy texture. The cake is named "strong bread" to denote the intense aroma various spices lend to this concoction; however, in Italy, it's also famous as a cake of Siena - you probably thought of Palio, and you're absolutely right! The traditional recipe has 17 ingredients, signature to the 17 neighboring organizations competing in the furious horse race of Palio.
The refined Christmas sweet of Italy is dated back to the 13th century, Tuscany. According to one of the recipes preserved in the State Archive of Siena, the cake might be a sweeter variation of the progenitor confection made using pepper and honey, hence the name - Panpepato, or peppered bread in Italian. Some say the traditional Sienese confection was made by local pharmacists, who at that time had an abundant supply of spices since they were deemed medicinal. So, it's only natural; the guild of Sienese physicians heavily guarded the recipe. That's how famous panpepato became an exclusive treat on the tables of clergy and nobility, but Sienese people quickly adjusted their menu, too. Inspired by the exquisite panpepato, Panis Fortis, a simpler version was born. It was a bread embellished with various fruits; however, its shelf life was a big problem for the Middle Ages - if not savored quickly enough, bread would turn sour. So, we can only guess that panforte was the perfect mix of the two popular desserts - decadent and exquisite panpepato and common panis fortis balancing each other.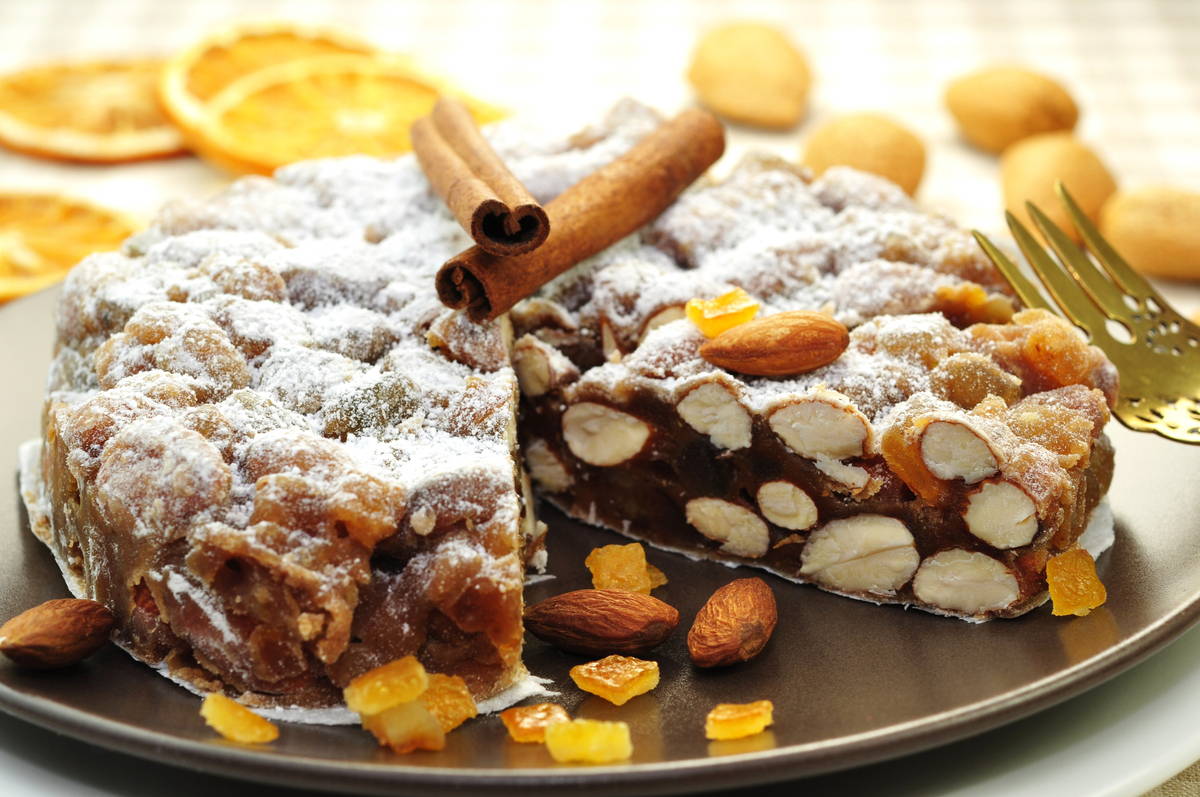 However, according to another gastronomical tale, panforte might have been created by Suor Leta, a nun from Siena. One day, after a careful inspection of a spice cabinet, Leta discovered that mice had been voyaging through the cozy little collection of all the expensive offerings made by pilgrims - so, nearly every product was ruined except sugar, spices, and almonds - essential ingredients for panforte. So, the nun, determined to experiment a little, cooked everything with a honey mixture that resulted in a dense and delicious confection, now loved across the globe.
While, according to legend, every panforte shop in Siena has its own variety, there are mainstay types you must get acquainted with! Panforte became a truly universal treat after Queen Margherita of Italy visited the birth town. Exclusively for the royal family, the famous spice seller and the owner of one of the beloved confectionery companies, Galgano Parenti, put his own unique twist on the classic panforte recipe, creating the first-ever white panforte, also known as Margherita panforte. The exceptional variety was made using candied citrus instead of black candied melon, which gave the classic confection a darker look. However, Pareti's specialty was a colorful concoction coated generously with powdered sugar to add a little bit of flair to it. Margherita panforte marks the beginning of national popularity for the classic sweet, which soon enough conquered international palates, too.
Although relatively new, panforte Nero is another famous take on classic delight. While firmer than white panforte, Nero is typically made by infusing various nuts in the mixture and adding extra cinnamon and ginger for heating sensations. As you can guess from the name, this delight is coated with cocoa powder for a darker look, and contrasting flavor profile - irresistibly luscious Italian honey is juxtaposed with slightly bitter cocoa.
As much as we'd like to, we can never get down to all the magnificent tales and takes on the fabled Panforte di Siena, a culinary phenomenon preserved by the Protected Geographical Indication title since 2013. So, we think it's time to move on & introduce our humble yet tasty collection to those interested in savoring the culinary legacy of Siena!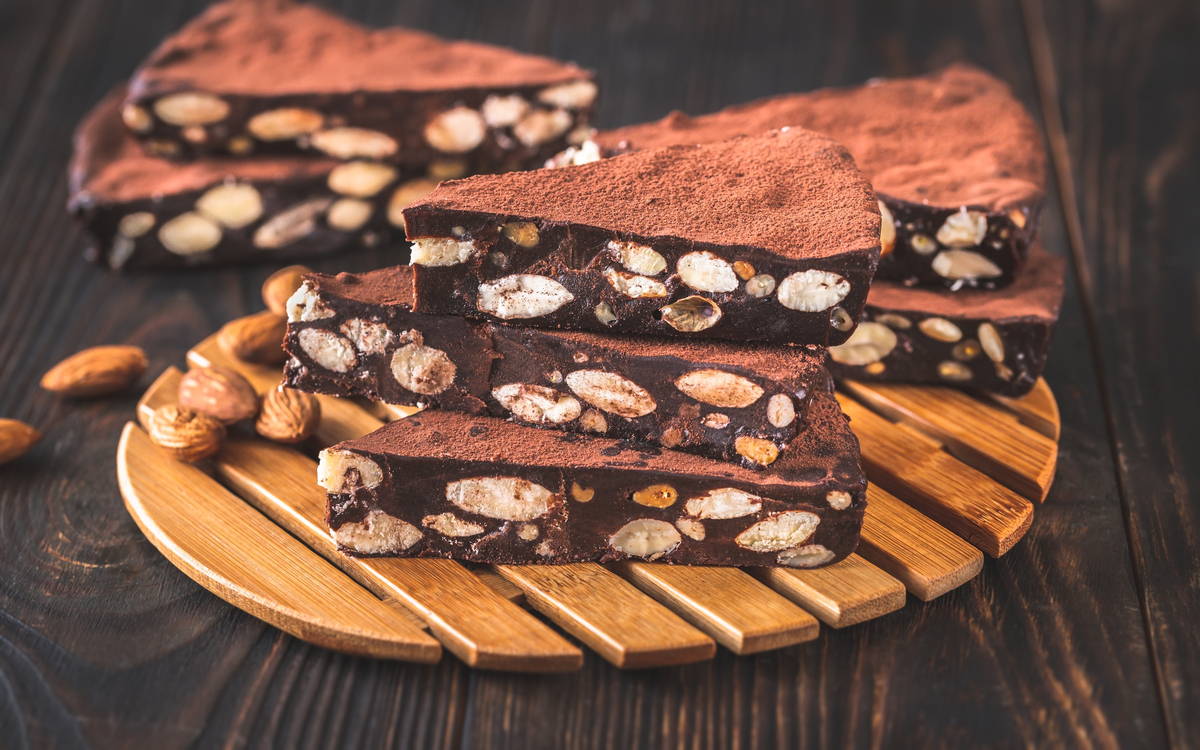 ---
Wondering Where to Buy Panforte?

Well, wonder no more! On our digital shelves, you'll be able to find the most exquisite panforte Classico with unique varieties, perfect for decking out your festive menu with unmatched flavors. Whether you're in desperate need of something new to liven up your sweets collection or are looking to buy panforte online to treat yourself to authentic Italian aromas without boarding a plane, here's a little preview of a couple of delights from our humble selection of Sienese specialty.
Panforte Classico by Dolcezze di Nanni will be the ultimate addition to your holiday menu. Loved for its chewy texture, classic panforte is packed with a nutty aroma of Italian almonds (If you prefer cake with walnuts,  that's not a problem for us either), and a refreshing blast of candied citrus can definitely be felt, too! While dusted with a generous coat of sugar icing, this Italian Christmas cake carries an enchanting aroma of coriander, cloves, cinnamon, ginger, and mace, guaranteed to fill up your kitchen with the holiday spirit. What we love the most about classic Italian panforte is that one doesn't need much - it takes only one bite to satisfy your sweet tooth or even an angry, growling stomach.
For a depth of flavor, don't hesitate to savor Panforte Antico with almonds & hazelnuts. It's made with candied melon, orange, and citron peels and is prettified with rich cocoa powder for enticing looks and an even more intense flavor mood, perfect for pairing with your favorite coffee, tea, or dessert wine. The intensity of cocoa is complemented by the aromatic spices, providing a kind of gourmet brio with delicately lingering heat, making this treat the perfect gift for sophisticated palates.

Pairing panforte is where you get to spread your wings - crafting an enticing Christmas menu of sweets is only possible after a good deal of experimenting in flavor-melding, so let's get creative, shall we? Although coffee, tea, and Tuscan dessert wine are old-classic accompaniment options for panforte, it's effortless to incorporate this one-of-a-kind chewy delight into a big family meal or holiday party. Panforte can be served over charcuterie boards with cured meats and aged cheese selection as sweet appetizers cut into snack-sized cubes. The chewy Italian delight also makes a lively addition to ice cream desserts. However, our favorite way to indulge Siena's specialty is to dunk them into a steaming cup of hot chocolate for the ultimate melty goodness!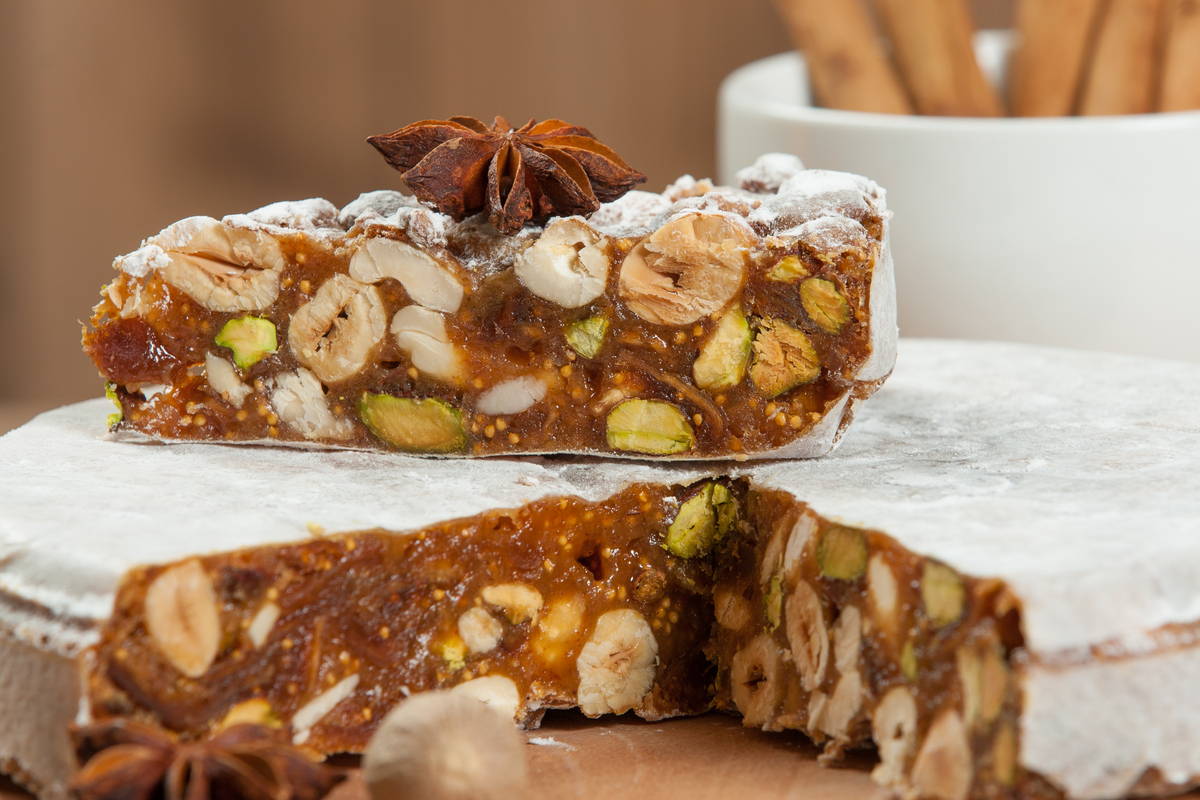 No one wants to be stuck in a kitchen all day long, trying to whip up an exquisitely luscious addition to the menu, especially during the holidays, when celebrations need to be enjoyed with the people you love the most, not oven or dough roller. And, when it comes to desserts, few do it better than Italians, so, what are you waiting for? You know exactly where to buy Italian panforte cake and other Christmas treats,  such as pandoro and maddeningly delicious panettone, right?! Pick your ultimate favorite to deck out your festive selection, or treat yourself to them all!