Searching for unique delights for decking out your snack drawer or a cookie jar is a tricky business. Where do I start? What am I even looking for? Should I try this… Or maybe this? - Those are only some of the questions you have to battle with every time you get to scrolling through an overwhelming wave of information on the internet. However, we'd like to think of ourselves as your friendly guide through the delicious world of food, and especially, sweet treats we're so crazy in love with. That's why we take our time to research and devise quick little lists, blogs, and recipes for the uninitiated to get inspired with culinary delights coming to you from all over the world.
So, it's only natural that we've devised a list of all of the famous Spanish cookies and shortbreads every foodie must get acquainted with for a versatile addition to a daily menu or celebrations! While most of us are used to indulgent chocolate chips, peanut butter, and oatmeal raisin cookies, sometimes prettified with over-the-top sprinkles, Spanish biscuits are much simpler yet equally delicious treats - kind of a breath of fresh air in our cookie world. Once you give them a taste, the delicate sweetness of mantecados or the addictive texture of almond polvorones will stay with you forever, and ever, ever! So, if you're up for exploring Spanish delights to soothe your sweet cravings, we're ready to tell you all about them.
What to Expect From Spanish Cookies
With umpteen varieties of shortbread biscuits, the Spanish cookies are hard to put in a box, but they sure are easy enough to put in your cookie jar (and you should expect to refill it endlessly, trust us!). However, we will try our best to give you an idea of what you are getting your taste buds into before jumping straight to the tasty list.
Unlike American favorites, Spanish cookies are straightforward, free from yummy chocolate jewels or gooey hearts. However, this doesn't mean they are any less delicious. Although their flavor profile varies from type to type, Spanish biscuits usually have lingering ever-so-slight saltines, thanks to perennial ingredients, such as anise and olive oil. Most of the classic cookies you're about to meet are traditional festive treats of the Southern regions in Spain. In the past, the Christmas cookies were only made from September to January, however, now these super-flaky, sandy, and nutty cookies are available all year round, and we are more than happy about it.
Usually, most Spanish cookies call for almonds and honey, so you have to go in expecting an utterly delicate sweetness and crumbly texture. The delicate flavors are often complemented by dessert wine, a common ingredient of traditional crumbly shortbread biscuits. We bet you're trying to wrap your head around the idea of wine-infused cookies, aren't you? It sounds like an exquisite cookie concept and tastes even more so. The moreish yet straightforward biscuits are made to be enjoyed as a quick pick-me-up or a snack when you're running out of time to get your energy boost from a homemade lunch. So, Spanish cookies are something you can easily rely on - with nearly every flavor and texture, there is something for every palate, and by reading along, you can meet your new favorites!
Get Ready to Meet Our Favorite Spanish Cookies
1. Mantecados are also known as Spanish Christmas cookies, as they are usually served on a big festive dinner! However, thanks to mini mantecados by Dona Jimena, you can please your taste buds with traditional Spanish sweetness any time you want. The snack-sized light biscuits are brimmed with almonds, resulting in a lovely crumbly texture that turns pleasantly pasty once savored. One thing you need to know about mantecados is that they are named after lard - manteca in Spanish. We know it's an odd moniker; however, lard was one of the essential ingredients of traditional crumbly cookies. However, now they are usually made with other types of animal fat, such as refined butter. Thought to be born in the 16th century Estepa, mantecado crumble cookies are widely appreciated throughout the country. So, we guess there will be no surprised faces when we say that the small, beautiful municipality of the Andalusian region alone produces nearly 40% of the national assortment of mantecados. The utterly crumbly cookies are perfect for everyday indulgence, so feel free to pair them with your favorite brew, tea, or even a cup of hot chocolate.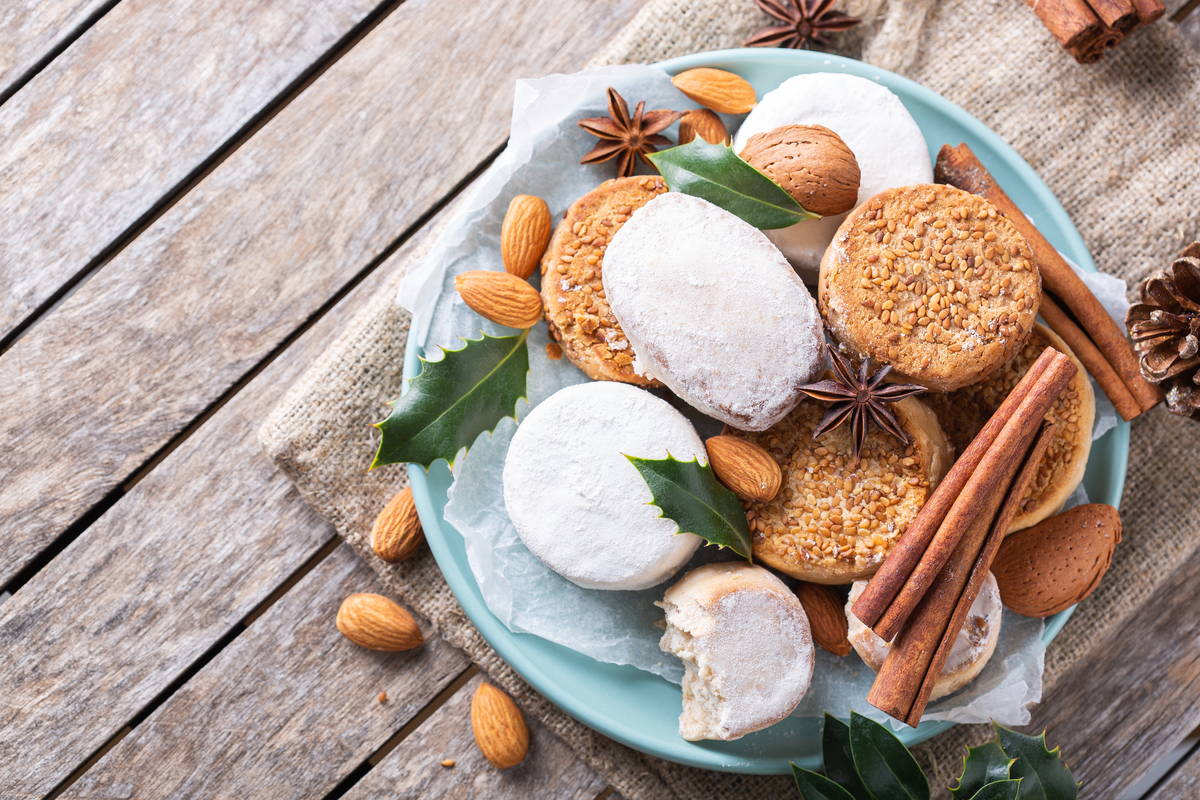 2. Polvorones are a type of mantecado, almondy crumbly shortbread we just introduced. They are named for their texture since Polvo means sand in Spanish. As you've already guessed, the Spanish cookies are irresistibly sandy; they melt away instantly when savored. Nutty polvorones are usually dusted with powdered sugar for a festive look since they are deemed the ultimate holiday delicacy cookies along with mantecados. These sandy treats have a variety of unique takes, such as famous Polvorones de Canele - crumbly, round cookies with a burst of cinnamon. With the benchmark Spanish confectionery brand - 1880, you can quickly get your hands on crumbly polvorones made according to the traditional recipe. They are packed with irresistibly high, 28% content of Spanish almonds and are individually wrapped to maintain their crumbly texture. So, it will double as a perfect present for a friend with a curiously sweet tooth!
3. Roscos are doughnut-like Christmas treats, combining the best of a cookie and cake world. However, don't be mistaken; once you bite into this deliciousness, you will be stunned with a crumbly texture of the almondy dough, resembling those of polvorones and mantecados, but less sandy. There are several types of fabled Spanish doughnuts; however, Roscos de Vino are one of the most beloved varieties. As the name suggests, these delights are flavored with sweet wine to create the ultimate festive aroma. Just like mantecados, Roscos de Vino are thought to be born in the South of Spain; some say it was the province of Malaga. So, if you're intrigued by Spanish wine doughnut-like cookies (who wouldn't be?!), La Estepena is here to help you broaden your cookie repertoire . However, we can't let you miss out on the unique anise variety of Roscos. The classic treats are packed with anise, which adds a beguilingly rich aroma of licorice-like sweetness with delicate savory notes. The aromatic specialty from Dona Jimena will be the ideal addition to your post-Christmas menu to keep the holiday spirit alive for a little longer!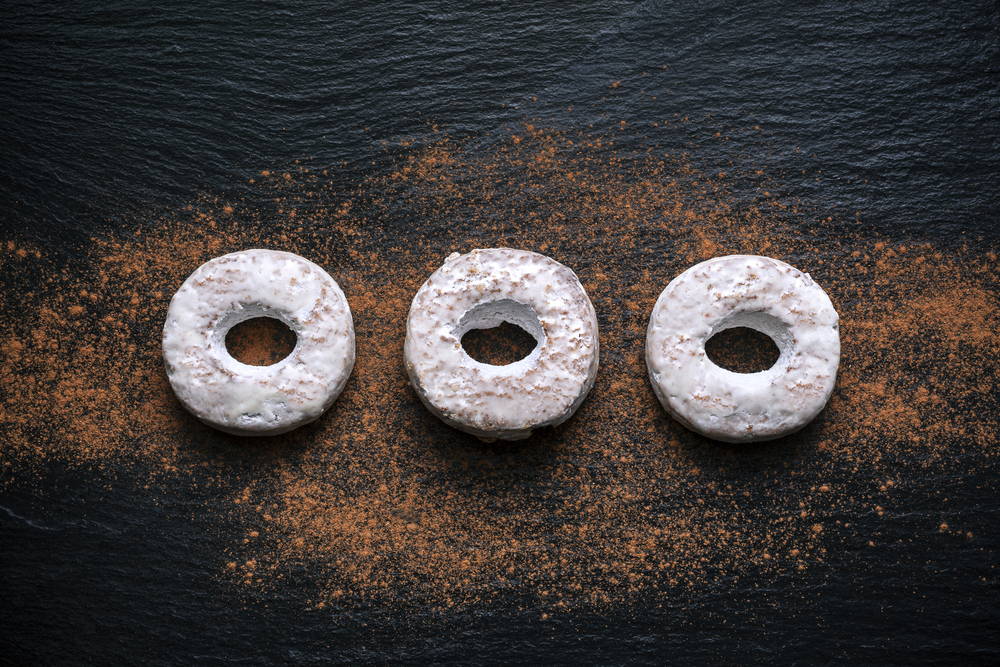 4. Hojaldrinas are traditional Christmas delights beloved throughout Spain. They're adored for their flaky texture, resembling puff pastry. Like all the other treats you just met, hojaldrinas are also made with animal fat, resulting in a soft sweetness unmatched in the cookie world. Although some like to debate if they even classify as cookies or not, we are not here to step into a culinary morass. However, we will say this - thanks to the wine's contribution to the recipe, mini hojaldrines by 1880 taste just like Christmas! The sweet, flaky bite-sized goodies will add enticing touches to your breakfast cuppa or even a big family dinner. Serve them with powdered sugar or a drizzle of chocolate ganache for even more exquisite looks. Since they are traditional Spanish Christmas treats, it's needless to say that hojaldrinas go perfectly with a glass of creamy Coquito or classic eggnog!
We're more than excited to share the list of our favorite Spanish cookies (and Hojaldrinas) that we hope you turn to when in need of unique goodies to up your cookie game! From soft and sandy polvorones to aromatic wine doughnut-like treats, there's something for everyone in Spanish cookie vocabulary. However, we didn't forget about our indecisive foodies either - that's why you'll find the most delicious traditional cookie assortment by Dona Jimena in our collection. Now you don't have to choose your one & only! Add them to your holiday treat platter or menu for your next get-together with friends, and indulge with Spanish sweetness with Yummy Bazaar!