Our favorite delectable homemade desserts, eye-catching stocking fillers, and soothingly warm cups of eggnog just came out of their hibernating spaces proudly and we can't be more excited! However, there is one more Mediterranean confection you must include in your selection for the sweetest new year guaranteed! Whether you're looking to surprise a sophisticated foodie with the craziest sweet tooth or simply want to jazz up your collection to leave your guest guessing where do you get quaint yet unique sweet nibbles from, you have to scroll through our selection of nougat. Lucky for us - curious gourmands, nougat has umpteen regional varieties, all equally fascinating and delicious. However, today we want to introduce you to the classic Italian nougat, or as they call it in the boot, torrone!
All About Italian Torrone!
Torrone is the ultimate sweet staple in Italy, mainly enjoyed during the holiday season, along with fabled panettone and pandoro cakes to which we even have dedicated lengthy blogs - so, uninitiated, go ahead! Torrone, just like a classic nougat confection, is usually made with a couple of ingredients - honey, nuts, and egg whites being the absolute essentials. However, Italians go well beyond the old-school recipe by using different nuts and additional flavorings, such as chocolate and even classic dessert creams. To simplify your journey of finding the perfect nougat fit for your palate, here are some of the basic types of traditional Italian torrones: hard (duro) and soft (morbido).
Usually, food history is filled with a great deal of factual morass, and Italian nougat is not an exception. Some think sweet confection might be a modern take on a traditional Roman treat - "nux gatum," which was traditionally made with honey and nuts, too, so it's only natural Olympic athletes loved it as a quick energy snack. Some go as far as to say that nux gatum gave birth to a similar but slightly more refined nutty confection "nucatum," which eventually transformed into nougat!
According to others, Italian torrone might even have an exact birth date. It's thought to have been created for the royal wedding of the Duke and Duchess of Milan in 1441. Sicilian cooks invented a sticky sweet nougat and shaped it after the Cremona's central torrione (tower in Italian), hence the name. The delight quickly became so popular that nearly every region from Calabria to Campania decided to add its twist to classic Cremona-style nougat.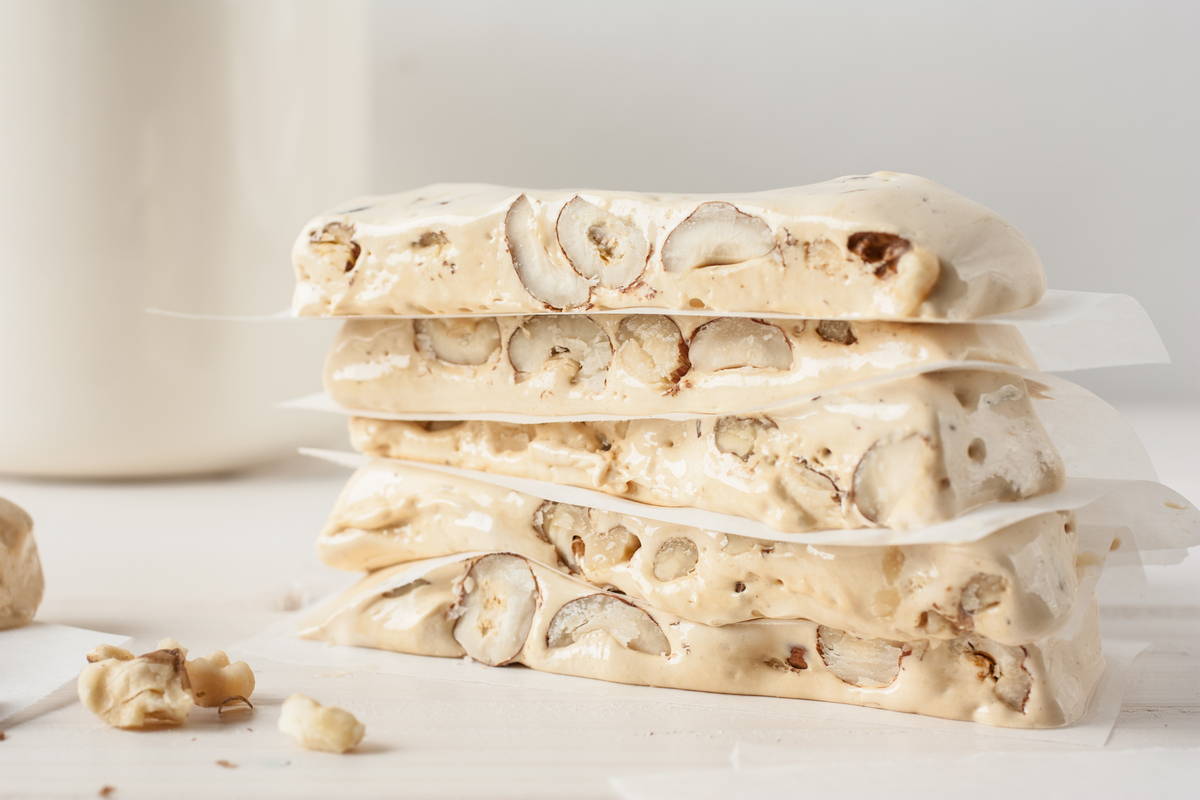 Declaring its love with the annual nougat festival - Festa del Torrone, Cremona is deemed the birthplace of classic torrone made with almonds, just like the confection served centuries ago on the wedding feast. However, almonds are not only torrone-approved nuts. For example, while savoring the Piedmontese variety, you'll be greeted with delicious local hazelnuts, prized for their delicate sweetness.
As for Sicily, the toe of the boot is famous for its large block of torrones, cooked over a fire for a couple of hours. On the contrary, in Veneto, they've decided to transform nougat confection into snack-sized sweets - mandorlato, made with the classic ingredients in a way for the outer layer of the honey mixture to melt away on your tongue, leaving crunchy almonds to nibble.  
We can't go without honoring Calabrian torrone, one of the IGP preserved varieties from Italy. Torrone di Bagnara of Calabria is mixed with bitter cocoa and sugar grains, making it effortless to spot in the sweet crowd not only thanks to its vibrant brown looks but pleasantly bitter flavor mood, too. If you're someone who likes their cocoa on the sweeter side (okay, who doesn't, though?) Campanian torrone will be a match made in nougat heaven. Traditional Torrone dei Morti from Naples is made using chocolate and chocolate spread - created specifically for chocolate connoisseurs and for turning everyone else into one!
So, Italians don't shy away from culinary experiments, even when you think it can't get any better than classics. To savor the unmatched excellence of Italian nougat, we're ready to break down our extensive selection of torrones, and we hope you're prepared because you might get hungry along the way!
Meet Our Favorite Italian Nougat Treats!
Sticky-sweet torrone morbido is a soft confection, one of the most sought-after varieties, and we're proud to present you with myriads of flavors! The lip-smackingly sweet soft nougat confections come in all flavors, sizes, colors, and festive packages if you want to go bold during the holiday season.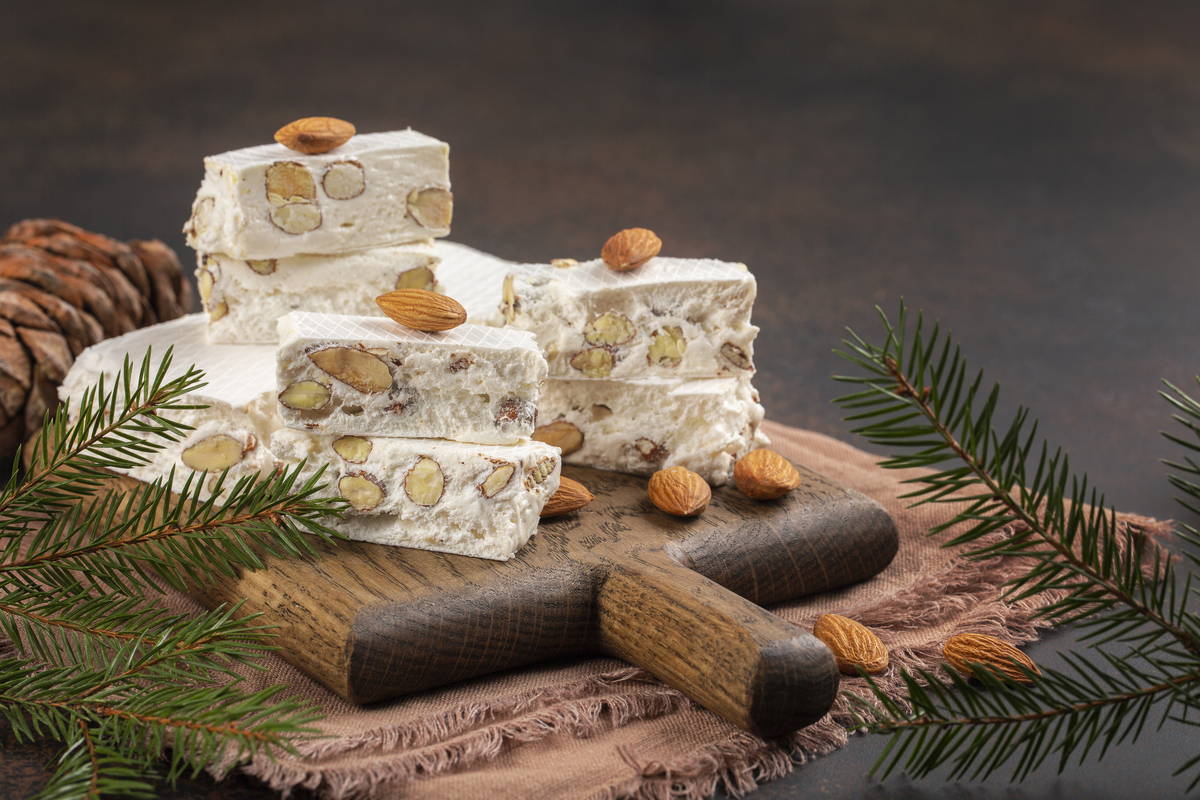 When it comes to the exquisite melding of tastes, it's Borgo de Medici you have to turn to.  Just look at this soft nougat with tiramisu cream; there's no way for you (or anyone, really) to resist it. It looks festive and tastes even more so! However, its charming looks are secondary to the nutty aroma it's packed with. Easy to cut, soft torrone will be perfect when served over your charcuterie boards along with roasted nuts, aged cheese, and all the other antipasti you love. If you're after irresistible flavors and a little bit of aesthetic pleasure, too, feel free to toss in colorful torrone cubes on your dessert platter -  a raspberry delight for pink, caramel for orange and aromatic limoncello for yellow. You'll find more colors and aromas in an extensive collection of Quaranta, too! The brand also makes the perfect torrone cake slices, making it super easy for you to surprise every one of your friends with a flavor tailored to their palates - mixed berries, cocoa & hazelnut, lemon cream, exotic fruits - we can go all day long!
If sticky-sweetness is not your thing, we have quite a selection of hard Italian nougat, too. Have you met the hard torrone by Quaranta? It's a crunchy delight, packed with the nutty sweetness of Italian almonds. Sperlari's hard torrone will be a perfect for those who prefer the crunch of candied hazelnuts - it even has a delicate citrusy zing to it, thanks to lemon oil in the ingredients lists.
Oh, and we don't want our chocolate-lover friends to feel left out, so it's just perfect that Sperlari has combined two of the illustrious sweets of Italy, resulting in deliciously different delight. The alone puts any kind of confection to shame. You bite it, and the whole world melts away, but in a good way! However, we have to warn you - after it seeps into your taste buds, it will be impossible to imagine the time when you didn't have Sperlari's treat within arm's reach.
And we can't finish off without dedicating a whole paragraph just to pistachios - one of the favorite nuts of Sicily! The vibrant green Italian pistachios are loved for their aromatic nose and surprisingly fruity undertones. So, if it's pistachio torrone you have your eyes on, we have a couple of contestants to win the battle for your palates. Sliced pistachio torrone by Scaldaferro is a brittle confection, pre-sliced to save you the trouble of serving hard nougat with style. Packed with 30% of almonds and 20% of lip-smackingly green pistachios, this crispy delight will be best enjoyed dipped into your afternoon cuppa or a cup of hot chocolate. If the almonds + pistachios combination is not enough, Quaranta is here to present the ultimate trouble maker - soft nougat with almonds, pistachios, and hazelnuts - you can probably already hear the delicious crunch of it, right?! The gourmet treat will feel right at home when served over a charcuterie board or a cheese platter - all the nuts are already on your nougat, so assemble the cheese army, and you're ready to roll!
From traditional nougat treats to brand new takes, the Italian torrone collection is filled with irreplaceable delights that even the sight of makes our mouths water. So, in the name of our favorite time of the year, aka its-the-holiday-season-so-i-can-eat-as-much-sweets-as-i-can, you must take a good look around our extensive selection, where you're guaranteed to find something for soothing post-holidays nostalgia!