The Italian holiday season would feel incomplete without mouth-wateringly golden Christmas cakes sitting pretty on the shelves of pastry shops or carefully arranged Christmas dinner tables! Even though panettone might've been the one that popped up in your mind reading this, soon, it will be Veronese pandoro shamelessly occupying your thoughts. The sister cake of panettone is the minimalistic crumbly cake with an unbelievably fluffy interior and eye-catching golden looks. Unlike its Milanese progenitor, pandoro is picky-eater-approved - traditionally, the crumbly cake doesn't contain any raisins or candied fruits. We have gathered all the information you need to know to discover new treats for your holiday dessert selection & exciting ways to take well-beloved pandoro to the next level.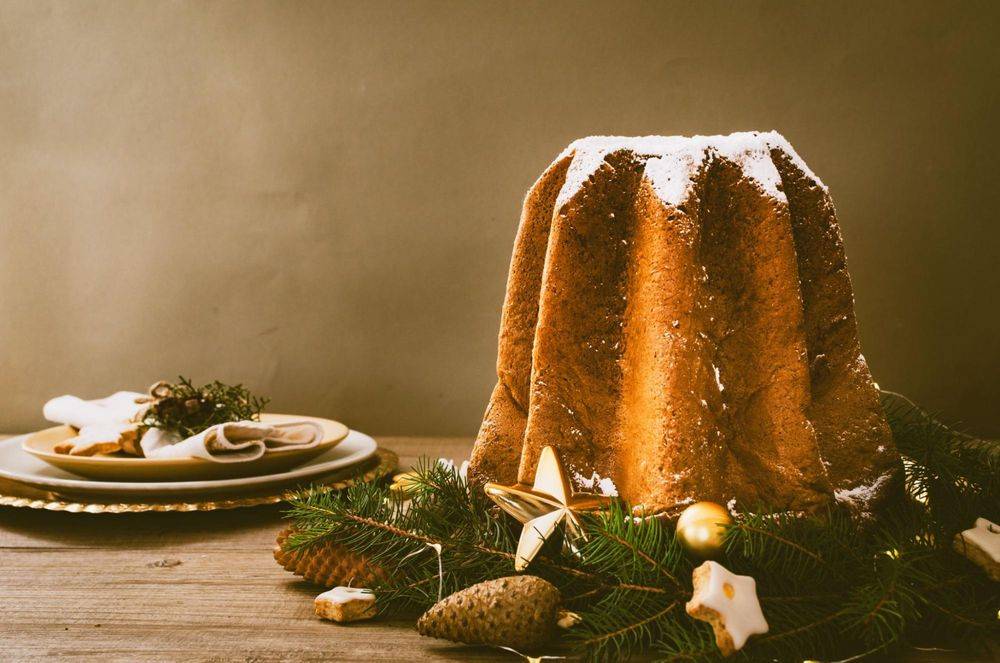 ---
The History of Star-shaped Pandoro:

Even though its rich, eggy dough resembles fabled French brioche bread, pandoro is the ultimate Italian creation - according to some food historians, it might even be shaped after the mountains of Verona! The vanilla-infused bread-like cake has a well-documented history since it was first made in the 19th century by a local baker, Domenico Melegatti, a proud owner of an exclusive 3-year license to produce this specialty treat. After Domenico trademarked the star-shaped cake, pandoro became the talk of the town. However, it was incredibly trendy among the rich, who even gave the cake its moniker "bread of gold" - pandoro in Italian!
Its strength lies in its simplicity - at first glance, pandoro is a minimalistic, tasty treat; however, that's not all this Veronese delight has to offer. Traditionally, it's served with powdered sugar to resemble a snowy mountain and fill you up with a festive spirit. Yet, due to its perfectly delicious and simple nature, pairing pandoro with all the things you enjoy or want to incorporate into your desserts menu is effortless. So, join us while we share our favorite pairings and close off with note-worthy Italian names when it comes to choosing the best golden cake!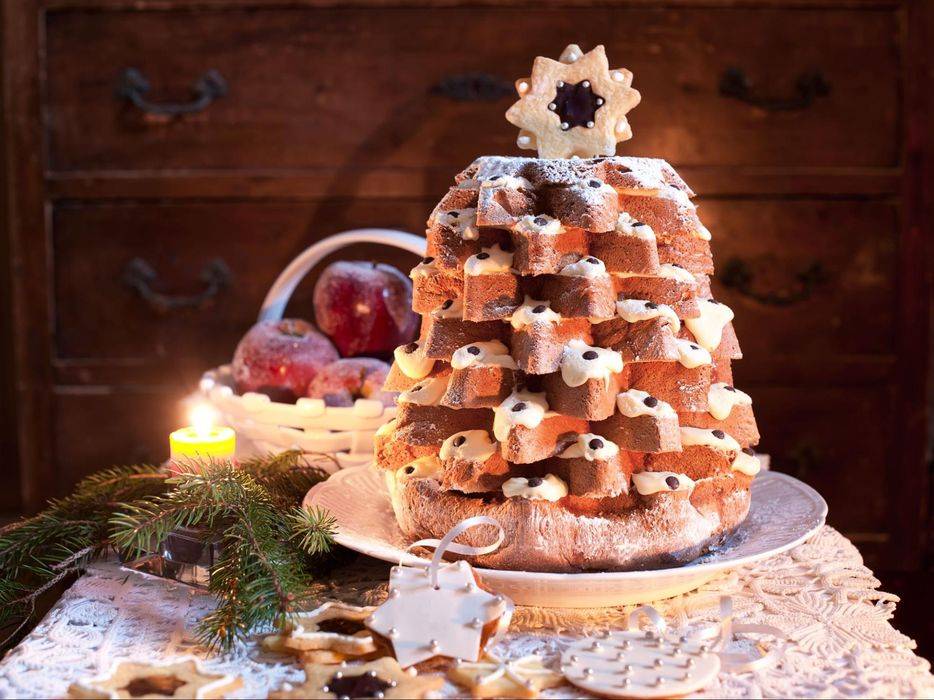 ---
Take Your Pandoro Up a Notch

It's effortless to transform perfectly fluffy, mouth-wateringly golden pandoro into a marvelous complexity if you've got what it takes: resilience of a loyal soldier, the dedication of an ungiving admirer, or these simple ingredients:
Pandoro can be a dazzling centerpiece of your holiday celebrations! With its star-shaped form, it's easy and equally fun to transform the delicious cake into a yummy Christmas tree. Just slice it in four or five thick, stable layers, slather each one with a spread of your choice, and arrange in a zig-zag way to resemble a Christmas tree. For a mind-blowing combination, we suggest starting with delicate mascarpone at the bottom, building up to rich

almond butter by

Fiasconaro;

for the next layer, opt for whipped cream and berries and finish off with a bang - exquisite

Modica chocolate spread

!

It might sound like a Frankenstein of pandoro, but trust us, it's guaranteed to steal the spotlight.





Even if arranging a delicious pandoro tree isn't something you particularly would enjoy, it's no problem to up your game with quick and easy pairings! Serve it like a true Italian - with a heavy coating of powdered sugar, slice yourself a thick piece, and get your jam collection ready!

Watermelon and lemon

concoction will be the perfect way to add a summery aroma to your festive delight. However, if you want to accentuate Italian culinary artistry, you have to give

caramelized fig preserve

a chance to add a serious flavor hit to your pandoro - you know how it is with

figs and Italy

, right?! Don't forget to top your slice with aromatic mint leaves, and indulge!





However, if you're willing to put in some work (nothing overwhelming, we promise), there's always Zabaglione - a quick, easy, and most importantly, scrumptious custard-like dessert, often used as a tart filling. The juicy concoction is made by tirelessly whisking eggs, Marsala wine, sugar, and voila! That's it! The yummy dessert cocktail will be a moreish substitute for coffee when you want to dunk in your pandoro and enjoy melt-in-your-mouth goodness!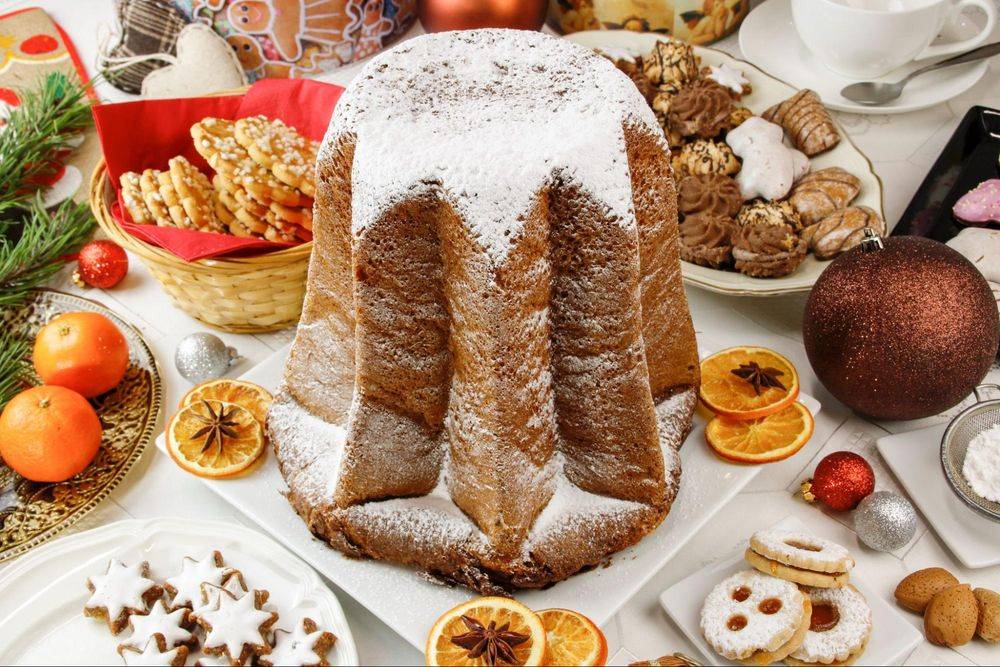 ---
Since now you know how to eat Italian pandoro like a true connoisseur, it's time to look at some of the top picks so that you won't get overwhelmed scrolling through our extensive collection of tasty treats. We have picked a couple of names you should definitely get acquainted with if you want to fill up your holiday season with authentic Italian aromas!
Bauli blends the secrets of traditional baking with the latest technology, and an almost centuries-old experience under its belt attests to the fact that the brand has mastered the art of Italian seasonal treats. Established in Verona in 1922, Bauli even shares a birthplace with the fabled pandoro, making the brand an unrivaled nominee whenever you're looking for irresistibly crumbly "bread of gold." Let's look at some of the not-so-hidden-gems (cause why would we hide them?!) of our collection, shall we?
Classic pandoro

is a remarkably versatile option for those who enjoy customizing everything to their tastes. If you don't want to live through the crushing disappointment of researching and trying different takes and versions, then the classic pandoro is for you to transform into a perfect fit for yourself. Bauli makes it effortless - with heavenly soft, eggy dough and enchanting aroma, there is no possible pairing this treat wouldn't go beautifully with (maybe there are few; however, you'd have to try very hard to find one). Mascarpone, whipped cream,

nut butter

, wine-soaked peaches,

Amarena cherries

,

gianduja spread - we can go on & on!




Pandoro with lemon cream filling

is for those who enjoy a bright pop of sweetness and a moreish, squidgy texture. Packed with luscious cream, the exquisite cake will be the ultimate ready-to-serve dessert for your holiday parties. For an enchanting aroma, you can elevate this mouth-watering treat with lemon zest - don't shy away from experiments. Pair it with ginger & mint tea, a steaming cup of hot chocolate, or festive eggnog, and enjoy!
Tre Marie is a legendary Italian brand, traced back to the religious school of the Virgin Mary founded in 1150 by four charitable women, helping the needy with their homemade sweet bread. The famous Milanese pastry brand takes pride in honoring traditional recipes and techniques, including the three-day ritual of panettone-making. So, to savor celebrated aromas of true Italian treats, no matter if you're team pandoro or panettone, Tre Marie is the way to go!
Pandoro Noir with Domori chocolate

is the perfect gift option for anyone with a sweet tooth, and we say gift because the exquisite aroma of this one-of-a-kind treat must be shared! The crumbly pandoro cake is coated with dense, rich Domori chocolate - one of the fabled names on the Italian chocolate market, sourcing only the finest African and South American cocoa beans. The pandoro is perfect as it is; however, to transform it into a gourmet specialty, try microwaving your slice! Once the warmth of melty, dark Italian chocolate hugs soft, aromatic dough - hold on to something because you're going on a deliciously mind-blowing ride you didn't even know you needed!





Classic Pandoro with French butter

might seem like a traditional cake, but it's made with AOP Charentes-Poitou butter, produced using dairy sourced from Charente, Charente-Maritime, Deux Sèvres, Vendée and Vienne of France. The exquisite French butter is made according to traditional barrel churning methods, resulting in a soft texture and fragrant, almost nutty aroma. So, thanks to luxurious butter, Tre Marie's classic pandoro has an even more captivating aroma, delicately crumbly texture, and overall soft bite, perfect for morning sweet treats!
So, pandoro is a terrific way to broaden your festive menu with Italian aromas; it doesn't matter if you prefer extravagant or straightforward desserts. From eye-catching dessert trees to simple sweet toast with rich nut butter, with pandoro, you (and your guests, if you resist the urge to gatekeep this golden bread) will be in for a luscious treat that's guaranteed to become your favorite part of the holiday season!