You might be familiar with Piece de Résistance of the Italian holiday season - mouth-wateringly golden, yeast-leavened seasonal cake standing tall, studded with sweet sultanas and sugar icing. Most of the time, it's panettone, one of the most loved seasonal bread-like cakes from Milan. So, no matter how you wound up here - by looking for a deliciously sweet add-in for your holiday menu or just voyaging through La Dolce Vita of Italian desserts, you have to buckle up! We're going on a scrumptious ride to track down how this delight came about and what to look for when confused by the luxury of choice while scrolling through our digital aisle!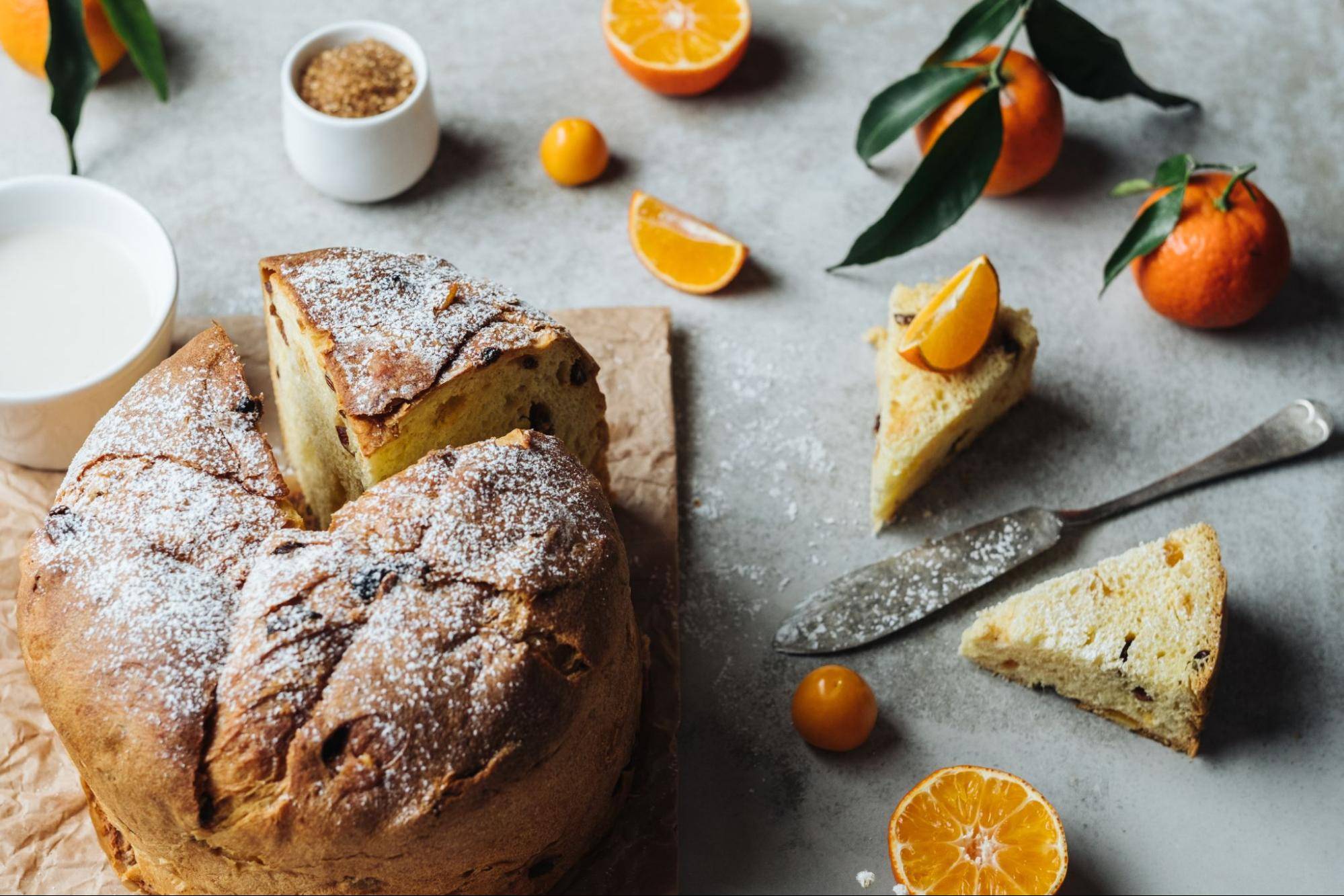 ---
Italian Panettone or Toni's Bread?

The sweet bread-like panettone is the eminent culinary symbol of the Italian holiday season! There are several legends about how it was born, but one thing is for sure: it's the ultimate Milanese creation, deemed as a local culinary treasure!

According to the most famous story, it was in the 15th century, when Ludovico Il Moro was having a marvelous Christmas feast. Fortunately for us, panettone- enthusiasts, and unfortunately for everyone else involved, his cook accidentally burnt the pre-planned dessert - probably causing kitchen-wide perplexity and slight terror of leaving the Duke of Milan without his sweet course. However, one of his apprentices, Toni, saved the day by mixing simple ingredients - flour, eggs, butter, sweet raisins, and lemon zest, creating the first-ever "L'e'l pan del Toni,'' meaning Toni's bread!
It does sound simple, but, a proper, traditional hand-made panettone takes at least three days to make. Now it's obvious how this domed-shaped, bread-like delight has become much more than just a simple dessert, conquering sophisticated palates even outside of Italy. The rich tower of sultana-studded (or candied peel) cake is an inseparable part of the traditional Italian Christmas dinner. Once served on 25th December, the Milanese even try to save a slice of this crumbly delight (even though it's nearly impossible due to the extremely moreish aroma) for a St. Blaise Day, February the third. Yeah, we meant to say February; you read that right! According to legends, it took a piece of panettone for St. Blaise to save a choking child - so it's delicious and essential to one's safety to keep a panettone in arm's reach. Moral of the story? Don't shy away from leftover panettone slices if you want to indulge yourself like a true Italian. On the contrary, if embellished right, they will play a starring role in your breakfast treats, too.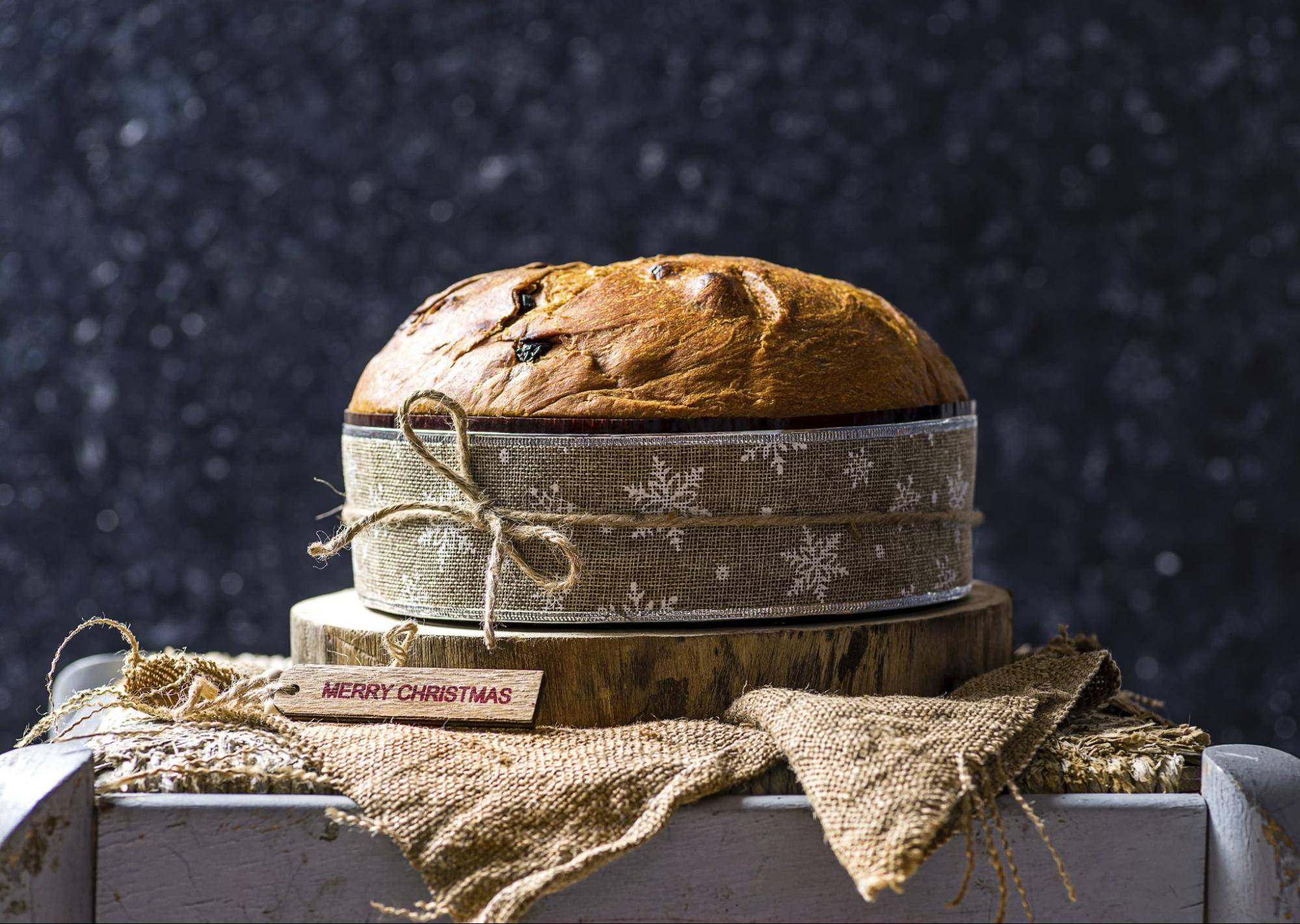 ---
3 Ways to Pair Panettone Like a Pro!

The beautifully fluffy panettone, with the dust of sugar icing sitting pretty on top, is classically paired with robust coffee - predictable couple, we know, however, once you discover your ways to add an Italian flair to your morning coffee, you'll see, there's much more to it than an energizing caffeine buzz. It's even more effortless to take your gorgeous loaf to the next level when you let your creative juices flow. To give you a little push, we're ready to let you in on our tasty little secrets:


Prettify your panettone slices with the nutty aroma of

Italian pistachio cream

for a classy indulgence. The soft, delicately crumbly texture of this Italian bread-like cake will be transformed into melt-in-your mouth-goodness when mixed with the rich

nut butter

.

To add a little bit of crunch, try toasting your slice. You can also top it off with simple whipped cream or oh-so-soft mascarpone with a drizzle of

acacia honey

, and enjoy!





Not all spreads have to be sweet, so don't avoid savory or spiced chutneys! The rustic red concoction of tomatoes will add a bright pop of flavor to your toasted panettone slices in the blink of an eye. Remember, they are one of the favorite fruits of Italy for a reason (and yes, tomatoes are fruits, no matter how confusing that might sound). For gourmet character, drizzling some

truffle honey

on your panettone toast is something you must try. We know, we said, not everything has to be sweet, but the pieces of ambrosial fungi will make those luscious flavors secondary to enchanting earthy aroma!





Don't forget about Italian cheese for a real work of art (it even sounds impossible to do so). Who cares for traditionally sweet desserts when you have pungent Taleggio or Gorgonzola at hand, right?! Slice them thin and layer on top of your fluffy, crumbly panettone slice. If it strikes your fancy, feel free to add

wine-soaked pears

,

too, on your somehow unpredictable yet extravagant dessert, and indulge!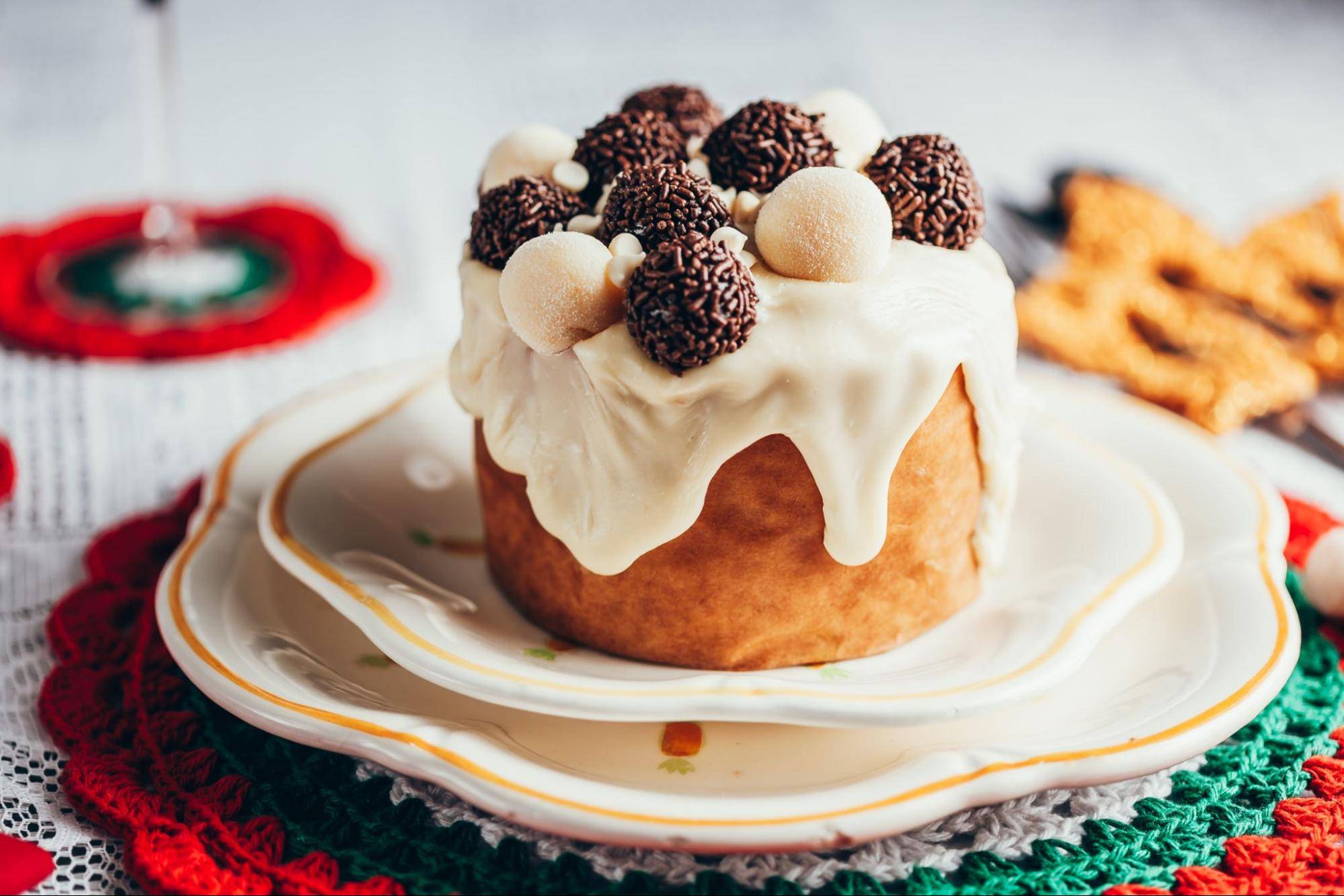 ---
Now You Know What is Panettone, What's Next?

Now you're about to discover where to buy the best panettones! We know it can be a daunting task carefully picking and choosing new tastes, hoping they would turn out perennial favorites, but fear not. We have gathered a couple of names you should look for when stuck in our digital aisle! Today, you're going to meet some of the fabled Italian brands unrivaled around the globe thanks to their exquisite flavor melding, finest quality ingredients, and the perfect blend of traditional culinary methods with the latest technology. Let's get down to the nitty-gritty of Italian panettones, shall we?!
Fiasconaro is the name that speaks for itself. The story of a fabled family brand started in the town of Castelbuono in the 1950s. By blending exquisite Mediterranean flavors with the superstar Milanese bread-like cake, the brand has put Sicily's small town on the country's culinary map and has never stopped growing ever since. While our colorful collection of the brand deserves a thorough look through (yeah, you can't be "just-looking" when it comes to the Sicilian MVP, or you might miss complementary honey-sweet manna cream, Modica chocolate IGP, and, of course, saffron delights), we are going to introduce you to some of the best Fiasconaro panettones you most definitely need for your holiday season!
Panettone Nero Sublime

is the deliciously brown cake that might be looking like a humble, ordinary chocolate panettone, but it's definitely more than that. The crumbly panettone is embellished with strawberry jam and cocoa coating and chocolate drops for an exciting bite. However, magical aromas don't stop there! The eye-catching, hand-crafted packaging includes a wondrous Modica chocolate spread and an elegant spreading knife for the hassle-free, convenient serving. Oh, and Modica chocolate? Yeah, that's nothing, only the most-prized Italian PGI (the Protected Geographical Indication), specialty chocolate spread made by manually grinding cocoa beans, carrying an even more intense aroma and rich texture!





Dolce & Gabbana panettone

is the ultimate luxurious dessert; it's an honor to even be in its presence! However, underneath the eye-catching, colorful packaging, exclusively designed by, you guessed it,

D&G

- there is a classic Italian panettone enriched with sweet raisins soaked in Vecchio Samperi, Marco de Bartoli's first wine! That's not all - for a crunchier bite, Sicilian culinary artists have bejeweled the Milanese crumbly treat with delicately sweet Italian almonds, too. So, this Fiasconaro panettone is perfectly soft and crunchy at the same time!




Pasticceria Filippi is famous for its unique flavors of a signature family-recipe panettone! The brand was established in 1972, in Vicenza, by Maria and Giuliano Filippi following their culinary passion. Today, their children are the ones tirelessly melding marvelous flavor, not shying away from the challenges of crafting the unique takes on traditional Italian panettone. While our selection is packed with eye-catching treats, there are some of the hidden gems you should definitely get your hands on!
White chocolate & lemon panettone

is the ultimate holiday special! The delicately fluffy, golden panettone cake is made using signature fragrant mother dough, packed with luscious white chocolate and finest quality candied lemon peels for an even more exciting bite. The buttery treat from Filippi is meant to be savored - so, indulge yourself with teeny-tiny nibbles (that might feel more like torture, but stay strong!) to fully discern the mastery behind the culinary work of art the brand has created. To take it to the next level, dunk your slice into your cuppa and enjoy one-of-a-kind aromas of decadent Italian panettone.





And, finally,

panettone with 61% Maranta chocolate

, a classic treat with sophisticated add-ins! It's the ultimate love letter (but, obviously, in a cake form) dedicated to highbrow chocolate connoisseurs - that's why it's elevated with Maranta chocolate drops. The luxurious Maranta blend is made using only Criollo and Trinitario varieties of cocoa. It is loved for its unforgettable citrusy aroma and ever-so-slight acidity - dark chocolate lovers don't even know what they are in for! So, to greet a new year and old friends with impeccable flavors and scrumptious aromas, you know where to find the unrivaled panettones of Filippi!
And these are only off the top of our heads. Once you give our collection a thorough look, you'll be stunned at the luxury of choice: Motta panettones with luscious chocolate cream filling or dazzling Limoncello aromas by Pasticceria Fraccaro; we have everything you need.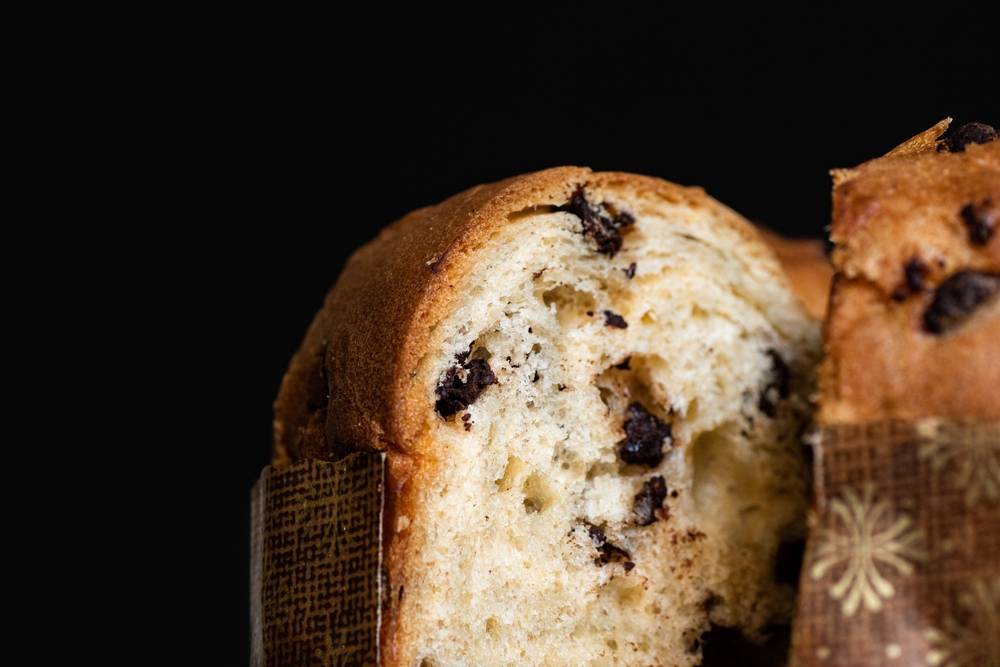 We hope it was a lovely meeting with panettone - our favorite delicately sweet, fluffy treat, still confusing the world, whether it's sweet bread or pudding cake! One thing is for sure - no matter if you like your dessert assortment classic and simple or packed with culinary treasures like Modica spread, Maranta chocolate, or fabled Italian almonds, panettone can do it all (and much more). Since you know exactly where to buy panettone bread or cake, whatever you prefer to call this delight, all you have left to do is choose from our selection your new favorites. Filled with everything from gluten free panettone to Dolce & Gabbana specialty, trust us, it won't be an easy task.