Sculpted over your birthday cakes, hidden in your favorite chocolate bars or festive figures - marzipan is all around us; however, it really steals the spotlight whenever the holiday season is creeping up on us, trying to catch us unprepared - hm, did I forget about anything? Yes, soft and smooth marzipan fruit figures! Don't worry, we've devised a quick little guide to catch you up on all the essential marzipan delights, and are ready to give a quick 101, too, just for fun of it. So, let's get started, shall we?!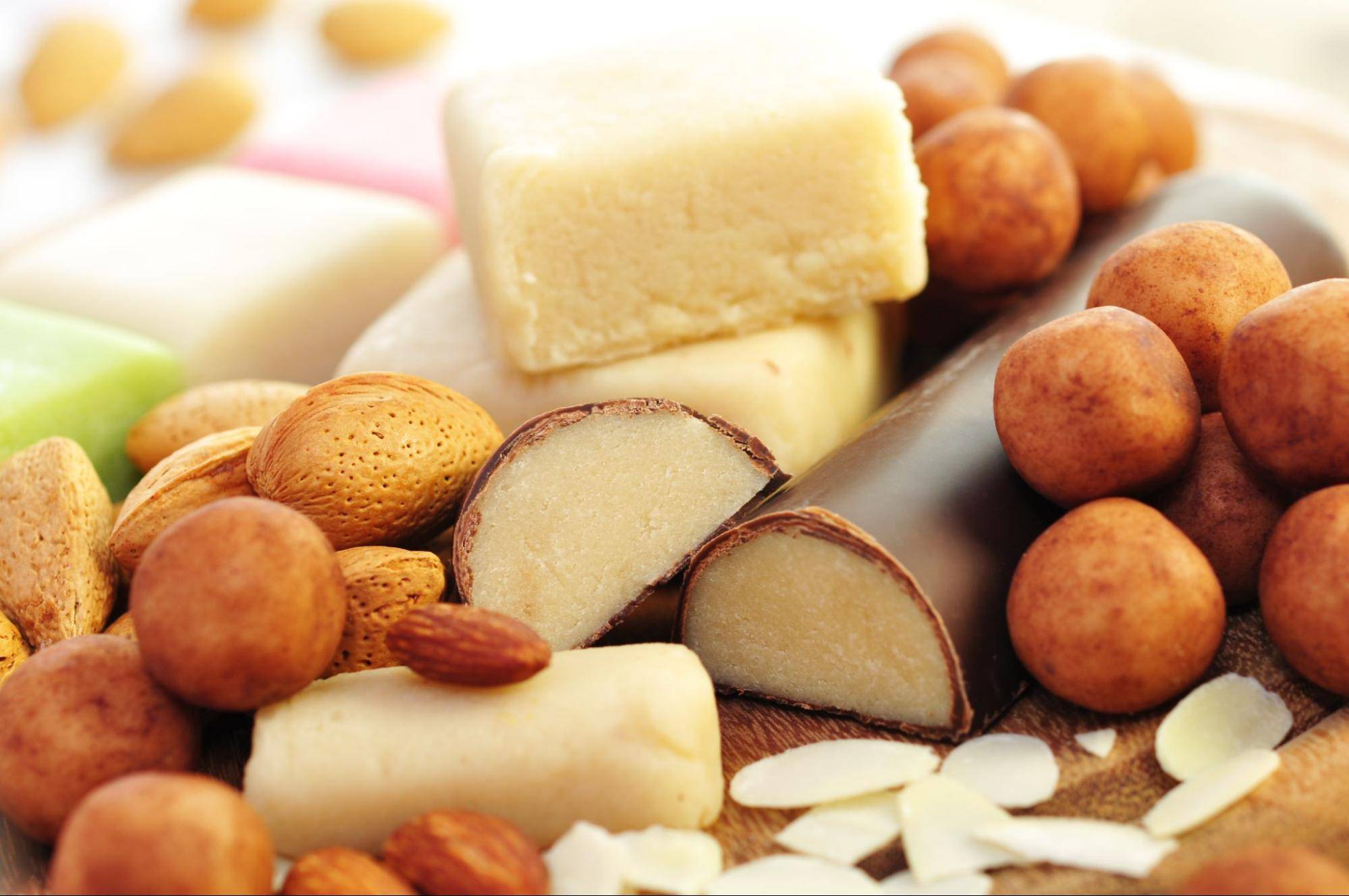 ---
What is Marzipan & Where it Comes From

To put it plainly (without declaring our unending love for it), marzipan is a candy-like, almost clayish sweet, made using a tasty paste of ground almonds, sugar, egg whites, and corn syrup. We know it's almost unbelievable how four simple ingredients result in one of the fabled sweets worldwide, and it's nearly impossible to explain the magic behind it (at least for those without a culinary science degree). All we can do is admire, eat, and, maybe, trace back how exactly it was born.
The yummy almond treat is famous all around the world, especially in Europe and the Middle East. However, its origins are shrouded in mystery, extremely complicated to track down. Some say it was invented in Persia since marzipan (or a more simple version of almond paste) is also mentioned in "Arabian Nights," a famous folk tales compilation. However, according to one of the earliest references, marzipan might have been born in Italy or Spain in the 15th century.
As one of the famous legends goes, marzipan was born in Italy, during crop failure, when all there was left were crunchy, sweet almonds. So, Italians incorporated them into their regular menu: pizza, bread, desserts, and when there was nothing else to upgrade with the delicate sweetness of nuts, they decided to invent what will soon be known as marzipan or "Mark's bread" in Italian! According to one of the first officially documented recipes, it was dedicated to the patron saint of Venice - Mark the Evangelist. Italians found the undying love for oh-so-soft marzipan and, naturally, experimented a lot; that's how endless almondy sweet desserts came about - fabled Pietrasanta cake, Salento marzipan biscuits with lemon peel, and, of course, Cassata alla Siciliana!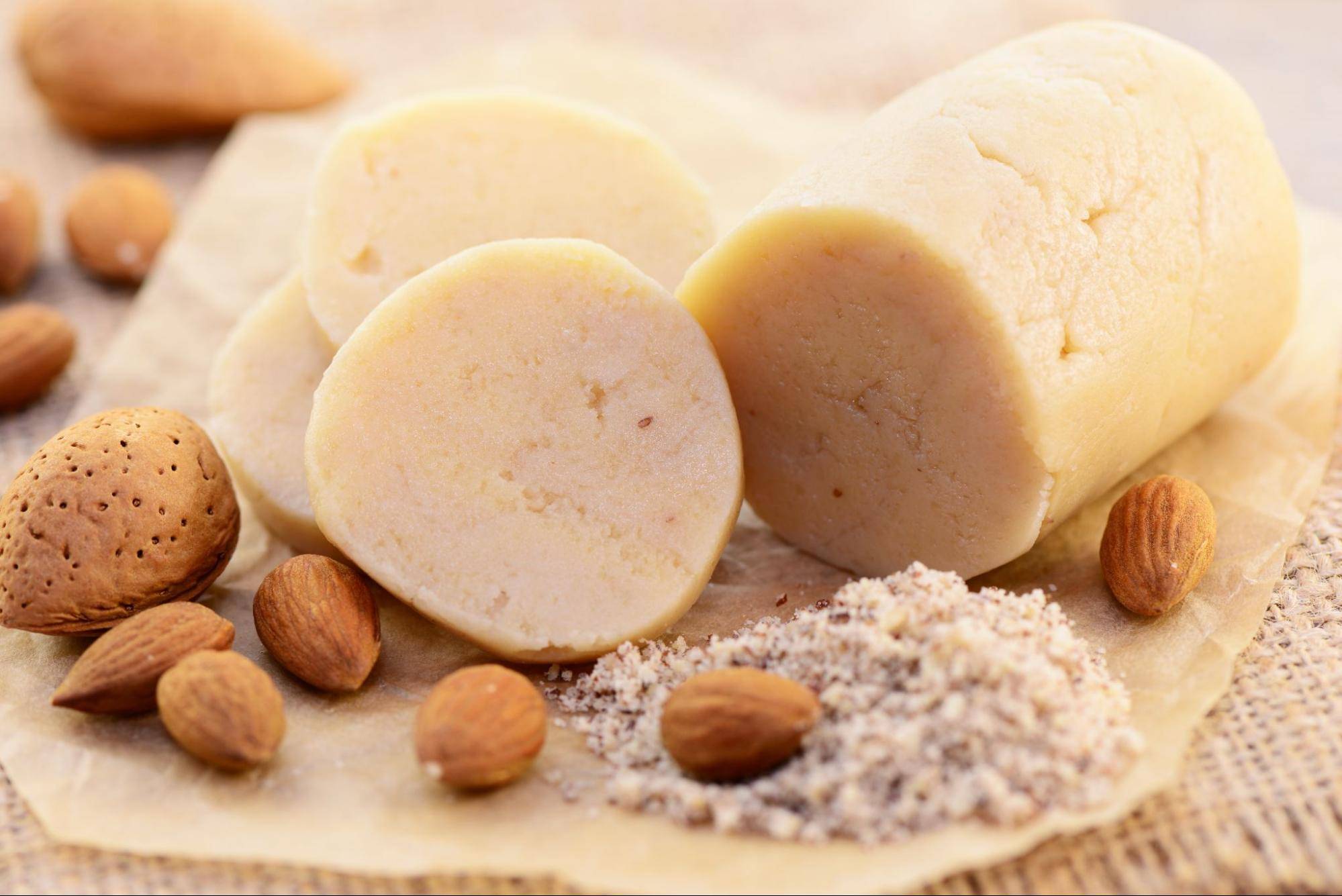 ---
What About German Marzipan?

Germany is the undisputed pioneer of creating Lubecker specialty, introducing the whole world to the ultimate nutty indulgence. Since Lubeck is deemed the capital of marzipan, it's only natural to tell the story in detail.
Legend has it, German marzipan was born in Lubeck in the 15th century, and it was all thanks to the scarcity of flour - confusing how bad things usually bring brighter days, right?! Let us elaborate on that confusing fact - since baking bread became a troublesome and strenuous job during the famine, the town's bakers were ordered by the Senate to come up with sweet replacements. Even though cooks prepared nothing bread-alike, we are still thankful for the soft, smooth marzipan they have invented!
In the 16th century, Martzapaen was officially mentioned in Lubeck's guild; at that time, it was sold in apothecaries due to the scarcity of the ingredients needed. However, in the 17th-century importing sugar and spices made this noble nutty treat more affordable, so nearly all of Germany got on board with the rest of Europe. Still, it wasn't until the 19th century, when Johann Georg Niederegger opened the confectionery in Lubeck, that everyone got a taste of marzipan. C'mon, Niederegger marzipan must sound familiar!
The beloved confectionery brand set the bar so high that Lubeck marzipan is now preserved by the PGI (Protected Geographical Indication mark assigned by the EU). So, what's unique about Niederegger marzipan, you might ask, and, of course, we have the answer. Typically, marzipan was made using a larger amount of sugar than almond, but Johann Georg Niederegger flipped the ratio - he transformed marzipan into an ambrosial nutty delight as we know it today!
For your nutty indulgence to qualify as a Lubeck specialty, it must not contain more than 30% sugar. Niederegger also substituted beet sugar for regular sugar, making marzipan affordable for all. That's when marzipan became an inseparable part of the German holiday season, as attested by various Christmas desserts and sweets stuffed and decorated with a generous amount of this nutty delight. So, if you want to jazz up your pantry of festive desserts or your emergency snack drawer with impeccable flavors, you know exactly where to buy marzipan that's guaranteed to please a crowd.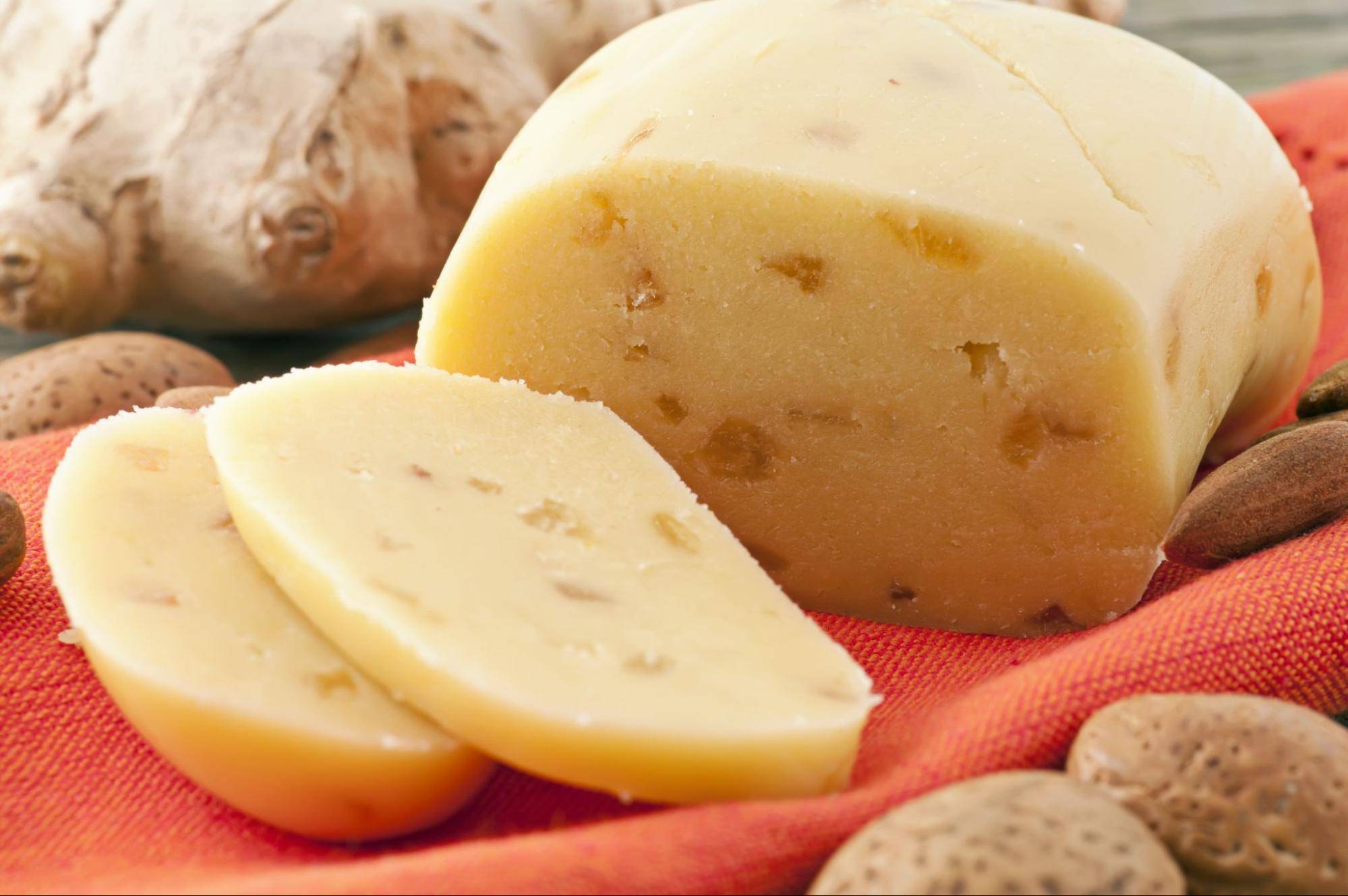 ---
All the Marzipan Names to Get Familiar With

Whenever holiday preparation is getting you down, a little something sweet can be just the pick-me-up you need, and there's no better candidate than marzipan. Plus, it can be a delicious 2-in-1 situation - you test all the tasty, oh-so-smooth nutty treats to whip up all sorts of exciting desserts at your dinner parties. And, if you don't have time or an undying enthusiasm for grounding almonds yourself and transforming them into the softest figures ever known to humankind, we have just the list you need. Here are all the names you should keep an eye out for when stuck in our collection of marzipan!
Classic marzipan with chocolate is always a good idea! The finest marzipan makes a festive accompaniment to your favorite coffee, dessert drink, or even wine. Even though most people don't see marzipan as an independent dessert option, it really is! So, don't be afraid to enjoy Niederegger's treat as it is. We also have irresistable gift options. Marzipanerie box is an absolute dream come true for all the true marzipan enthusiasts! The assortment from the legendary brand includes chocolate-coated delights with different shapes and fillings that will look enticing on your homemade desserts. It will be a delicious addition to your stocking stuffer selection as well!

Lubecker Edel marzipan bar is an outrageously soft and delicately sweet treat for any time. The classic bar works great as a nice after-dinner treat paired with an airy Cafe Latte. But, who are we to hold you back? Enjoy it over breakfast with your favorite cuppa or with an aromatic mulled wine, maybe even hot chocolate to make a decadent holiday dessert fit for even the most demanding palates. And don't forget to share lusciousness of marzipan with your loved ones. Katzenzungen marzipan box will be the perfect gift for anyone missing the comfort treats from home! Cat tongue chocolates are the classic treats of European countries, a sweet symbol of the childhood of all who grew up there. Sweet marzipan is coated with an all-encompassing rich chocolate layer that is bound to serve as an all-time favorite pick-me-up to tie you over the afternoon slump. C'mon, you can't say no to chocolate covered marzipan!

Mozart chocolate marzipan hearts are the classic lovely treats ready to take your celebrations up a notch! The scrumptious treats from Reber are more than delicious to enjoy on their own. However, if you want to smooth your way into a soft marzipan heart, pair them with a steaming cup of coffee or even hot chocolate and transform Mozart-Kugeln delights into melty goodness.
You can't forget about the Mozart Kugel chocolate marzipan in a violin gift box, the purest simple pleasure of Mozart-Kugeln treats adorned with eye-catching packaging! So, if you want to dazzle your foodie friends over the holiday season with unique gifts, this is exactly what you need and more! Feel free to serve it at your parties (or just whip it up and get ready for the performance of your life) to blow the crowd away.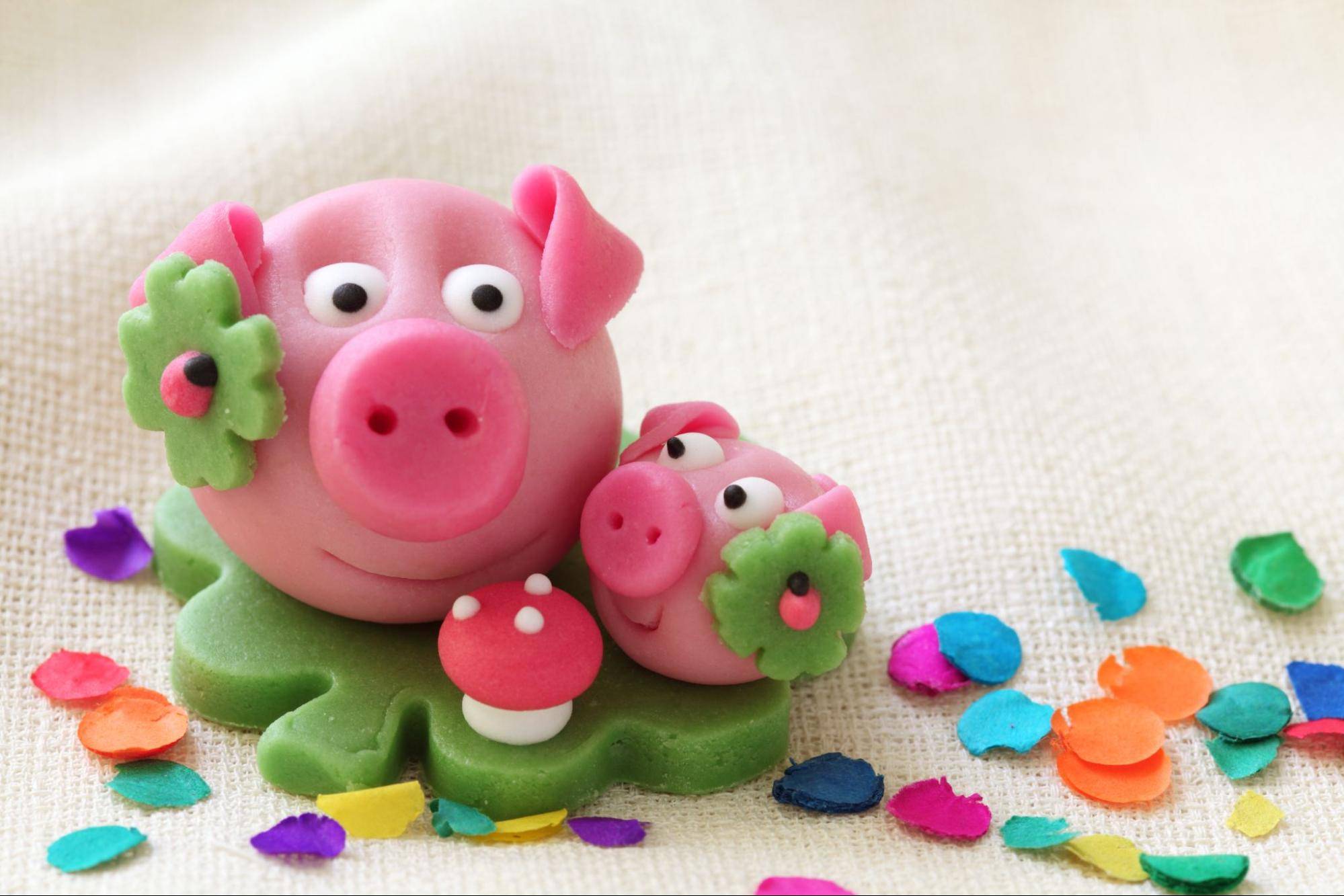 So, if you're looking to include something extraordinary in your dessert collection or just want to surprise a friend with their childhood comfort sweet from home, we've got you covered! From a heavenly soft marzipan milk chocolate bar, mouth-wateringly appetizing Lubeck marzipan fruit figures and chocolate covered marzipan treats, you're guaranteed to find a thing or two that strikes your fancy in our extensive collection of marzipan. So, since you know where to buy the best marzipan sweets, start planning your festive menu with Yummy Bazaar!