Simple, yet so rich, hearty, and packed with flavors of mighty-comfort of home - risotto checks all the boxes when it comes to Italy's favorite food, and even though the competition is fierce, we think the oh-so-smooth rice dish indeed takes the crown. While it's mainly loved for its simple and straightforward recipe (even though it's equally effortless to mess up if your hand ever gets tired from stirring the rice endlessly), risotto can be unimaginably versatile if you know your way around! So, it doesn't matter if you're a long-time admirer or looking for exciting add-ins for your Sunday dinner menu; risotto is an infallible mood-lifter that can easily be transformed into a restaurant-caliber dish with a few tricks up our sleeves. So, get ready, we're about to teach you how to make risotto so much better that even your nonna will be asking for a recipe!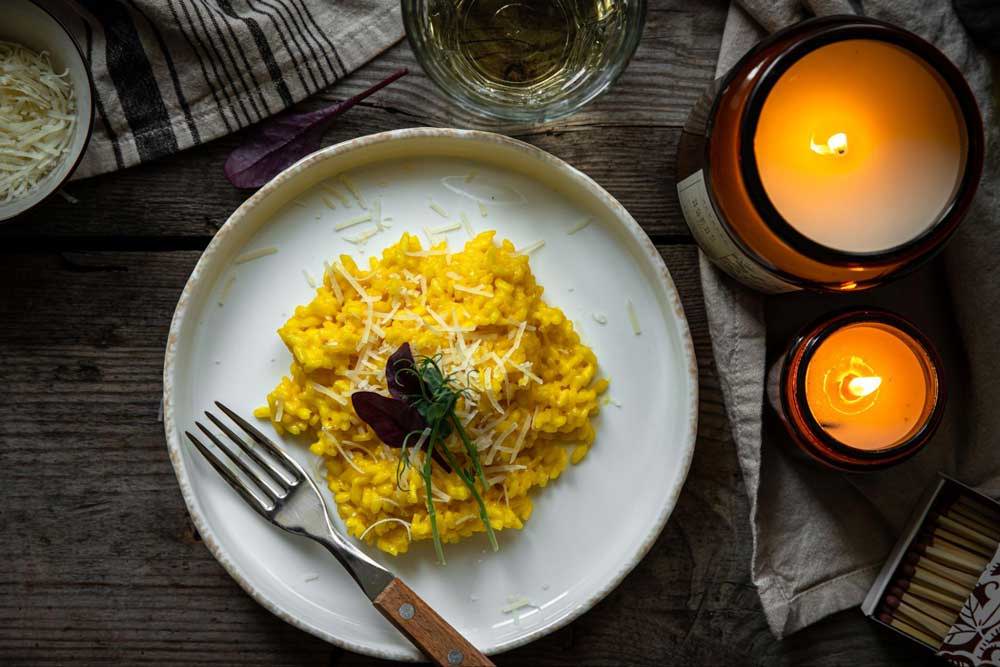 ---
Let's Start From the Beginning: How Risotto Came About?

With the perfectly humid climate of the Mediterranean, Italy abundantly cultivates short-grain rice, making it a staple ingredient of the national cuisine ever since the 15th century. The earliest recipes of what might have been risotto can be found in a cookbook from the Middle Ages by Maestro Martino, and even though it probably tasted nothing like the beloved creamy dish we all know today, the fact itself marks the birth of Italian rice dishes. Although the question of who invented risotto remains unanswered, we have a rough idea about when the modern-day, sauteed-onion-rice concoction was born - it was in 1809 when a glassblower's apprentice from Milan played around with a wedding feast menu and added deliciously golden saffron to a creamy rice dish. Italy has never stopped mastering the recipe ever since!
The creamy treasure is built around three essential components: rice, stock (interchangeably referred to as broth), and flavorings. Risotto takes a never-ending cycle of layering flavors until your kitchen is filled with the scrumptiousness of Italy, so don't go in expecting an easy fight! After picking the right rice, preparing a flavoring base is crucial. Once your rice is packed with pleasant aromas and tastes enchanting from the first bite, now it's time to dry it out and flavor it again with cooking liquid little by little, stirring until you can hear your saucepan and spatula whispering: ENOUGH! Once you achieve that unmistakable al dente texture, remove from the heat, cover with a lid and leave it for a couple of minutes before adding butter and cheese. Doesn't matter, if you're a lover of a classic or freestyle, there are a few little tricks you should know to take your risotto game up a notch!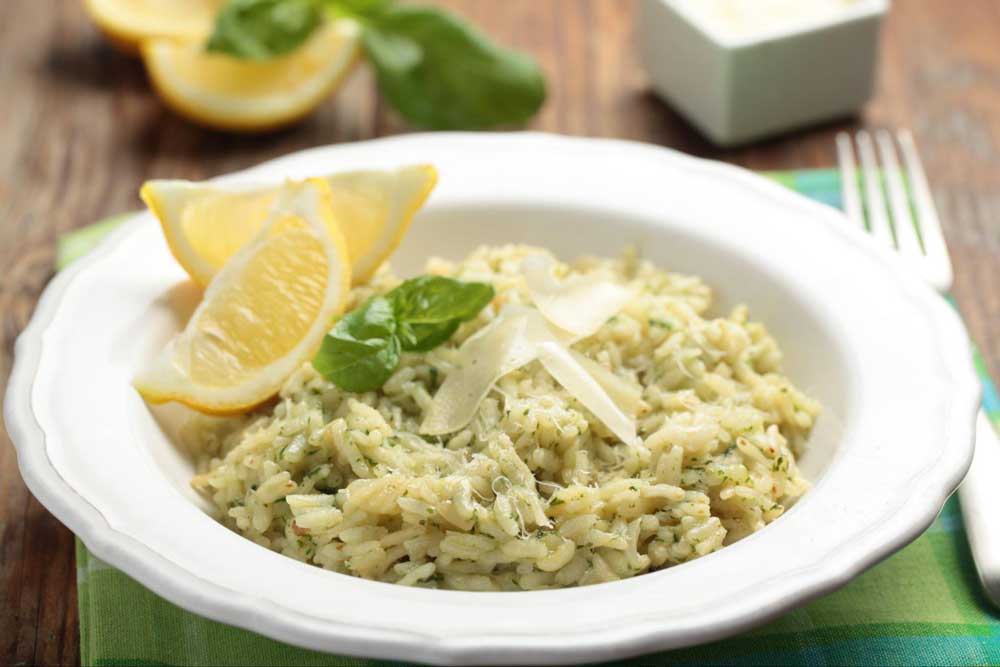 ---
Essentials for a Restaurant-Caliber Risotto:

Italian rice:

it's the most important part of the dish. While you might be tempted to substitute regular, long-grain varieties for

risotto rice, we have one thing to say - don't! You might ask what is risotto rice and we're happy to tell you all about it. Short grain Italian rice, such as Arborio, is starchier, carries a chewier texture when cooked, ensuring the ability to absorb broth even better - so, it's perfect for risotto dish. However, for a truly restaurant-worthy creation, there's much more you can do:
1. When it comes to risotto rice, the starchier, the better - that means you should definitely get your hands on Carnaroli - a medium-grained variety known as the King of Italian rice, and it's an absolutely well-deserved moniker. Mainly cultivated in northern Italy - Pavia, Novara, and Vercelli provinces, Carnaroli is loved for its long and thick kernels, absorbing liquid even better than Arborio!

2. However, if you want to add a little extra flair to your dish, then Vialone Nano is your guy! This Italian medium-grain rice is a typical cultivar of the flat growing areas of Veneto. It maintains its structure while absorbing more liquid during cooking and adds an ever-so-slight earthy aroma to your risotto.
Flavorings,

also known as "soffritto":

to provide a delicious base for cooking your Italian rice to perfection, it's crucial to select your flavor combinations with care! It can be finely chopped sauteed onions, shallots, or something more exquisite. They say go big or go home, but we don't think there's a shame in either of these options:
3. Classics: even if you decide to go with a tested and proven old-school trio of onions, carrots, and celery, there's still plenty of room for gourmet flair. When sauteing veggies, opt for Italian DOP olive oils: Taggiasca for fruity flavor and low acidity and Dauno Gargano for full-bodied aroma with notes of fresh grass. However, if you're fond of that signature delicate bitterness and peppery finish, then Umbrian is the match made in heaven!

4. Extravagance: there are no rules about what goes into soffritto; just make sure to cut your soffritto finely to mix with the rice better. To transform your flavoring layer into a rare bird, feel free to saute leeks, lemongrass, or even asparagus. However, for a truly Italian pep-up, there's no better choice than adding exquisite truffle oil. We have to warn you: once you add the slightly garlicky, earthy aroma of the renowned ambrosial fungi to your dish, you will end up falling in love and needing a thorough guide to Italian truffles to enrich your pantry, so it's better to be prepared!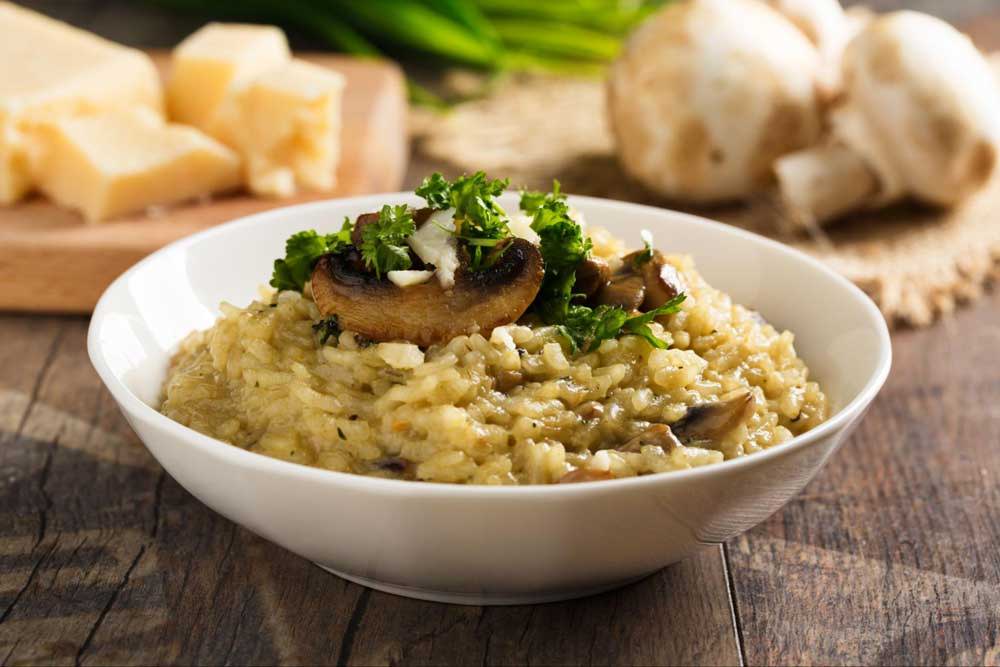 Broth:

the crucial part for making the ideally creamy risotto is to stir in soffritto-flavored, dried-out rice with a warm broth/stock. Here your patience is going to make or break your final creation. For a soft texture, you will have to add ½ cup of broth at a time, and stir, stir, and stir until it's absorbed! For those who like to go by the book, the chicken stock will be the perfect option. However, if you don't have an undying passion for making your stock at home:
5. There's always a shortcut: by simply adding white truffle bouillon cubes to your vegetables or chicken stock, your risotto is going to be packed with unmistakable earthy flavors of fabled white truffles, and if it's not enough for certified fungi lovers, feel free to add porcini mushrooms to your concoction!

6. Little something extra special: if you don't want to leave anything to chance, there are ways to guarantee the amazement of your guests. Simply substitute or mix your stock with white wine for a fresh pop of delicate acidity, leaving even the most sophisticated palates wanting more. You can also add red wine (just like in classic Piedmontese recipes) or even red wine vinegar for eye-catching visuals, too!

After you're done with stirring, all you have to do is mix in butter and cheese, serve your risotto warm, and enjoy the hearty creation of yours!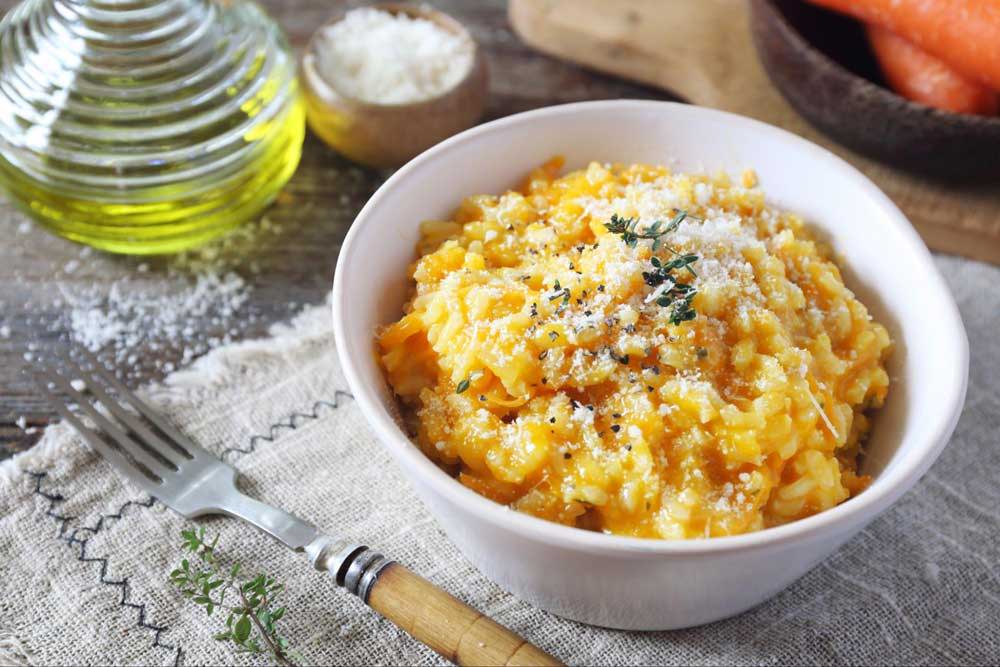 From scrumptious stocks topped with earthy porcini slices or invigorating wine vinegar to all-truffle creations, the styles and ingredients of risotto are truly limitless. Adding these quick and easy enhancers to your risotto experiment is a great way to transform a fabled Italian classic into a mind-blowing one-of-a-kind chef's special. So, since you know exactly where to buy risotto rice and every other essential ingredient for a little pep-up, what's stopping you?