From the early 50s, Fiasconaro has been working tirelessly to achieve the perfect blend of the unique Sicilian flavors & traditional Italian gastronomy, especially shockingly luscious seasonal cakes and sweets. We're more than happy that the fabled brand not only reached its goal but exceeded the expectations of all, we dare say, around the world!
With nearly 69 years of experience under its belt, the family business of Fiasconaro began in Castelbuono, a small yet beautiful town in Sicily. Starting as a little ice cream parlor near the city's main square, Mario Fiasconaro, with help from his three sons, made his patisserie dreams come true - Fiasconaro became the talk of the town, and by town, we mean the whole country. By relentless commitment to excellence and mastery of Nicola Fiasconaro, award-winning pastry chef, the brand is loved for a masterful melding of innovative and traditional Italian flavors, and you can give all of them a try by browsing through our extensive collection! However, we decided to make things easier for you and compiled a brief yet tasty selection of all the treats from Fiasconaro to get your hands on for the sweetest new year.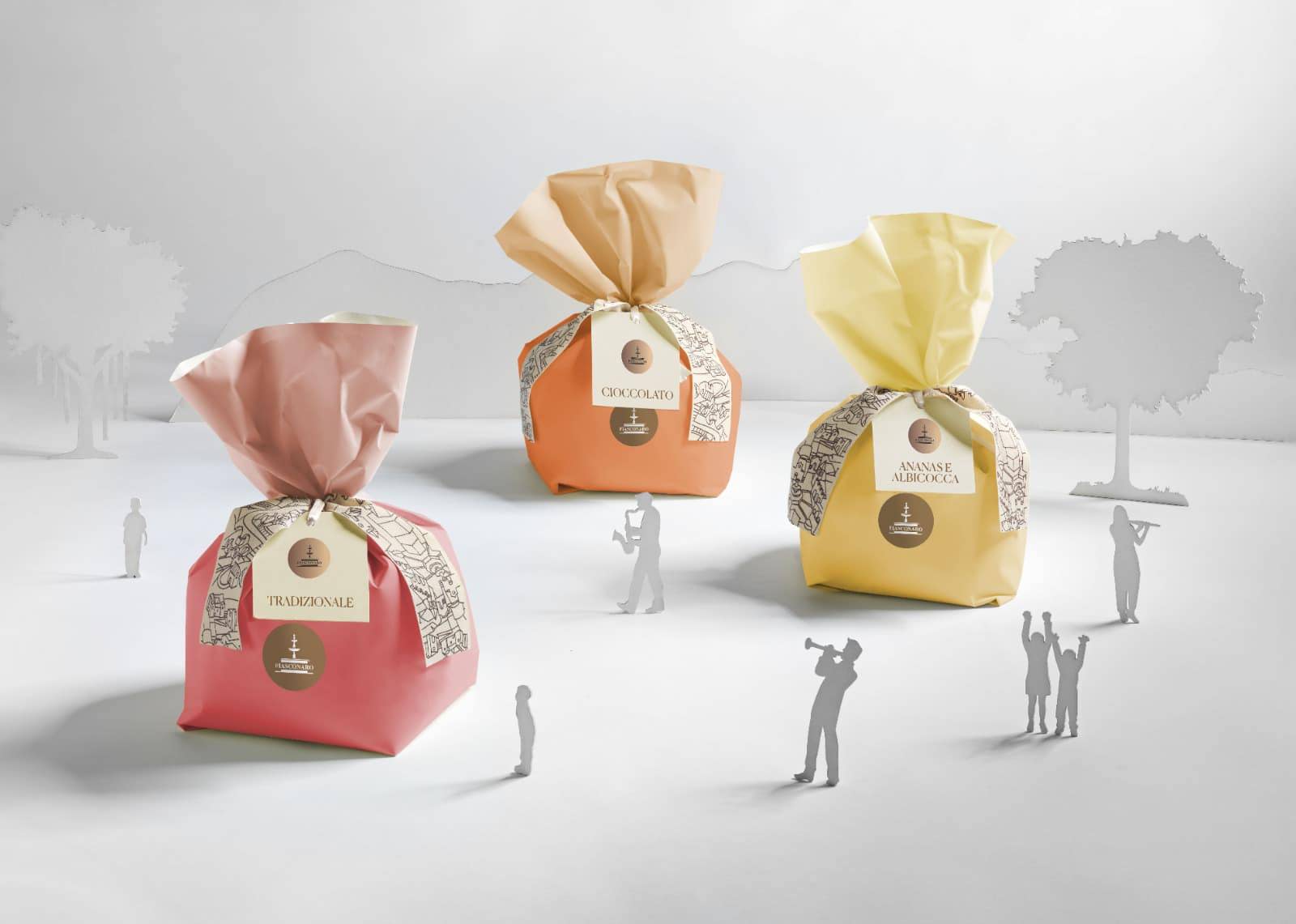 Savor Culinary Phenomenon of Fiasconaro!
Classic panettone by Fiasconaro is an irreplaceable part of the Italian holiday season, and once you give it a taste, it's bound to become the ultimate essential for you, too. By prolonging the fermentation process of the mother dough to 36 hours, letting the aromas seep in, Sicilian chefs have created an even more delicious version of traditional panettone (and no one even dared to think it was possible). Looking at Fiasconaro's panettone, here are some of the culinary secrets we think they are keeping from us. While looking pretty in pink, the classic panettone is flavored with Marsala and Zibibbo wine - oh-so-aromatic varieties from Sicily. The fortified Marsala wine is often used in cooking for creating nutty, caramelized flavors with its vanilla-like aroma, however Zibibbo is actually one of the rarest grapes in the world, also known as Muscat of Alexandria. The eye-catching Zibibbo wine with light yellow hues carries an intense aroma with notes of candied citrus and dried fruits, and we know what you're thinking - cause we are already thinking exactly the same thing. If you've already skimmed through our blog post about panettone, you know it's usually made with raisins and candied citrus peels. So, by adding fabled Sicilian white wine varieties with irresistibly fruity notes, Fiasconaro has doubled the sweet pleasures of luscious aromas. So, here are some things to expect from classic panettone by Fiasconaro: its pillowy, soft dough is elegantly filled with fragrant candied citrus peel and raisins making it perfect for celebrations and festivities. It's hand-wrapped in colorful packaging, so if you're looking for a dazzling gift for that one friend with a crazy sweet tooth, it will be spot-on. After you take a bite, it will be easy to tell why it's called classic!
Fiasconaro pandorato is the meeting point of Veronese Christmas cake and Milanese sister-treat! While shaped like a classic panettone, it's actually pandoro that's hiding underneath - sweet, crumbly dough free from raisins and candied fruits that picky-eaters shy away from. The fluffy yet pleasantly moist dough will make your olfactory senses go crazy in the most delicious way. While your nose enjoys an enchanting aroma, your eyes get to stare at beautiful sugar icing, making your festive cake look like a snowy mountain! However, despite its, as one might say, humble interior, Fiasconaro's pandorato is as versatile as it gets. It goes wonderfully with pretty much all of your favorite beverages, starting from coffee to festive eggnog. However, pandorato will also make an unforgettable duo when paired with an Italian soda - the most convival combination! Oh, and don't forget the spreads - unique Sicilian orange marmalade or soft Sicilian almond cream, you pick (if you think it's even possible)!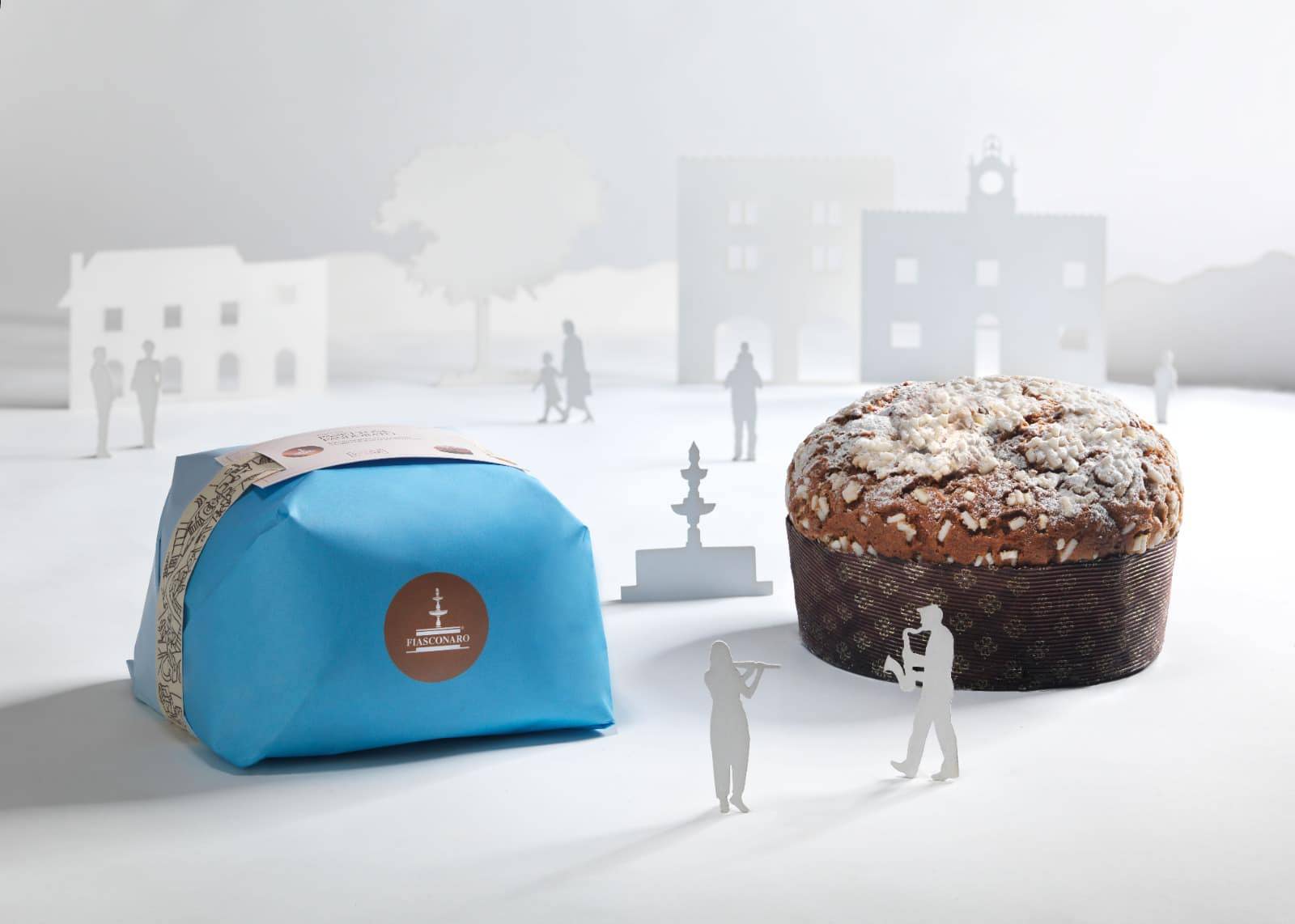 Pandorato or panettone, thanks to Fiasconaro, there's a flavor for every occasion! It's our honor to introduce Oro Verde panettone to the comfort of your kitchen, which might or might not be going on your Christmas dinner table, depending on how good you are at resisting the unbelievable moreishness of the cake. While packaging might look like an ordinary yet elegant pastel green box, it hides irresistible delights inside it. The chief Sicilian confectionery brand includes an elegant spreading knife - spalmino, tasty pistachio cream, and, of course, the superstar of the show - delectable panettone glazed with luscious white chocolate and nuts sprinkled on top. Well, its moniker speaks for itself (Oro Verde or "Green Gold" in Italian) since it's made using premium quality Sicilian pistachios, prized for their delicately luscious aroma and eye-catching green color. These almost-emerald beauties add unique flavors to that enticing white chocolate glazing, too, filling your soon-to-be favorite panettone with authentic Sicilian flavors. By naturally leavening the signature sourdough for over three days, Fiasconaro delivers instantly recognizable fluffy texture with ever-so-slight moisture and a light feel.
We don't want to steal the spotlight from this stunning creation (not that it's possible), but that irresistible jar of pistachio spread deserves appreciation, too - creamy, rich, and delectable cream will feel right at home when spread over your panettone slice, and if you have any left, on your ordinary breakfast treats, too. So, Fiasconaro has arranged a gastronomical bouquet of the ultimate festive delights, guaranteed to dazzle your foodie friends or you with unmatched quality!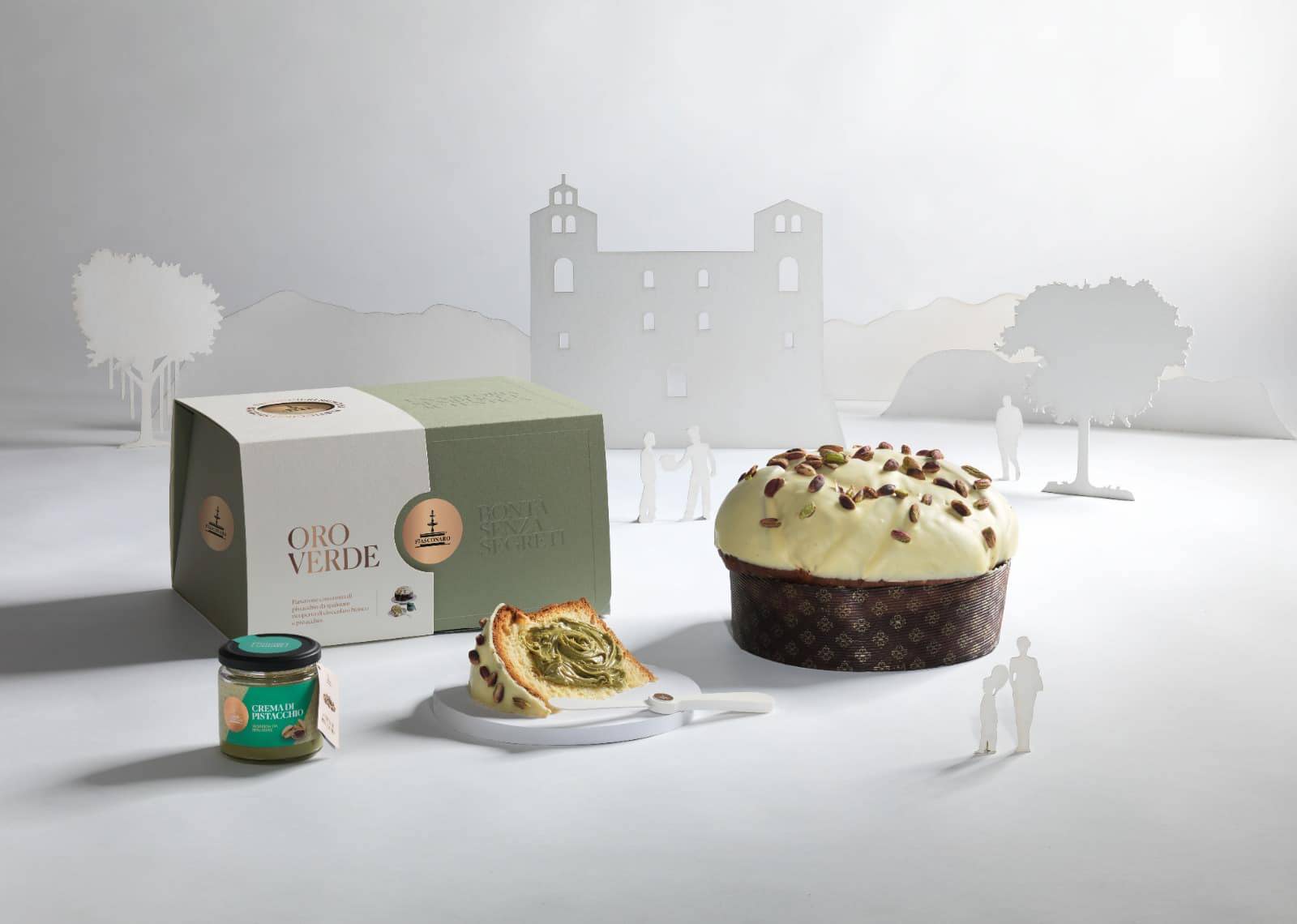 If we could eat panettone all year round, it would definitely be Nero Sublime panettone by Fiasconaro! Unbelievably decadent treat with stress-relieving superpowers is the result of ingenious chocolate flavor melding by the fabled Sicilian brand, proving once again the supremacy of Italian gastronomy. The outstandingly festive chocolate panettone is naturally leavened, perfectly crumbly cake prettified with luscious coating on top made by infusing wild strawberry jam and oh-so-aromatic cocoa cream.

However, it's not all; it's not even half of what you must be expecting from Nero Sublime panettone. The elegant brown box is packed with a signature spreading knife - spalmino, and creme de la creme of Italian chocolate (that you might already know from our delicious blog) - Modica chocolate cream PGI (Protected Geographical Indication). The unique chocolate is only produced in the Province of Ragusa, near Sicily, by manual grinding cocoa beans according to ancient methods from Aztec culture. Modica chocolate has an enticingly grainy texture and an even more intense aroma than one would expect - the ultimate treat you'll want to splurge on with pleasure. With just a thin layer of it on your panettone slice, the cake will melt in your mouth instantly. We think the winner of the Superior Taste Award 2016 doesn't need convincing, and once you give it a try, you'll know exactly why.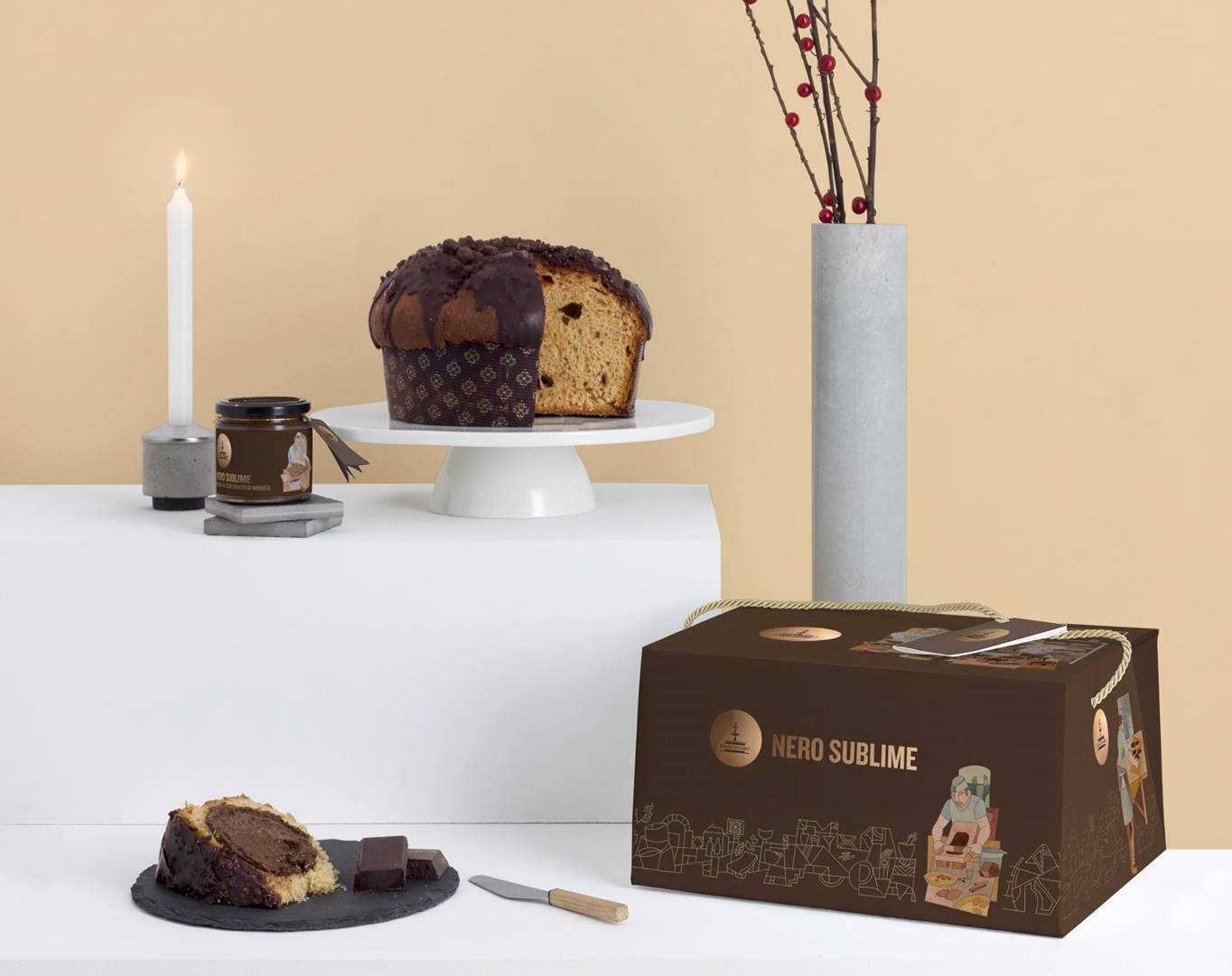 To finish it off with a delicious bang, we've saved Fiasconaro Dolce & Gabbana collaboration line for the last. While there are several delectable cakes in our collection, Dolce & Gabbana panettone with glazed chestnuts and Gianduja chocolate is the ultimate go-to if you want to be crowned the Most Stylish Gift-giver of the Year! The creative collaboration between fabled Sicilian names resulted in a signature recipe, letting confectionery artistry run free. The brands have built upon classic flavors, keeping the fundamentals, e.g., naturally leavened sourdough traditional. However, by pursuing gourmet flair, Fiasconaro elevated its highness-panettone with Gianduja chocolate coating and luscious glazed chestnuts. The precise selection of complimenting flavors, such as the abovementioned, transforms what could've been a simple yet delectable Christmas cake into a culinary masterpiece. And famous Gianduja chocolate is one of the co-authors of the said elegance: the first chocolate spread, one of the specialties of Turin, is a classic Italian chocolate cream made by using 30% hazelnuts to achieve instantly recognizable richness and soft texture. Fiasconaro used chocolate made with Gianduja spread to please even the most fastidious palates, and thanks to the beautiful tin designed by one and only D&G, it's guaranteed to arrive fresh at your doorstep, too. The eye-catching colorful box honors the Sicilian cultural heritage, and the color scheme carries the holiday spirit that's going to tie your big Christmas dinner into an unforgettable experience.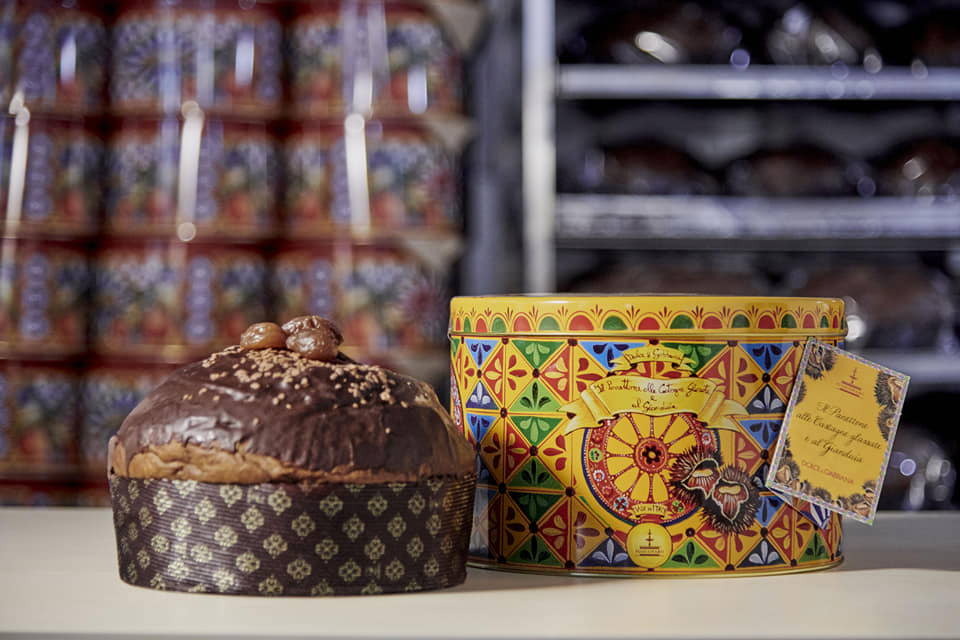 Remember, panettones and pandoros won't be here all year round (yes, we know, it's so hard to face the truth!). So, whether it's classics you're after or something exceptional, such as Dolce & Gabbana panettone, Fiasconaro has everything for every occasion! Don't forget, holidays are the perfect time to go big on your festive menu, gift lists for your self-proclaimed foodie friends, family, or yourself. So, scroll through the selection of one-of-a-kind Sicilian aromas by Fiasconaro, and treat yourself to the ultimate Italian indulgences!