If you're on a mission to surprise your gastronomist friends or family, or maybe even yourself with irreplaceable aromas of Its Highness Tuscan gastronomy, you should dive into our brief yet essential(ly sweet) list of Borgo de Medici holiday must-haves cakes!

Beloved Borgo de Medici was born out of the culinary virtuosity of Massimo Pugi and his family, dedicated gourmands. The family founded a small artisanal brand in Prato in 1990 that would soon become one of the most important upcoming names throughout the country. Massimo Pugi's culinary intuition was sharp - to honor Tuscan traditions, the brand uses only artisanal production methods and natural products free from preservatives and artificial additives and that's what makes it so special. That same dedication to preserving the classic Tuscan flavors has helped Borgo de Medici to become a beloved name worldwide. Over 22 years of experience, the company has developed into an instantly recognizable brand with stores in more than 30 countries, supplying millions of epicures with their ultimate favorites. By delivering Italian specialties with Tuscan twists, with Borgo de Medici, it's effortless to please even the most demanding gourmands.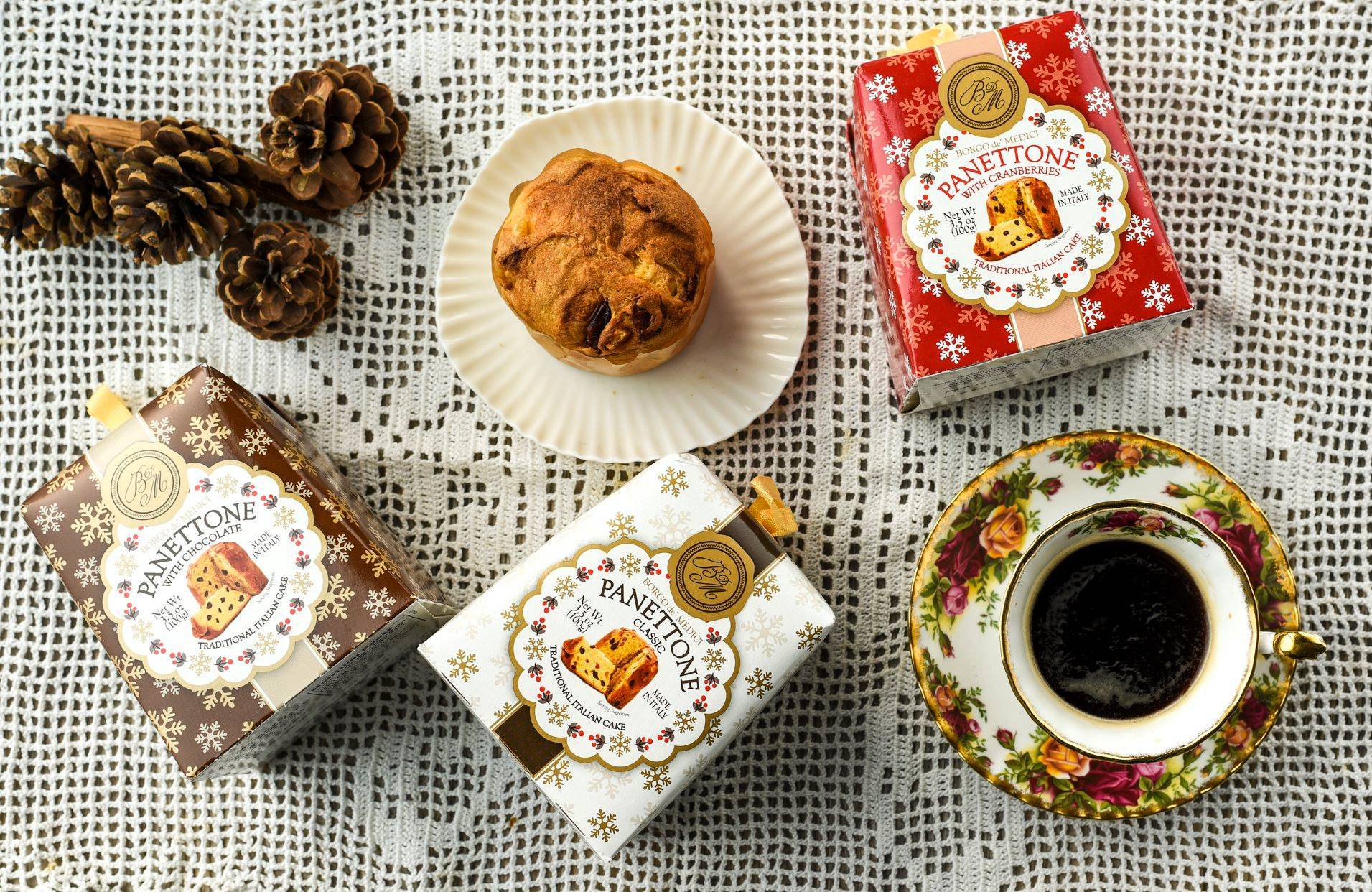 Moreish Festive Cakes by Borgo de Medici
Yes, there's no debating about classic gingerbread men and your favorite candy, reminding you of your childhood years; however, if you want your festive feast to look and taste equally unique, moreish, and delectable, your menu might need a quick little makeover. New things don't have to be scary if you know what you are getting yourself into. And what kind of a new year would it be anyways if you didn't greet it with new tasty comestibles?! Well, with Borgo de Medici, your culinary options are pretty much limitless, from antipasti gift-box to truffle risotto kit; however, luscious desserts are where we'll be heading right now.
Even though classic Italian Christmas dinner varies depending on the region, there are must-have sweet treats that you will run into. Pandoro, a fabled Veronese Christmas cake, is one of them, and you might remember it from  our extensive blog post. Well, Borgo de Medici has transformed classic crumbly cake into a gourmet specialty, fully equipped to add enticing touches to your festive feasts. Tiramisu pandoro by Borgo de Medici is a soft, light cake made from naturally leavened sourdough. The uniquely shaped cake has an eye-catching golden look. However, it's the inside that matters, right?! The moreish pandoro cake is filled with delicately sweet, tender tiramisu cream carrying the signature aroma of a beloved coffee dessert from Italy. So, if you're someone who prefers instantly melty goodness, a little bit of squidginess when it comes to the sweet course, what could be better than pandoro cake filled with tiramisu cream? It will go beautifully with your morning brew, especially an enlivening cup of espresso, maybe even English Breakfast. However, most importantly, it will look and taste irresistibly yummy when presented on your Christmas dinner table with stylish mascarpone coating and fresh berries, dazzling all of your guests with authentic Italian flair!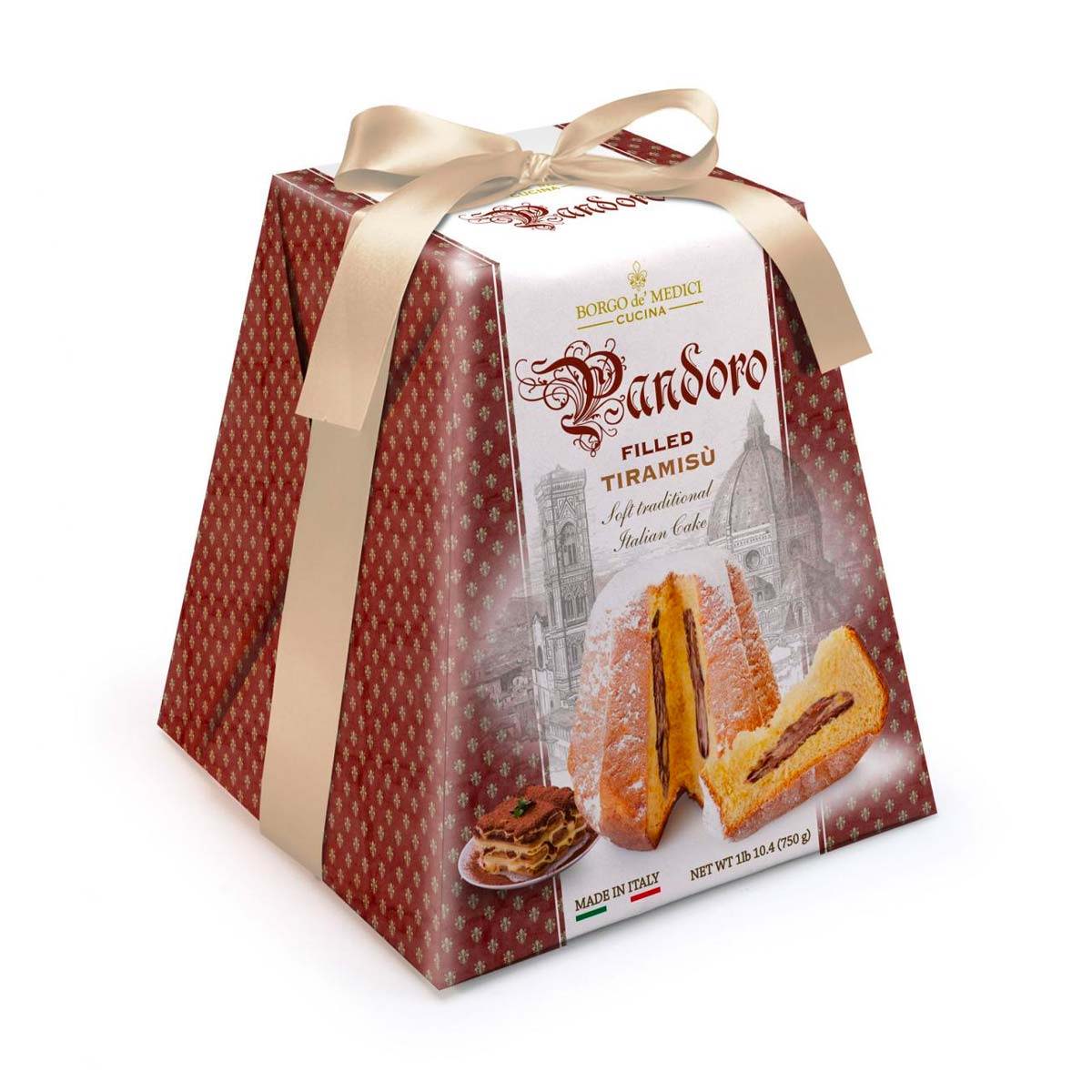 Panettone with Prosecco D.O.C by Borgo de Medici is the sister-cake of pandoro; however, a masterful melding of one-of-a-kind flavors transforms the festive treat into a restaurant-caliber delight. The ultimate Italian indulgence is free from classic panettone fillings, such as candied citrus peels and raisins, making it picky-eater approved. However, with the luxurious take, there's no scenario where it's possible to say no to a slice (or two), and it's all Prosecco D.O.C's (Designation of Controlled Origin) doing. The famous Italian white wine is produced in Veneto and Friuli Venezia's nine provinces, and it originated from one of the first winemaking schools, The School of Oenology. While Prosecco D.O.C's come in various styles, most of the blends are light-bodied, fresh on the tongue with a highly aromatic nose. Packed with fruity aromas, the airy cream filling of famous Italian white wine adds an all-encompassing flavor mood to classic panettone, making it the perfect main dessert for Christmas dinner or New Year's Eve party. Don't let the already-delectable flavors shy you away from embellishing your treats even more - remember, holidays are the time to go big! So,  feel free to add rich nut butter or classic whipped cream to your slice and indulge like a true Italian.
And if you like your nut butter just a little bit too much, Borgo de Medici panettone with pistachio cream might've been created just for you! The dough is prepared according to traditional leavening methods, and it's filled with non-traditionally sweet pistachio cream. The eye-catching green filling takes its flavors from fabled Italian pistachios (duh). The "smiling nuts" (pistachios Chinese moniker) are deeply appreciated in Italy, especially Sicily, for their fruity flavor and irreplaceable aroma. So, it's only natural they are known as green gold over there. While the popularity and prestige of Italian pistachios continue to rise, Borgo de Medici has packed the authentic Italian panettone cake with a generous amount of moreish nut cream to transform fluffy bites into moist delights, bound to taste incredible with or without a complementing drink in your hand. Oh, and we almost forgot to mention equally moreish toppings sprinkled on top of this novelty cake - crunchy pistachio nuts! So, indulge yourself by doubling on the nutty sweetness and meet the new year with a little bit of flair, just like you deserve.
Finally, we want you to meet the ultimate tipsy dessert, created especially for celebratory occasions - introducing Borgo de Medici Spritz infused panettone. At this point, we assume you're done admiring it, and now you're dying to hear more about it. Well, what can we say?! Borgo de Medici helped to rejoice the fans of Spritz and classic panettone cake, creating a deliciously different gourmet specialty. The soft and crumbly sweet panettone loaf is even lighter to bite than a traditional cake. It's infused with one of the most famous Italian cocktails - Aperol Spritz. So, if you can't enjoy an afternoon sight of beautiful Milan with a glass of Aperol Spritz in your hand, we will be glad to offer you a generous slice of this unique panettone for a substitute. Pretty good deal, huh? Because Aperol Spritz is traditionally made with Prosecco or champagne, the eye-catchingly orange concoction is bursting with juxtaposing flavors - a slightly bitter sip transforms into a fruity, luscious aroma and finishes with an almost tangy aftertaste. Borgo de Medici has opted for Prosecco wine to create true flavors of Aperol Spritz, so prepare your taste buds for light, buttery texture packed with fruity aromas of Italy's favorite cocktail. Adorned with a stunning hand-wrapped box, this unique treat will make a lovely gift for anyone with a taste for Italian cuisine or a friend with a sophisticated palate. While it's absolutely delicious on its own, for a dazzling presentation, you can decorate it with orange sorbet or even a tangy citrus marmalade!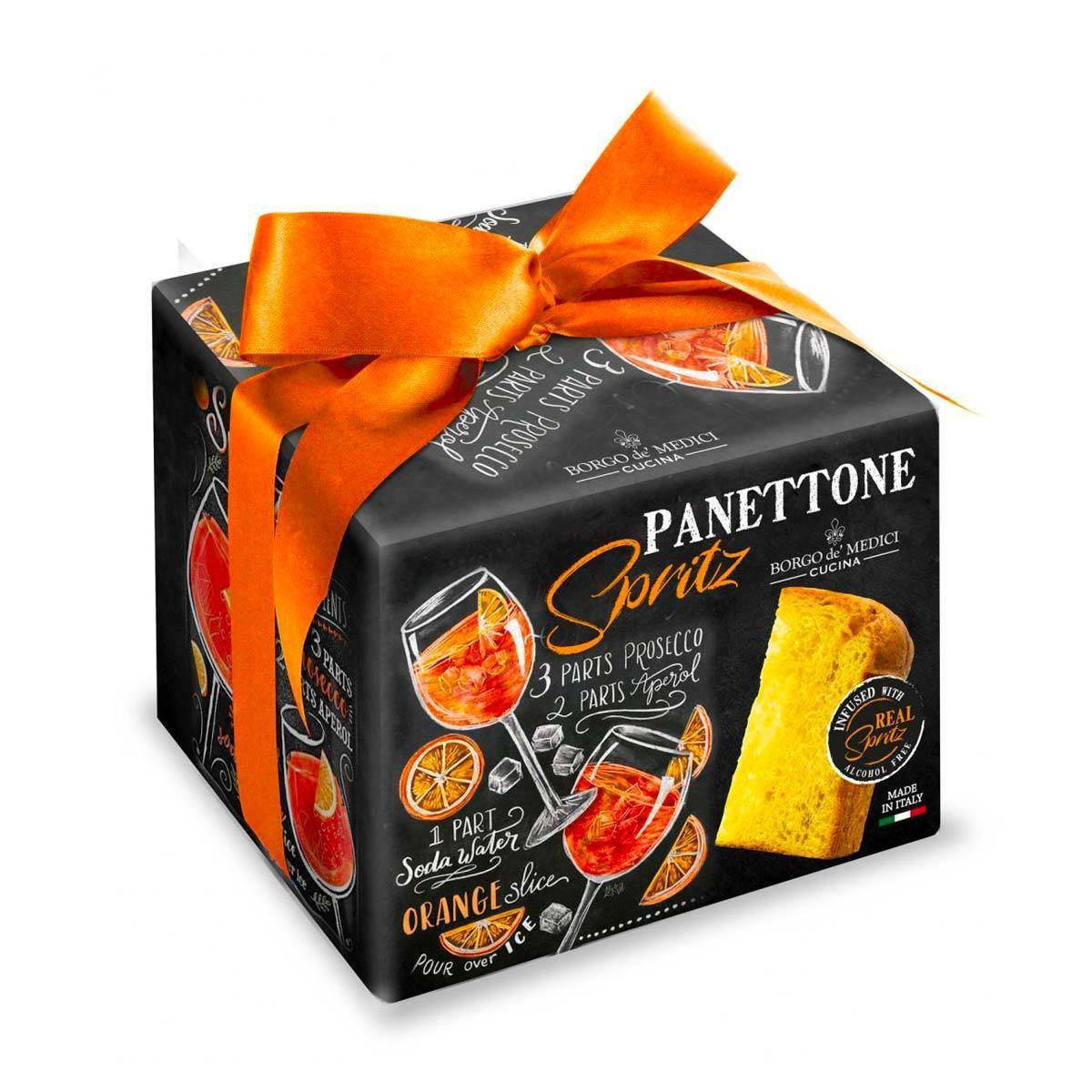 So, why not shake up an ol' holiday menu a little bit with help from an Italian gourmet brand? With an extensive selection of large, fluffy, fruity cakes, such as Italian panettone and pandoro, Borgo de Medici is here to assist with anything for you to have an easy-peasy and delectable new year. Skip to the most delicious part and enjoy time-honored flavors from Italy. Remember, they are only available once a year, so why not make the most of it?!