Bauli owes its origins to the beautiful Verona, a birthplace of fabled Italian Christmas cake - simple yet utterly delicious pandoro. The famous Italian confectionery brand was founded in 1922 by Ruggero Bauli, a culinary genius who never backed down until he achieved his goal, and we're so glad he fulfilled the lifelong culinary dream of owning a pastry shop. Ruggero Bauli had to put himself through a lot of trouble, and we mean escaping-a-sinking-steamship-on-his-way-to-Argentina kind of trouble. However, for a determined confectioner, it was simply a chance of starting a new life in a new country on a sweeter note.
Ten years later, after starting a successful yet homesick-ening business abroad, Bauli returned to his hometown to pursue, this time Italian, dreams! In an unbelievably short time, his little Veronese shop became the talk of the town. This shouldn't come as a surprise, since the shop produced over 5000 cakes every day, becoming one of the most prominent names on the local market with an irresistible assortment of traditional Italian pastries and cakes, such as pandoro and panettone! After the 2000s, the family business has expanded to international markets with a vision to showcase moreish flavors of Italian confectionery and unmatched craftsmanship to the whole world.

The top Italian confectionery brand is loved for its festive cakes: the tall, dome-shaped panettone and snowy mountain-like pandoro; you know who they are! And, if you've not had the luxury of giving them a taste yet, we think this holiday season is the perfect time to right wrongs. With more than enough stove-top cooking, it's clear you deserve something easy (to get, serve and eat) yet equally delectable to deck out your festive menu with sweeter flavors. So, we've gathered our favorite seasonal cakes from Bauli for you to have a holly, jolly, unbelievably-moreish Christmas!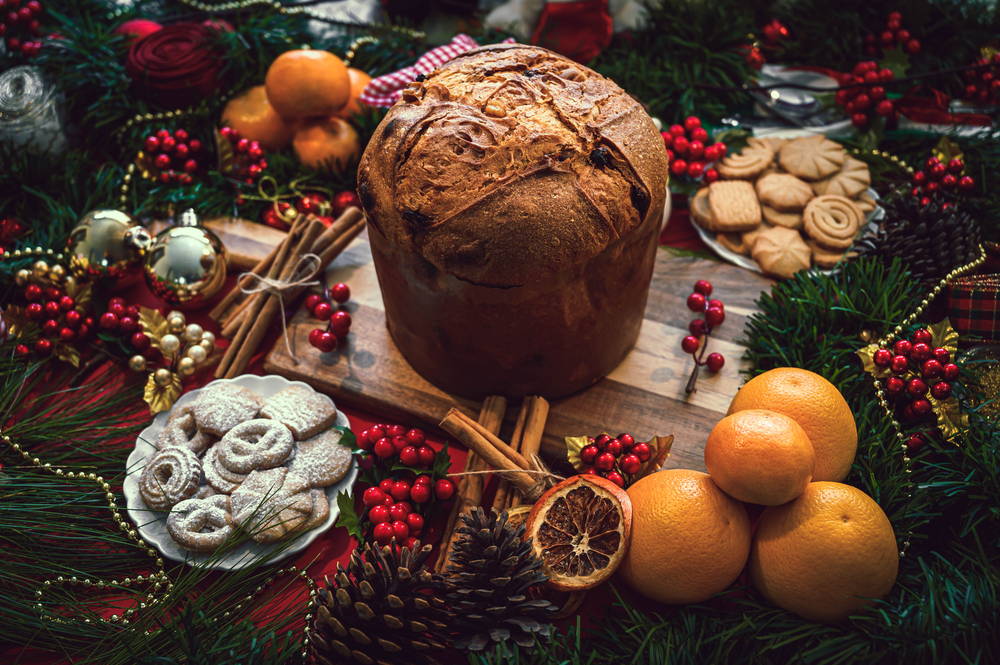 The Undeniably Festive Panettoni by Bauli!
We know you don't need to prove your baking skills, so you can proudly skip straight to the most delicious part with Bauli! The towering studded cake, or as some might call it, sweet Italian bread is the ultimate luscious addition to the holiday menu - it's an inseparable part of Italian Christmas dinner for a reason. Classic panettone by Bauli is modestly studded with tasty raisins and candied citrus peel, making it a humble yet versatile dessert for those who like to serve with style. The perfectly crumbly yet buttery cake will look eye-catching, towering over your homemade treats; however, there are countless ways to add a little pizzazz. Our favorite look is the one with a generous layer of mascarpone and chocolate sprinkles on top. If you want to take it up an elegant notch, don't be scared to coat it with homemade chocolate ganache, maybe even add mint leaves for a refreshing aroma. However, for the ultimate Italian way, you must toast a slice and elevate it with the rich nut butter of your choice - pistachio & decadent Stracciatella spread are always a good idea.
Once you give Bauli's panettone a taste, it's bound to become an inseparable part of your post-holidays menu, too. So, it will be wise to stock up on mini panettone cakes. The comfortably sized Italian delights are filled with raisins and tasty candied fruit to deliver classic flavors. Made according to traditional methods, these mini panettone cakes are just like the regular-sized ones, only more convenient when you need a quick pick me up. If you don't want to ruin the perfect roundness of your regular size panettone that you've been saving for an upcoming event, here are mini cakes you can take on on your own without leaving any evidence that they even existed. Also, mini panettones are the perfect way to savor the flavor of Italian Christmas cakes if you're new to them. Don't back down; let occasional-tryist in you take the wheel. Bauli's mini panettones will be the perfect substitute for your morning waffles, pancakes, or whatever it is you satisfy your sweet tooth with. Just like a true Italian, enjoy your slightly warm panettone with a chocolate spread or drizzle of acacia honey!
However, if you're not a big fan of customizing & experimenting with flavors, we have just a thing for you. Elegant enough on its own, Budino chocolate panettone is the perfect treat for chocolate lovers with an uncontrollable sweet tooth. With just a first glance, it's obvious - Budino panettone is the ideal dessert option for those trying to avoid baking but still want to make a statement with their sweet piece at family gatherings. Well, Bauli has thought everything through; they labored over the recipe for the yummiest chocolate cake, so you don't have to. The brand has shaped classic Christmas cake like a traditional Budino, an Italian pudding dessert. You might think the thick, mouth-wateringly brown chocolate coating is enough of a reason to get your hands on this unique panettone right this second; however, there is more to love beneath the surface. Naturally leavened oven-baked cake has a fluffy yet buttery dough that instantly melts away. However, the luscious chocolate cream filling is what makes this Italian seasonal cake the ultimate dessert option - no need for additional spreads for coating or flavor-heightening spells; it's perfect the way it is! So, if you're expecting chocolate connoisseurs to show up to your holiday gatherings, Budino chocolate panettone is the delectable way to show love.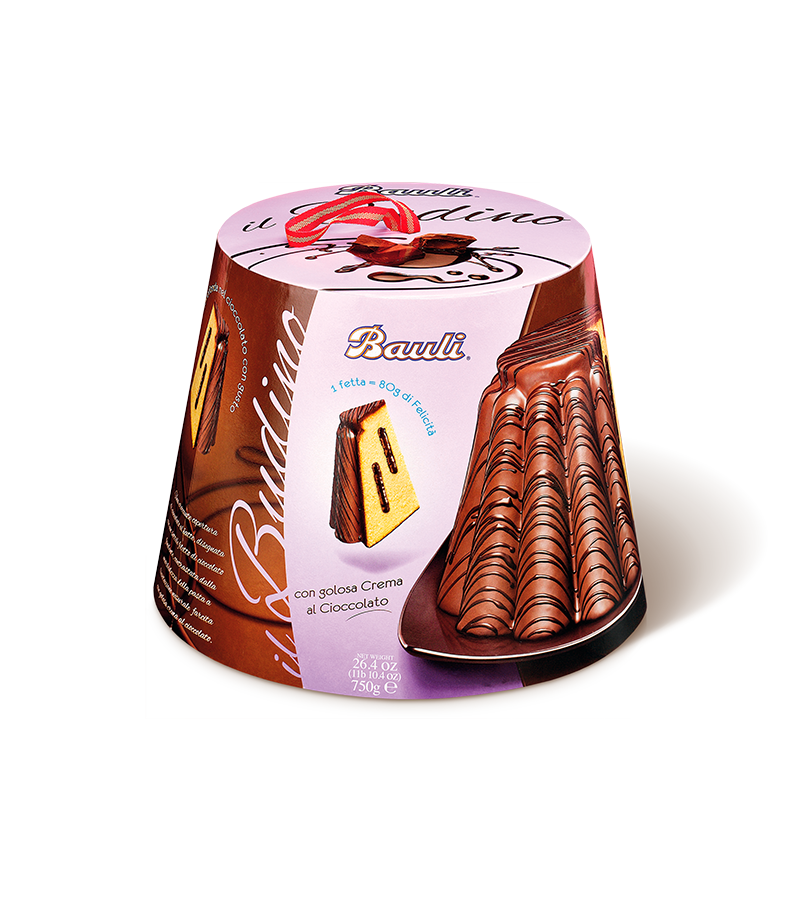 We've saved the most wonderful sweet treat for the last, and it's not by any means the least of the collection we've curated. Torroncino panettone is proof that you don't need to live in Italy to savor the genuine aromas of its fabled confectionery. Bauli has managed to combine the two most famous Italian treats and created something unique, truly deserving of your palate. The naturally leavened Christmas cake has a perfectly fluffy texture packed with delicious torroncino cream, and if you don't know what it is, we're more than happy to tell you all about it! Semifreddo al Torroncino is a simple yet irresistibly delicious chilled dessert, traditionally made with dark chocolate and fabled Italian nougat, which you can get to know closer in our blog. To put it plainly, it's something like a chilly ice-cream dessert, but much more than that. So, if you want to indulge with fluffy cake, nougat-cream and, drum roll, please - rich chocolate coating - Bauli has got you covered. Make your own cold brew coffee or maybe even festive eggnog to have with your exquisite panettone, or enjoy it on its own as something sweet after dinner. Also, if you still haven't started gift-shopping yet, then keep in mind, this soothingly pink box will make a nice little gift for friends and family!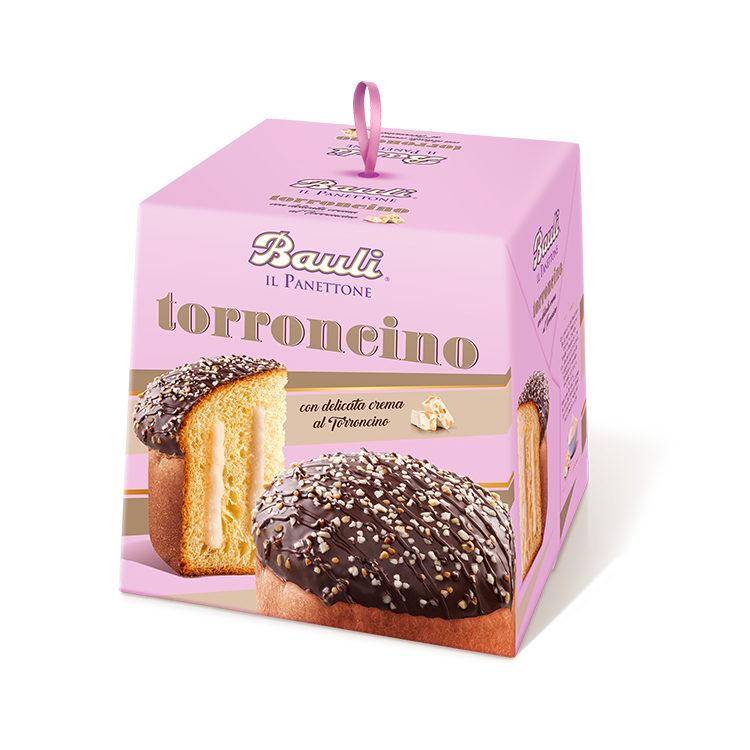 We're all familiar with the classic holiday comestibles, especially the sweet treats that always make it to next year's menu. However, there are many delicious ways to deck out your repertoire or fill it with comfort food from your home. So, take a peek at the full selection of Bauli's festive cakes, and you're guaranteed to come across something incredibly intriguing and delectable enough to please any palate. Hey, there's even a panettone with pistachio cream filling! Simply imagine how beautiful this delight would look on your festive dinner table, and then make it happen ASAP with just one click - now, you know where to buy Bauli panettone, so, what's stopping you?