Though gingerbread men and chocolate chip cookies will always be in our hearts (and in our snack drawers), we're constantly looking for ways to deck out our sweet selection of crunchy, addictively delectable cookies. Thanks to the unbelievable abundance of Italian cuisine, there are plenty of options. We have yet to get through countless of the yummy biscuits, or, should we say, biscotti, Italy has to offer. But we don't have a problem taking it slow, cookie by cookie, introducing new delights now and then.

Today, it's cantuccini's turn - ubiquitous cookies originated from Prato! The Tuscan treats are often called cantucci, too, but here's how we see it. Even though cantucci and cantuccini (and sometimes even biscotti, which has become an umbrella term for all Italian cookies) are used interchangeably, they have slightly different meanings. See that tiny "ini" in cantuccini? It denotes the smaller size of cantucci cookies. So, depending on your preferences - if you like your cookies dunked in your cuppa or embellished with delicious spreads, you can join the cantucci or cantuccini team. While you're contemplating whose side you should take, we're going to tell you all about origins, flavors, and delicious varieties of cantuccini cookies!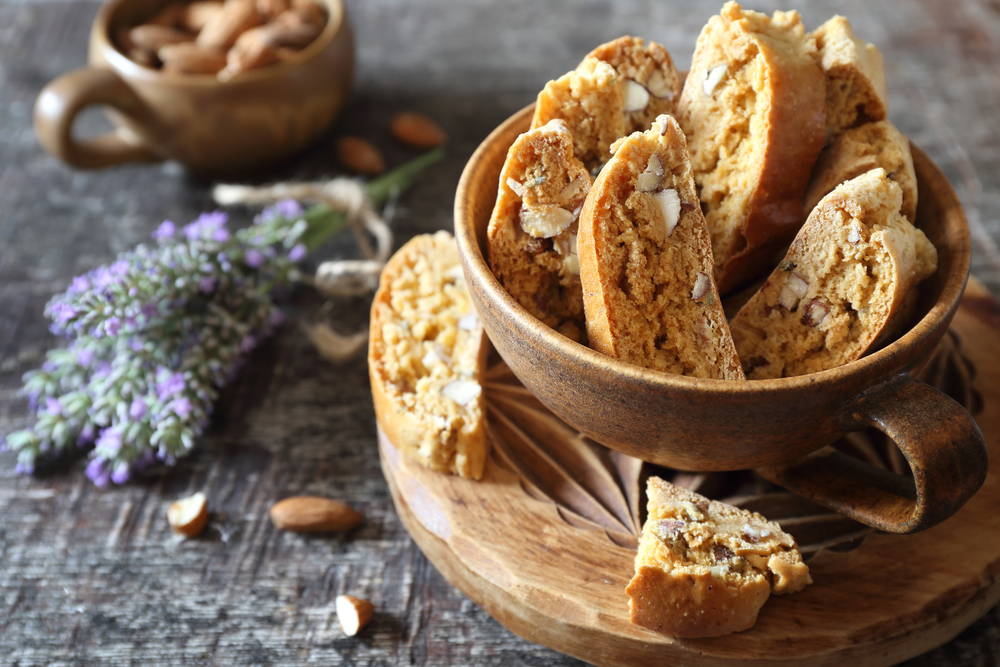 An Ancient Favorite: How Cantuccini Came About
There's no way you've never met these sweet yet challengingly crunchy biscuits from Tuscany. Canntuccini cookie has an instantly recognizable elongated shape and dry texture, traditionally packed with crunchy almond pieces. They are the fabled favorite of Italians, along with amaretti biscuits, to which we've dedicated an extensive blog post. Well, moving on from one almondy delight to another, cantuccini cookies are dated back to the ancient times of Romans. According to food historians, cantuccini were born during the times of long battles, and, we think, it makes perfect sense. The unleavened, low-moisture cookies with simple flavorings have a long shelf life that would have been even more appreciated if you were occasionally stuck in a long march on a battlefield, don't you think? Pliny the Elder, an ancient philosopher, thought cantuccini could last even for centuries - making them extremely popular throughout the country. However, we'll just take his word for it, no need to test it out - we like our cantuccini aromatic and, to be honest, not centennial.
After the earliest remarks in Roman manuscripts, hard almond cookies fall off the food history radar and only get their well-deserved makeover during the Renaissance period. Some say it was the Pratese baker who reinvented the almondy delight that would soon become an irreplaceable part of not only Tuscan but Italian cuisine as well. The ancient energy snack was transformed into a fabled dessert, usually enjoyed by dunking in a glass of Vin Santo. This traditional dessert wine is the ultimate BFF of cantuccini; however, there are more pairings worth trying, and you're going to read all about them soon.
Even though flavor options were quickly broadened and extra ingredients were added, Cantuccini Toscani, the classic variety, is the only PGI (the Protected Geographical Indication) preserved treat of the region. First served at the Medici court, classic cantuccini cookies were made without almonds for a long time. It took 19th-century confectioners to start using butter to soften cookies a little bit (prettifying them for export and traveling) and, of course, crunchy almonds. So, it's no wonder even Christopher Columbus enjoyed a generous pack of cantuccini cookies on his journeys.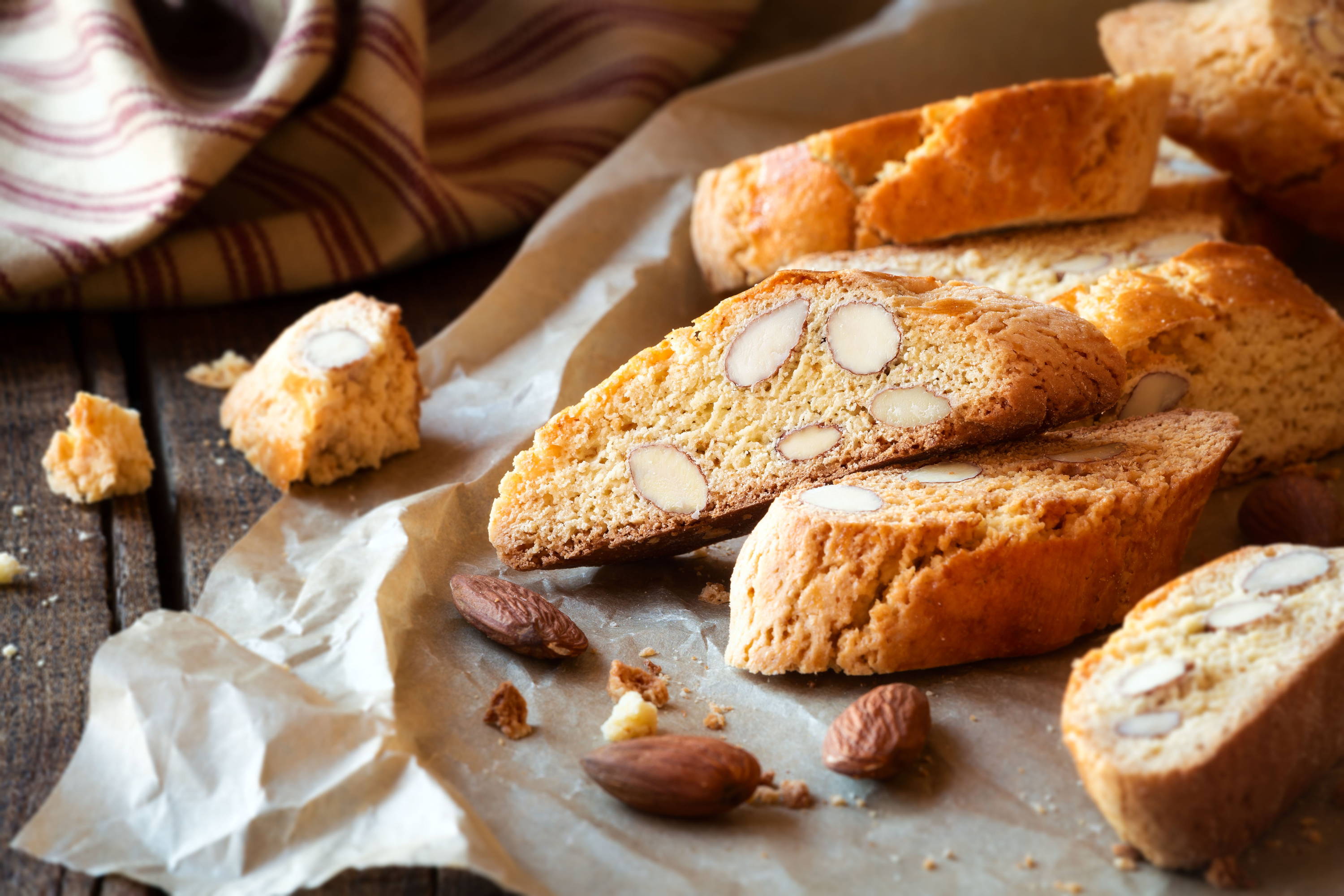 ---
Ways to Indulge like a True Italian!

Well, if you've got what it takes to bake these crunchy treats at home, have a shot at it; we will be staring in awe—just kidding! We're all for home-baking, and to prove it, here's our favorite recipe for classic cantuccini cookies! However, for those who are just like us, eagerly desirous of savoring delectable treats ASAP, we've devised a quick little list of all the fabled names and flavors you should try. We're going to let you in on our favorite ways of pairing cantuccini like a professionale, too. So, read along about how to deck out our festive menu in traditional and unique ways!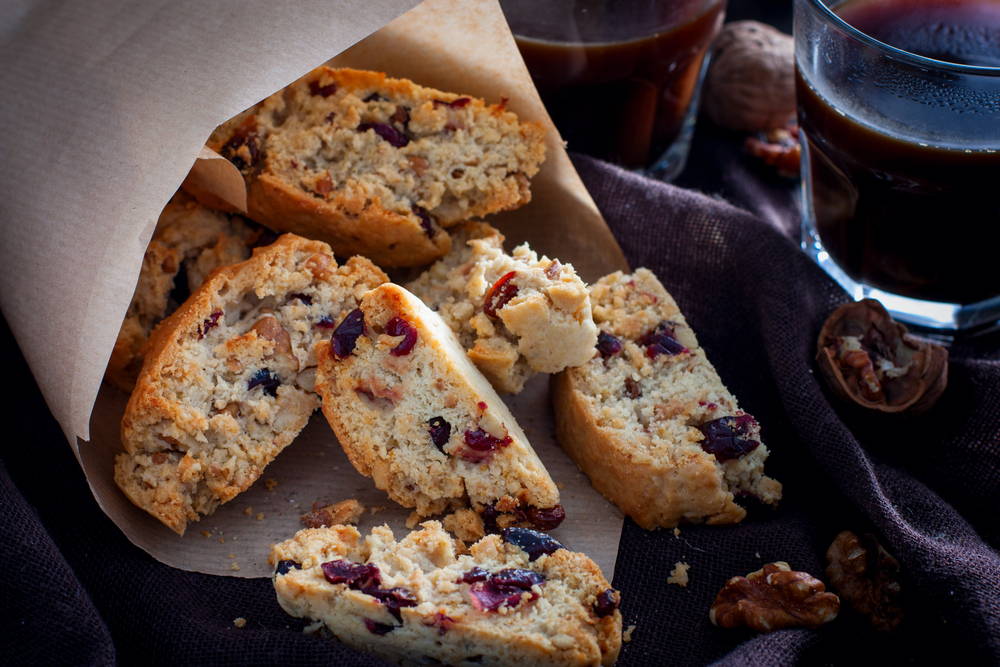 So, whether you're looking for a versatile addition to your cookie collection or want to surprise a friend with a crazy sweet tooth with cantuccini, these almondy treats will be the best choice. In our collection, you will find cantuccini in all sizes, flavors, and even shapes (not really a shape, but they do come in a vintage gift truck), so your options are limitless. We've also shared our favorite ways for adding a little bit of style to these perennial favorites; however, it's all up to you how you want to indulge.

…And whenever it is that you'll be coming back for more, bulk cantuccini cookies by Chiostro di Saronno will be here, waiting for you patiently!