When speaking of Italy, it's hard to pick your favorite among the myriad of delicious associations your mind gets flooded with, such as pizza, pasta, chocolate & maybe even coffee - the competition is tough! However, typically, most of us don't seem to think of cookies when discussing Italian culinary excellence, and we don't have any good reasons for justifying our negligence! So, we have decided to make amends - Italian cookies deserve better than this. That's why, today, we're going to tell you all about the nutty indulgence of traditional amaretti biscuits - quaint cookies from Italy!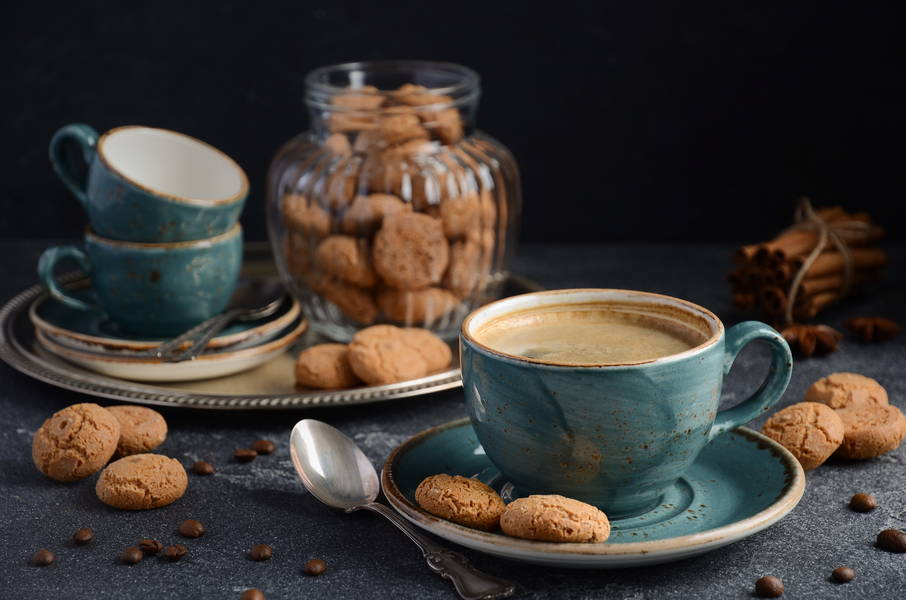 ---
What are Amaretti Cookies?

Amaretti biscuits are often described as macarons for their juxtaposing textural feel. While pleasantly crunchy on the outside, the interior is unpredictably soft and airy. The yummy biscuits are usually made using ground, slightly bitter almonds or almond paste, so it's no surprise that the name translates to "little bitter things". However, these light biscuits are traditionally flavored with delicate sweeteners, so you don't have to worry about the moniker. On the contrary, they are perfect for drowning out any bitterness going on! Amaretti cookies have become inseparable favorites of the origin country, where they're known as "biscotti da credenza," quick, everyday cookies often left on the kitchen sideboard for easy access.
The Rich History of Italian Almond Biscuits!

Amaretti biscuits hail from a little town in Northern Italy, Saronno; however, now they've become staples all across the country for their unique aroma and pleasant bite. The popularity gave birth to endless regional varieties of fabled cookies, but there are two main ones everyone with a sweet tooth must try. Amaretto di Saronno is the original cookie with a crunchy outer shell, and the other socialite is Amaretto di Sassello, loved for its tempting softness and chewy texture.
According to culinary archives, nutty biscuits are thought to have been born at the beginning of the 18th century. While the Cardinal of Milan was visiting the local church of Saronno, a young couple, Giuseppe and Osolina, prepared a unique delight with ground apricot kernels, egg whites, and sugar to ask for his blessings for marriage. Fortunately for all, they knew apricot kernels were poisonous if not baked at the right temperature. So, the Cardinal safely enjoyed one-of-a-kind cookies and blessed the talented couple. The future Lazzaroni family were the ones who started the tradition of individually wrapping Amaretti delights in beautiful, thin papers, too. The signature Amaretti di Saronno is still made using the traditional ingredients, wrapped in gorgeous, colorful wrappers, that, according to legend, if you ever set fire to, will rise in the air, making all of your dreams you wish at the moment come true.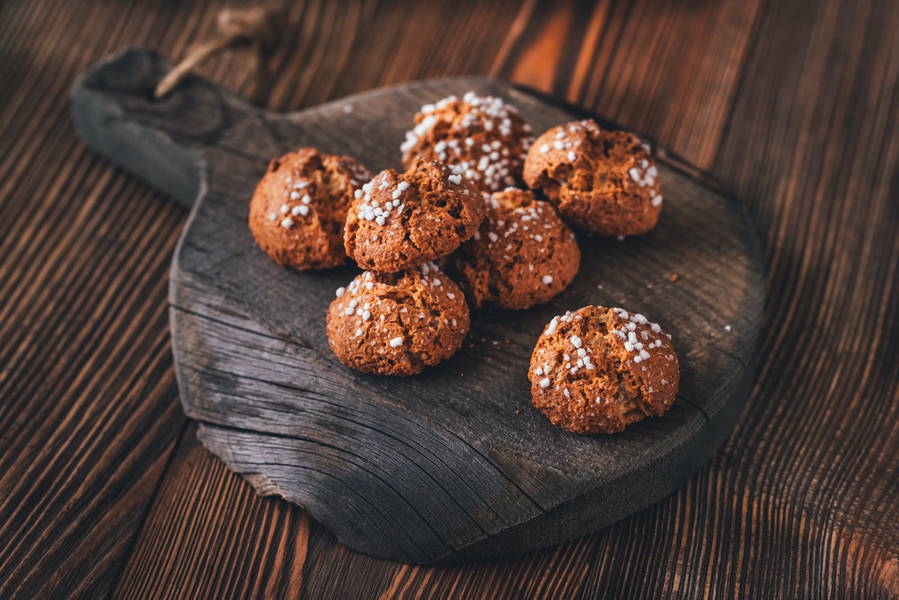 ---
Ways to Enjoy Amaretti Like a True Connoisseur!

It doesn't matter if you fancy yourself perfectly moreish Italian biscuits made at home or choose to scroll through our extensive collection of amaretti; there are some things you should know to take your sweet treats up a delicious notch. Look, there's no denying, amaretti are unbelievably delicious on their own, as a quick pick-me-up or addictive accompaniment to your favorite tv-show. However, these simple and equally tasty tips must be kept up your sleeves to elevate your cookie game.
The ever-so-slight yet captivating bitterness of amaretti cookies serves as a flavor intensifier to all manner of meals. Let's take ordinary morning oatmeal with yogurt - it's good, gets its job done, but, what if it was better than good, maybe even the greatest meal of your day - imagine how pumped you would be to Carpe Diem?! Well, it's effortless to pep up your breakfast with luscious

jam

and amaretti crumbles. Add a sweet concoction of your choice to your breakfast bowl and sprinkle a generous amount of cookie crumble on top to add that moreish crunch. For something sweet after dinner, just opt for crumble fruit and sprinkle chunks of fabled Italian biscuits like there's no tomorrow!



Amaretti cookies make ideal fillings and breadcrumbs! Speaking of cookie crumbs, you might be thinking of cheesecakes, and you're absolutely right. The airy softness of Italian biscuits will make your desserts taste like a restaurant-caliber creation. However, this is not all amaretti is capable of. The delicate bitterness of these nutty and oh-so-sweet biscuits make them a wanted ingredient in various savory dishes, too, such as

Fritto Misto

, a traditional Piedmontese appetizer made with myriads of

with-one-glance-confusing

components. So, if you're ever out of breadcrumbs and have a lingering amaretti in your pantry, you know what to do!



You might not be up for experimenting just to get a taste of amaretti cookies; we understand. If any, they are made to be quickly savored by dipping in your favorite cuppa or airy brew. However, if you're open to elevating your sweet treats, then there's a quick and easy way to up your game. Layer your amaretti cookie chunks or fine crumbles with delicate mascarpone cream infused with

almond milk syrup

for a depth of flavor, and finish it off with

Italian amarena cherries

.

For fudgy recipes like this one, you can always add

chocolate sprinkles

on top, too - there's no such thing as too much chocolate, right?!



You can't forget about the cookie sandwich. The round amaretti biscuits make the perfect candidate for making quick nibble-sized treats to tie you over weekends. Simply spread the rich chocolate ganache, mascarpone, custard, or your favorite jam and sandwich with another amaretti biscuit. Enjoy with friends over coffee, and indulge like a true Italian!
---
Definite Amaretti Must-Tries

You might know where to buy amaretti cookies (duh!), but there's one more question that needs to be answered - which one do you choose? If you want to fall in love with the first bite of amaretti cookies, it's crucial to select the right fit for your palates, and if you enjoy scrolling through extensive selections, you're in for an exciting journey. However, there are some of the hidden gems in our collection that might slip right out of your sight, and to not let that happen, we've devised a little guidebook to help you stock your sweet snack drawer with cookie chef-d'oeuvre!
One name to look for is Chiostro di Saronno, a famous family-owned Italian brand established in 1927. As you can see, the fabled confectioner shares its birthplace with amaretti cookies, so it's only natural that Chiostro di Saronno's nutty biscuits deliver a superior sensory experience. While making amaretti according to traditional recipes, the brand steals the spotlight with its extravagant packaging, too. The original apricot kernel amaretti are presented in a vintage box for a friend, truck tin for the holiday season, and even a jumbo window box - it will be impossible for anyone to top your tasty gift. Lucky for us all, the brand never shies away from unique flavor pairings either, so if you're a fan of soft amaretti cookies with lemon, chocolate, & pistachio flavors, you're guaranteed to satisfy your sweet tooth with ease!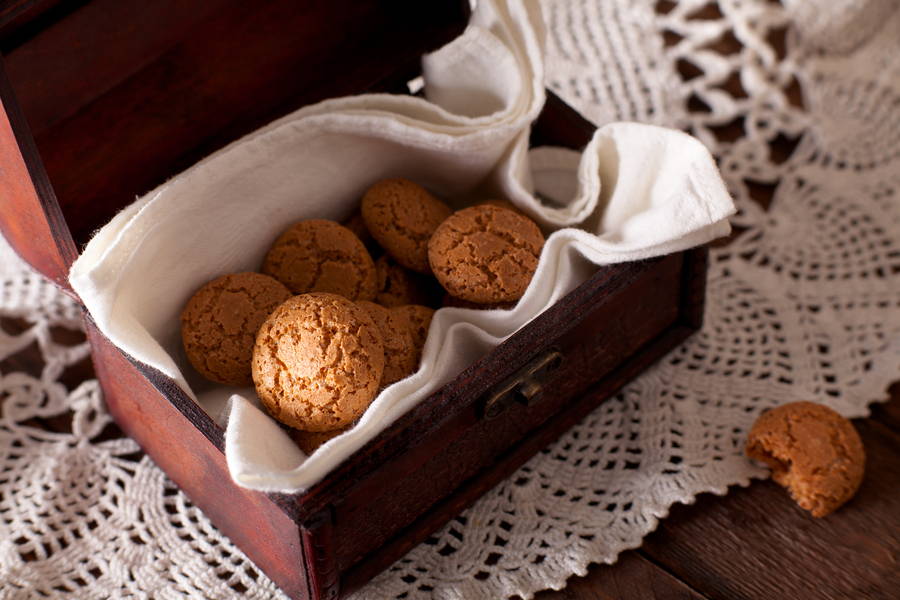 Oh, and you must get your hands-on Matilde Vicenzi, too, a premium provider of premium quality pastry and confectionery delights that ooze love and Italian culinary excellence. Founded in 1905 by passionate baker Matilde in Verona, the company still bears her name, adding charisma to irresistible family recipes. Matilde was famous all across the city for her amaretti cookies, ladyfingers, and traditional puff pastries, writing down every detail in her cookbook scrupulously. So, to get a taste of Italian traditions, amaretti biscuits in the golden tin must be your go-to choice. If you want to add a little bit of character to your homemade desserts, then bite-sized amarettino biscuits will look enticing no matter the styling!  
Since you got acquainted with traditional almondy delights from Italy, it's time to choose your favorite(s)! Amaretti Morbidi or one with a crispy exterior? Bonomi amaretti with apricot kernels or Sapori amaretti with 45% ground almonds? And what about pairings - are you more of a coffee-enthusiast or prefer a comforting warm glass of milk to dunk your cookies in? Have you got your answers ready? Perfect! Now all you have to do is sit by the fireplace, all cozied up, indulging yourself with the enchanting aroma of Italian amaretti!