The richly dense, buttery German fruit cake is a humble dessert option, packed with an all-encompassing flavor mood no foodie should miss out on. Especially during the holiday season when all you want to do is let your hair down. There are so many sweet treats out there that it's easy to get all mingled up; however, lucky for you, at Yummy Bazaar, we researched and devised a little list of must-tries for your special events to taste even more delicious - and, needless to say, stollen cake is one of them . So, read along while we explore the origins of this sophisticated bread-like treat and all the flavors worth trying!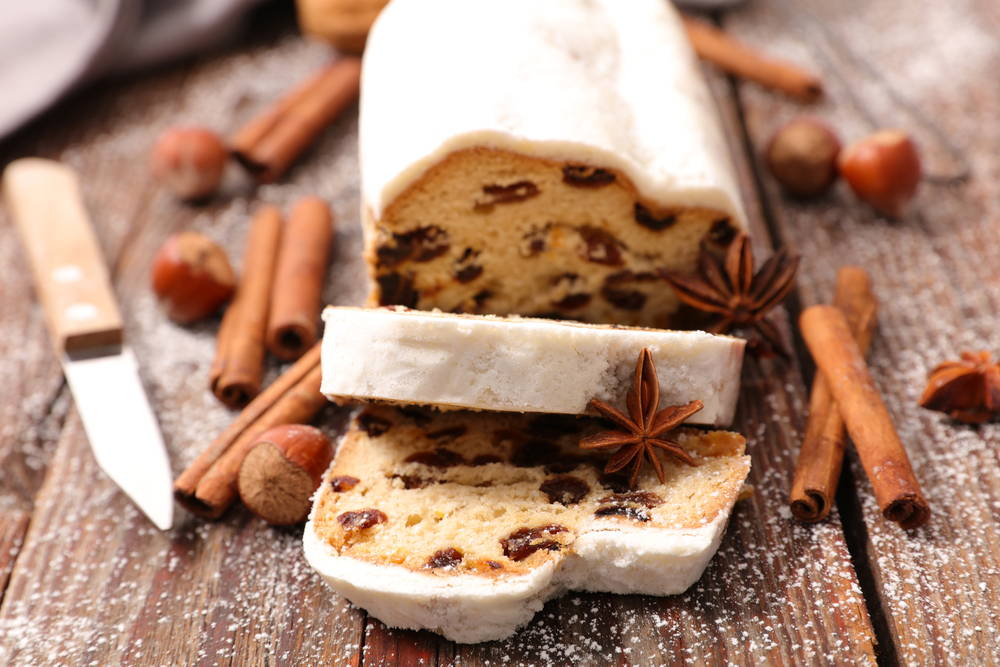 ---
What is Stollen & Why You Will Love it:

Like the fellow comestibles from the country, German stollen is the ultimately minimalistic treat, sometimes described as a fruitcake. While it's often  compared to panettone, an Italian celebrity Christmas cake, the German counterpart is much more than a sweet bread-like dessert. Yes, you're right, it's filled with dried fruits and aromatic spices, just like panettone - however, there is a thing or two the Italian competitor lacks.
The richly dense stollen is packed with a healthy hint of rum, unbelievably soft marzipan, and moreish toasty nuts - it's the whole other kind of concoction going on inside. Oh, we almost forgot about spices - a generous amount of cinnamon is complemented by the gentle mix of nutmeg and cardamom, resulting in an irresistible aroma (that you'll be craving for months after you give it a taste). And, if you thought that was all, you're wrong. Once baked, stollen is glazed with melted butter to achieve that almost unreal feel of soft yet pleasantly thick texture. As a convenient cherry on top, you can keep stollen cake on shelves for months, not that it will ever happen if you have a sweet tooth, though.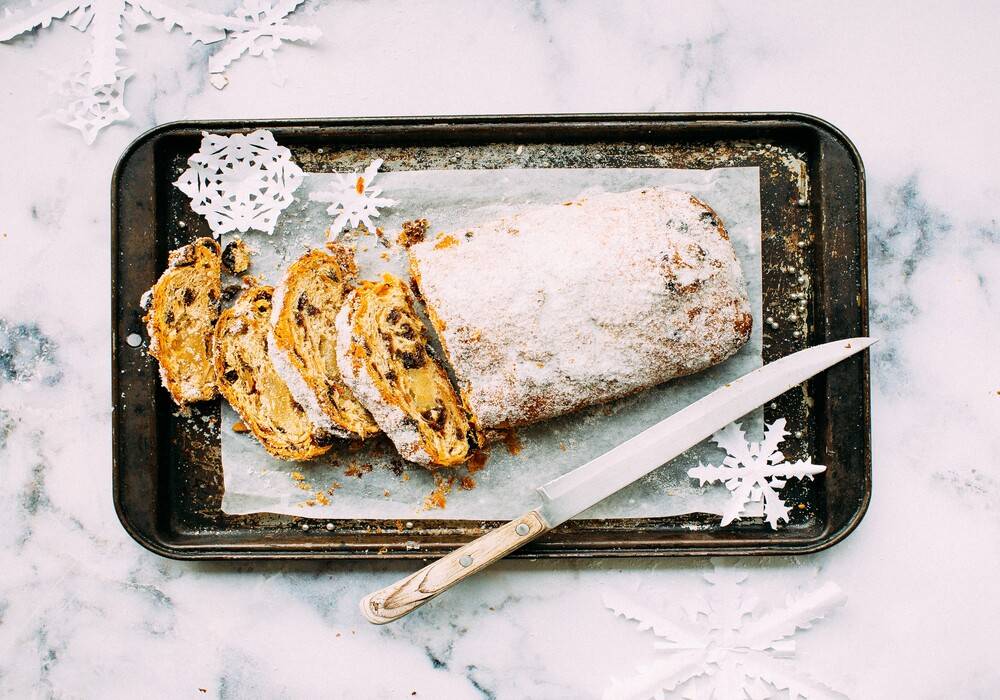 The History of German Stollen

The buttery loaf has a rich history, and we're dying to tell you all about it. The oblong-shaped German treat is said to have originated from Dresden, Saxony, as a result of a culinary competition held at the Saxon Royal Court. However, at first, in the 14th century, it was made using only flour, water, and oats; it was evident that stollen needed a yummy makeover. The Christmas delight was prepared during the Advent season, so the Church forbade using butter to make this bready creation a little more soft, aromatic, and pleasant to bite. Elector Ernst of Saxony and his brother Albrecht complained about it to Pope Nikolaus V, stating their reasoning firmly for making an exception. Little did they know, it would take the passing of five popes for their wish to come true. Finally, in 1490, Pope Innocent VIII granted the use of butter in his famous "Butter-Letter" - yay! However, the ban on forbidden ingredients was only lifted for the royal family.
It was only in 1527 when butter became available for all of the residents of Saxony, and that's when things got out of hand in the most delicious way possible. August the Strong, the lord of Saxony, even organized a pomp festival, a luxurious take on Dresden's Christmas market. To impress his guests, he ordered the Bakers' Guild to prepare a giant 1,7-ton (3748 pounds) stollen, big enough for everyone in the city to have a bite. Oh, and yes, he also had a gigantic stollen knife made for the occasion! Even though the largest stollen award was stolen by Lidl in 2010, August the Strong laid the foundations for the modern-day Dresden Christmas Market stollen-festival!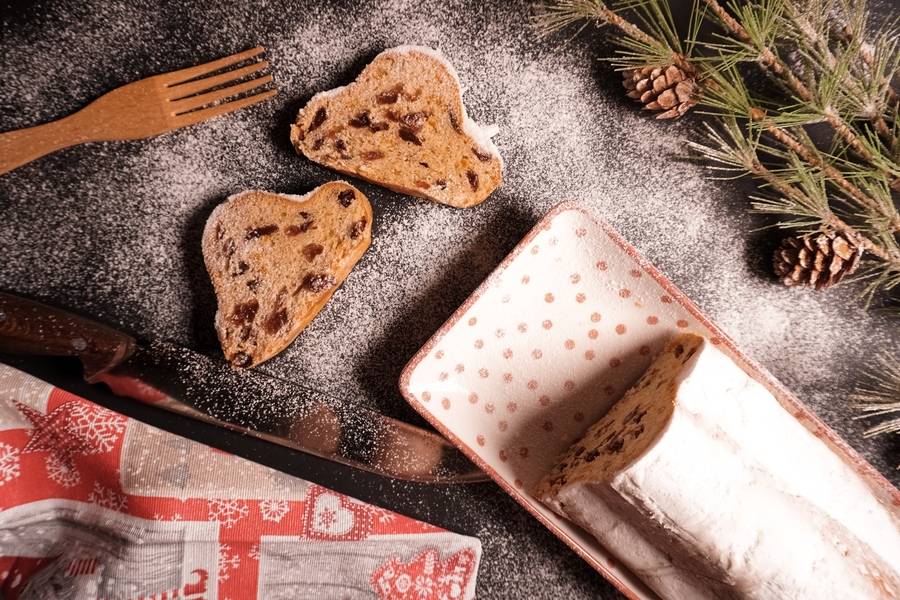 ---
Where to Buy Stollen Cake

At first glance, it's impossible even to imagine the grandiose work that goes into preparing stollen. There's that daunting amount of waiting period, just like with every bread recipe. However, that's nothing compared to the aging process. You have to consider several other precautions before entering the battlefield, too. Soaking raisins or candied fruits in rum before night to trap the moisture, infusing milk and yeast in a way for it not to die, and, of course, there's rolling of the dough. However, that's not all - finding a resting box for stollen to get immersed with all of the signature flavors and aromas is equally vital. So, if you're just like us, always trying to skip ahead to the most delicious part, we've devised a little list of all the names you should get acquainted with to give the perfectly delicious and authentic German stollen a taste!
The story of Dresdner Backhaus, one of the renowned German brands, is traced back to 1825! Started as a small confectionery, after the four generations, Dresdner Backhaus has transformed into a leading company, tirelessly supplying Dresdeners and international customers with authentic German flavors crafted by artisanal methods. So, if you want to treat yourself to exquisite Dresden stollen, there's no better way to get acquainted than with Dresdner Backhaus, honoring the long-standing traditions with every product.

Dresdner Christstollen is a simplistic yet pomp and luxurious

take on the German classic. Generously packed with sultanas, crunchy almonds, candied citrus peel, and, of course, the unbelievably

sweet marzipan

(that you can read all about in our separate blog), the dense stollen cake doesn't stop there. Once you open the elegant product, prepare to be blown away with the enchanting aroma of spices, guaranteed to make you hum about how

it's-beginning-to-look-a-lot-like-Christmas!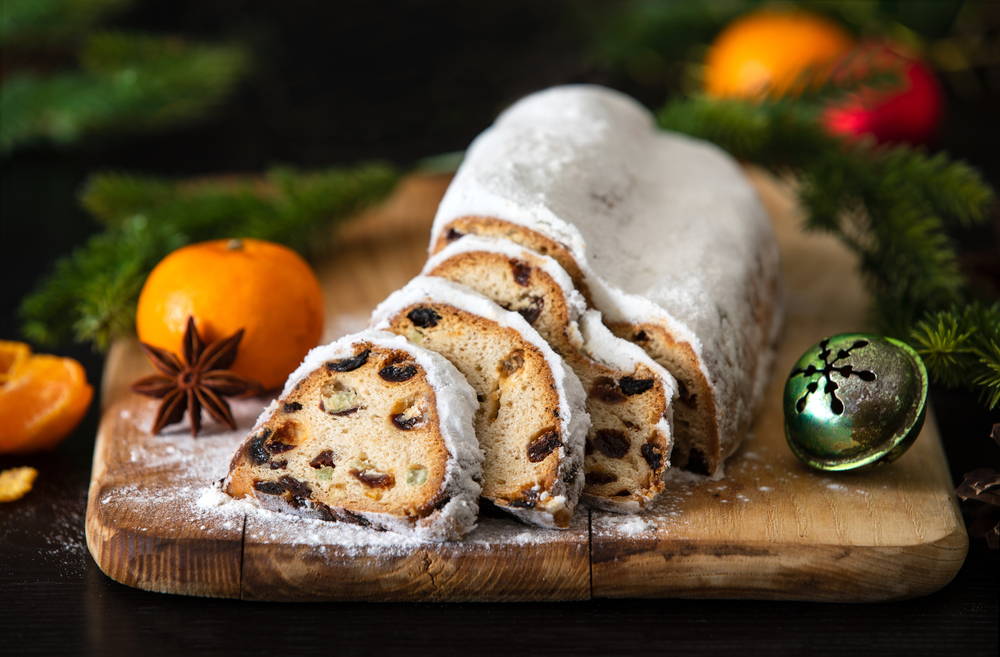 Kuchenmeister was started in 1884 as a family bakery by Julius Trockels. Since, the brand has become one of the pioneers of creating traditional German delights by strictly using sustainable, premium quality ingredients, resulting in the instantly recognizable flavor profile. The Kuchenmeister's treats' unmatched freshness is easy to spot with just one bite, making it possible to pass it as your creation, not that, we're giving you any ideas...
The finest rum stollen

is packed with a healthy hint of Jamaican rum, ready to take your festivities up a notch! Prettified with eye-catching sugar-icing, this delight makes a great after-dinner dessert if you want to please a demanding crowd. For a mouth-watering pairing, don't shy away from serving your stollen with luscious spreads,

maybe even raw acacia honey

or

lingonberry sauce for refreshing tart flavors.


Classic Christstollen cake

is hard not to swoon over, but if you can control yourself, it will make an unmatched gift for your ex-pat friends or those with a sweet tooth, not afraid of trying new things. To declare the single best stollen is a silly thing; however, with classic take, you'll be safe, your craving will find solace, and everything will be greater than ever, just like it does after a bellyful of your favorite treats.
Schlunder - the story of the fabled German bread & confectionery brand has begun after 1923, once a small bakery was added to the Schlunder farm, and never stopped growing ever since. For the past 30 years, Schlunder Christollens have been an inseparable part of the German holiday traditions.

If you take gift-giving seriously and you don't want to leave anything to chance, then we have just the right treat for you!

Stollen bites in gift tin

look fantastic taste even more so. The eye-catching tin is filled with bite-sized delights of not one but three different takes on stollen and classic festive cookies with apple filling! The treasure trove from Schlunder is the culinary work of art, hiding a sweet delight for every mood -

so you might have a hard time parting ways with it!




A

nd if you do end up keeping it for yourself, we have an equally delicious

Christmas stollen with almonds

,

adorned with an elegant box! Packed with 30% raisins, the stollen is bound to turn anyone into an admirer of German Christmas cake! The rich, fragrant cake will taste even better after toasting or microwaving, so feel free to warm it up the way you like. Pair it with mulled wine or eggnog, and enjoy the jolly season!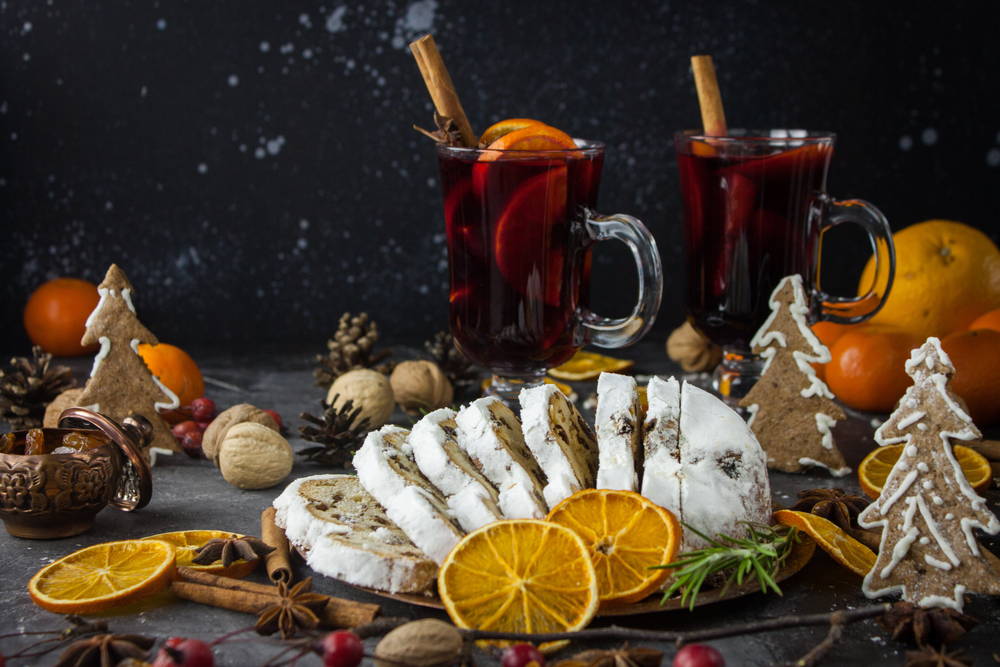 Marveling at the choices and flavors German stollen offers? We hope we made it a little easier to pick and choose the one & only (or make it two, just in case) new dessert from the list of the best German brands, guaranteed to satisfy your cravings with ease. Browse our  yummy selection of stollen, and enter the delicious world of European festive cakes!