"Only by using the best will you obtain the best" - Loacker, the leading provider of classic Italian wafers, has been operating by that very belief for almost a hundred years now. Established by Alfons Loacker in Bolzano, Italy, the brand was as close to a childhood dream come true as it gets! Alfons worked in a little pastry shop for years since he was a young boy, and thanks to his dedication, he ended up buying that very shop in 1925 - that was the beginning of the company that was about to revolutionize Italian confectionary!
The first packaged Loacker wafers were set into production in 1940, and a nationwide success followed close behind. By the time they got their first automated wafer oven in 1967 and managed to manufacture enough product for a worldwide market, Loacker was a household name in Italy. The rest of the world recognized the brand's irrefutable genius soon after.
Loacker's executives firmly believe to this day that goodness is a choice, and every one of us has a responsibility to give back to others as well as to our planet. That's precisely why so much attention is paid to the responsible sourcing of their ingredients and the production's overall sustainability. Loacker's Italian wafers are made from a combination of both Ecuadorian and Ivorian (Ivory Coast) cocoa. Due to the floral and fruity aroma of the former and the darker, earthier aroma of the latter, the final product ends up tasting like every chocoholic's dream - with just the right amount of bitter, sweet, salty, floral, deep & rich notes. When combined with Loacker's locally farmed 100% Italian hazelnuts, the flavors go from great to heavenly, not to mention completely irresistible!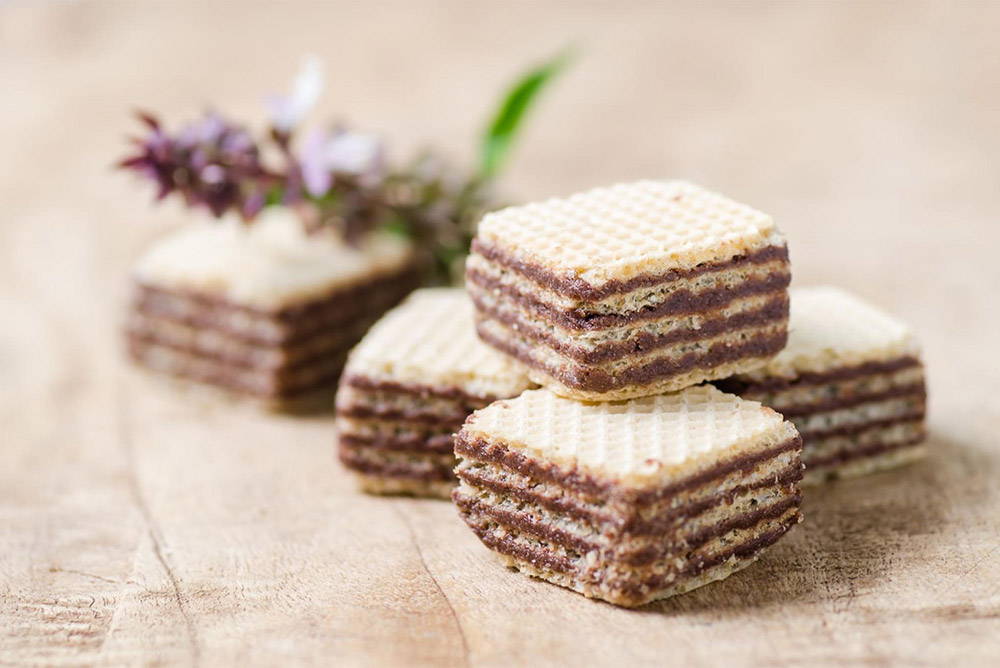 Thanks to Loacker's Cocoa Farming Program and their partnership with the FarmStrong Foundation, all of the brand's workers and partners are valued and supported. As for the production process itself, Loacker uses 100% green energy, recycles all of its heat waste and packaging - so when they say that "goodness is a choice," they mean every single word!
And if the Loacker family motto is correct, it only makes sense that the brand that uses only the best, produces the best as well. The company offers a vast selection of Italian wafers - from classics to their signature Quadratini minis - and we're here to make sure you know how to get the most out of each and every one of those decadent variations!
Some coffee with your classic Italian wafers?

Ah, yes! Coffee! Our life source! It's perfectly stunning on its own, but a bit of a sweet snack never hurts our beloved cuppa, does it? Those over at Loacker must know that pretty well, since they've already asked their favorite chef - Gabriele Corcos, for a comprehensive pairing guide, and as it turns out, there is a perfect wafer flavor for everyone's caffeine source of choice!
According to chef Corcos, you should pair Loacker's dark chocolate Quadratini with a cup of espresso to let the deep aromas mingle and complement each other; hazelnut Quadratini with a frothy cup of cappuccino since creamy and nutty tastes are a match made in heaven; lemon Quadratini with a steaming cup of earl grey tea - I mean, tea with lemon, does it even require an explanation? And last but not least, chocolate Quadratini with latte macchiato cause nothing balances out chocolate as well as a bit of milky espresso!
And while we completely agree with chef Gabriele's choices, we can't help but add a few of our own favorite combinations! Technically, you can pair any of Loacker wafers with a hot beverage of your choice, and it would probably taste incredible, but the right combination can make the entire experience worth more than just the sum of its parts! So, with the trendiest matcha latte, we would advise you to go for Loacker Gran Pasticceria White Tortinas - the fresh, lively flavors of matcha are tailor-made for the richness of these white chocolate-covered wafers and the combination is bound to become a favorite! For matcha's neighboring classic green tea, we recommend the impeccable Loacker white chocolate & coconut wafers - this mix of bright, lively, and tropical aromas has been a staple for those of us over at Yummy Bazaar for years! And if you happen to love hot chocolate as much as we do, try pairing it with Loacker's Italian cappuccino Quadratini - the flavors of coffee and chocolate combined with a satisfying crunch from the wafers? What's not to like! (Especially if you make your hot chocolate on a darker side - YUM!)
However, with the summer months upon us, hot beverages no longer sound quite as tempting as they used to on chillier evenings. So, unwilling to give up our favorite Italian wafers, we set out to find other, more refreshing combinations to elevate these snacks to a brand new - one could even say snacktastic - level!
So, how about -
The Ultimate Combo of Ice Cream & Loacker Italian Wafers?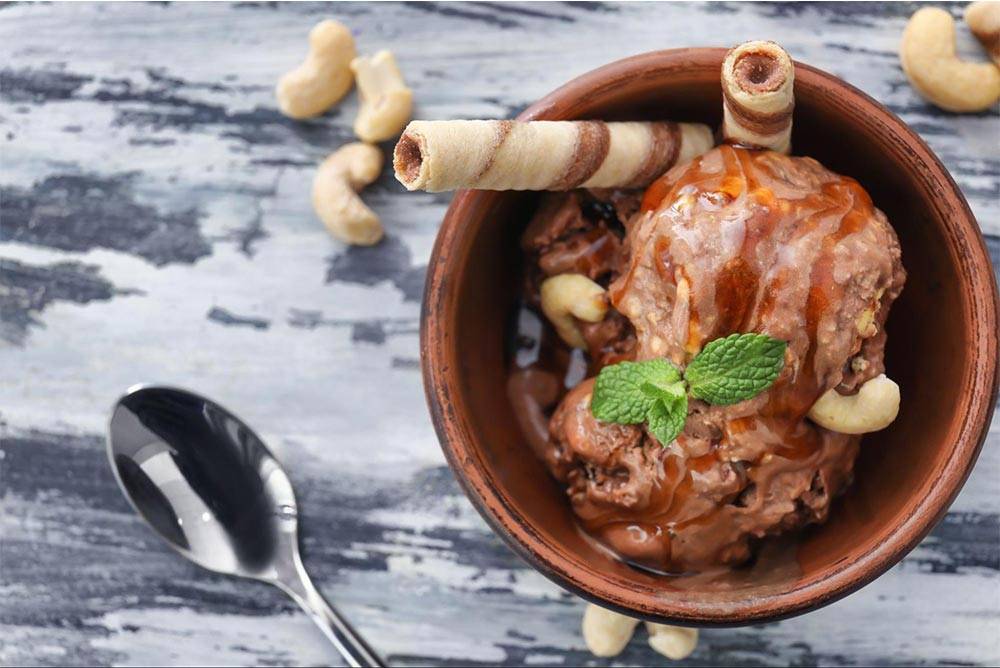 Now, we eat ice cream all year round - is that wise? No. Are we planning on changing our habits? Absolutely not! Ice cream isn't just a treat - it's therapy, a stress relief - and when it's decadent enough, it's something to look forward to! So, we tried endless pairings (oh, the things we endure for you!), and came up with a few ingenious ones!
Vanilla as a flavor is often not only disregarded but even frowned upon as the most basic one of all. But real foodies know that gourmet vanilla bean ice cream is utterly exquisite! However, we've found a way to make it even better! Pair your next bowl with Loacker matcha green tea wafers! A combination of the decadent sweetness of vanilla and the light, fresh taste of matcha is so perfect that it was guaranteed to be created eventually!
And on the completely opposite end of the spectrum, we have kiwi ice cream! If you've never tried it before, you're missing out big time! Just pair it with Loacker coconut Quadratini, and you'll never even consider going back to regular aromas! And as for the coconut ice cream itself, well, citrusy tang matches it like no other! So some crushed-up Loacker classic lemon wafers on top would do the trick perfectly! And perhaps for the most timeless combination of all - you'll never (ever, ever, ever!) go wrong with Loacker double chocolate wafer cookies and strawberry ice cream! The pairing of chocolate and strawberries was designed by something greater than the human mind, and no combination will ever feel more right (well, except for maybe bread and cheese, but that's an argument for a different time)!
Get Your Hands on Loacker's Italian Wafers as Quickly as Possible with Yummy Bazaar!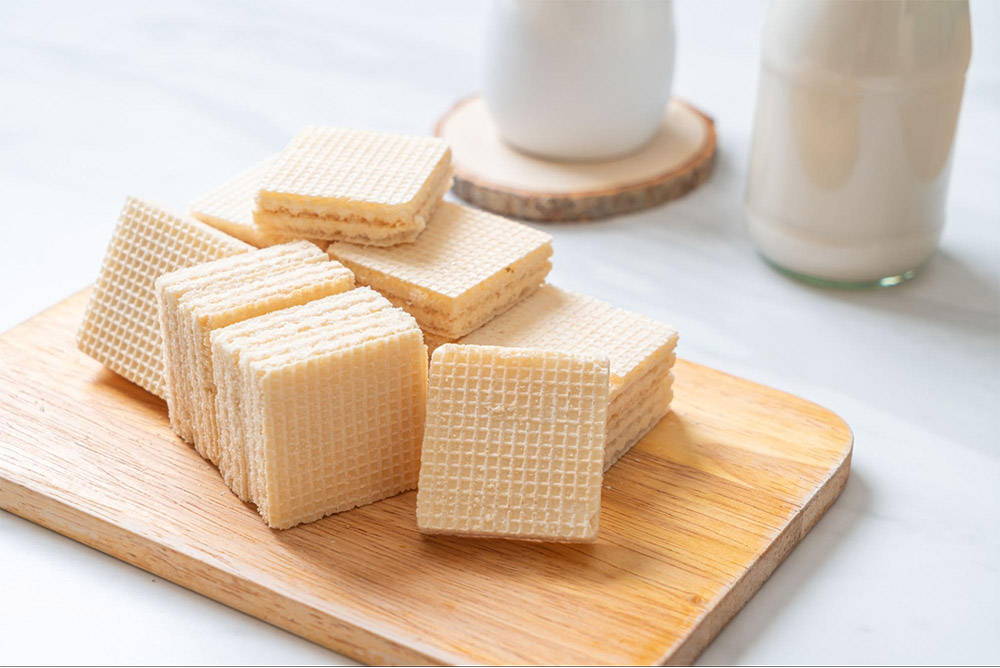 So, whether you're after a responsible and sustainable brand that cares for our environment while also producing decadent Italian treats, or are simply looking for some new and exciting essentials, Loacker's Italian wafers have got your back! From your morning coffee to your post-dinner dessert, they can take you through even the most stressful of days and make everything seem just a little bit brighter!
And if you're already itching to know where to buy Loacker wafers online, well, it must be your lucky day! Right here, on Yummy Bazaar, we've got every flavor you could ever dream of! So carefully browse our selection of Loacker products, keep an eye out for miscellaneous flavors we kept hidden only for the most diligent foodies, and choose your favorites boldly! You'll stick with them for life, that's for sure!
… What are you waiting for? Go, you're about to discover your new ultimate snack!