FREE $10 gift card with any order of 3, 6 or 12-month box!
Guten Tag! Experience authentic German essentials all in one box. From quintessential German baking ingredients to classic sausage to schnitzel, sauce, pickles, snacks and more, this German Experience Box will give you the best taste of Germany.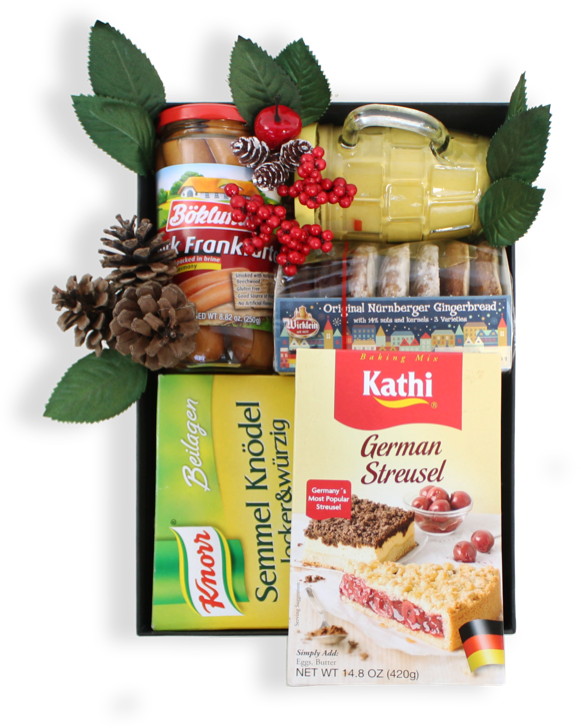 1
Select
Be that single box or multi-month box, pick the one that works the best for you! No recurring charge!
2
Confirm
You'll receive a confirmation of your order, and tracking information when your box ships out!
3
Enjoy
We ship out all boxes between the 15th and 20th of each month. Enjoy your box!
CHOOSE YOUR CULINARY TOUR
Germany Experience Gift Subscription
Germany Experience 3-Month Gift Subscription
Gemany Experience 6-Month Gift Subscription
Germany Experience 12-Month Gift Subscription
FAQs
When will I/my recipients receive the Box?
We ship between the 15th and 18th of every month for orders placed prior to the 15th, with the expectations that the box will arrive within 2 to 4 business days. If you place an order after the 15th, we will do our best to ship out your first box ASAP.
 
Do I pay one time or monthly for gift subscriptions?
All gift subscriptions are one time charge only and there is no auto renewal.
 
What if I/my recipients are not home?
Just email us at hello@yummybazaar.com and we will place a temporary hold for you while you or your recipient is away.

* Product flavors may vary. Customer must enter promo code BOX at checkout to receive free Italy Box. Promotion is valid with purchase of 3-month, 6-month or 12-month Full Experience gift subscription box. Promotion cannot be combined with any other offer. Promotion is valid while supplies last. Yummy Bazaar reserves the right to remove, modify and replace the offer. Promotion expires on Sunday 11/25 at 11:59 PM PST.